Famed Investor Gundlach Says Negative Rates Threaten to Decimate Banks
By
'Cannot save your economy by killing your financial system'

Deutsche would be saved, 'but what about Credit Suisse?'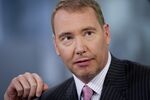 Famed bond investor Jeffrey Gundlach said Deutsche Bank AG's slumping share price highlights the impact of the negative-interest-rate policy in Europe on the region's lenders and may help prompt central bankers to reconsider their approach.
"You cannot save your faltering economy by killing your financial system and one of the clear poster children for this is Deutsche Bank's stock price," Gundlach, 56, said at Grant's Fall 2016 Investment Conference on Tuesday in New York. "If you keep these negative interest rate policies for a sufficient future period of time you are going to bankrupt these banks."
Europe's banks have seen their value shrink by about $280 billion this year, with Deutsche Bank losing almost half its market value. Germany's largest lender extended losses after the U.S. Department of Justice last month requested $14 billion to settle a probe into residential mortgage-backed securities, sparking concerns that it will have to raise capital.
While the Frankfurt-based bank would ultimately be rescued by the German government if needed, other banks in the region wouldn't be able to count on such support, Gundlach said.
"Deutsche Bank will be supported by Germany if push comes to shove," he said. "But what about Credit Suisse, which has shown a similar decline in stock price? Who's there to bail them out?"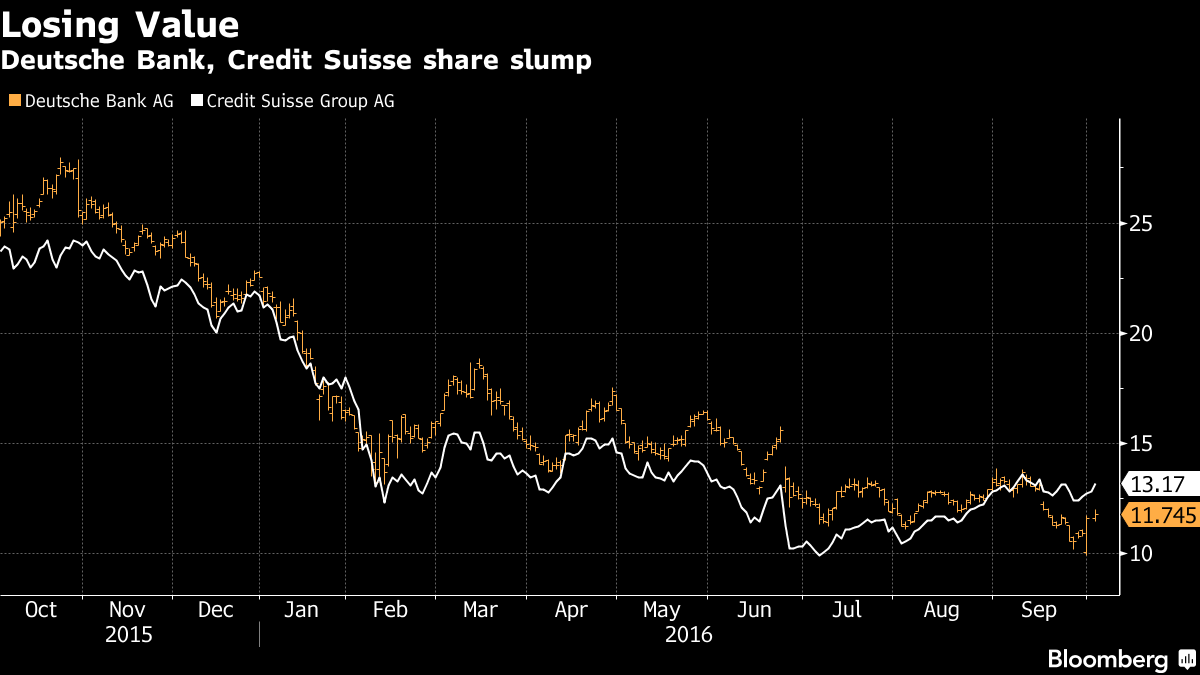 Credit Suisse, which is based in Zurich, has lost about 40 percent of its value this year. The Swiss bank raised about $6 billion of capital last year under new Chief Executive Officer Tidjane Thiam to help fund a restructuring plan.
'Frightening' Drops
Bond investors including Gundlach and Janus Capital Group Inc.'s Bill Gross have warned for some time that negative rates risk undermining the proper functioning of capital markets. Gundlach, who oversees $106 billion as chief investment officer of DoubleLine Capital, said in February that falling share prices of Deutsche Bank and Credit Suisse were "frightening."
While faster growth would help lenders, banking chiefs fret the medicine of
negative rates may be worse than the disease -- and probably won't work anyway. Deutsche Bank CEO John Cryan said in August that it's up to central banks to play their role in helping promote a healthier banking system. Negative interest rates not only undermine profit margins for banks but also have "disastrous consequences for savers and their pension investments."
"Monetary policy is already working against the goal of creating a more secure
and stable European banking system," Cryan said at the time. "The most important task for banks is to become more efficient and innovative. However, this won't be enough if we continue to face such headwinds in terms of monetary policy."
Gundlach said Tuesday that even the Federal Reserve, which has not cut rates below zero, is seeing signs that its policies aren't working.
Gundlach has said that interest rates bottomed in July and that the market is looking for signs of fiscal stimulus and accelerating inflation. He's predicting that rates on the U.S. 10-year bond may surpass 2 percent by the end of 2016.
— With assistance by John Gittelsohn
Before it's here, it's on the Bloomberg Terminal.
LEARN MORE