Gross Says He Shortened Duration on Europe After Taper News
by
Janus manager says Deutsche Bank bondholders are protected

Bitcoin and cryptocurrencies will take years to become havens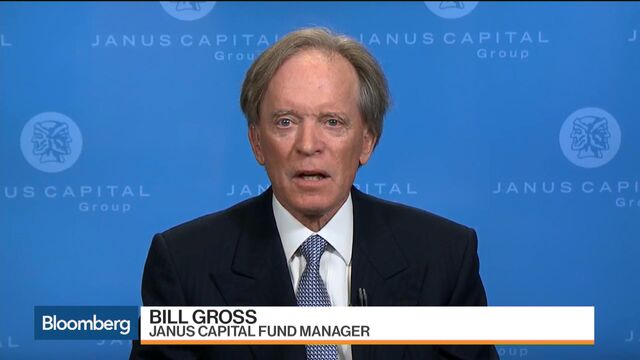 Fund manager Bill Gross said he switched positions on European debt following a Bloomberg report that the European Central Bank will probably gradually wind down bond purchases before the conclusion of quantitative easing.
"The minute it posted, the 10-year bund contract dropped almost a point," Gross said in an interview with Bloomberg Television's Erik Schatzker on Tuesday. The report "caused me to basically reverse positions in terms of being long duration to being short duration."
The ECB may begin winding down bond purchases in steps of 10 billion euros ($11.2 billion) a month, Bloomberg reported, citing euro-zone central bank officials. When the Federal Reserve indicated it was reducing U.S. asset purchases in 2013, it sparked a so-called taper tantrum leading to a surge in bond yields.
The drop in European debt may be a one-day phenomenon, said Gross, who runs the Janus Global Unconstrained Bond Fund.
He also said:
Deutsche Bank AG is more of a risk for equity investors than bondholders because the German government and ECB will prevent it from going under.
It will take years for bitcoin and other blockchain-technology systems that use cryptography to track transactions to become safe havens. Gross said he hasn't invested in bitcoin or other blockchain instruments.
Watch Next: Bill Gross on the Global Bond Selloff (Full Interview)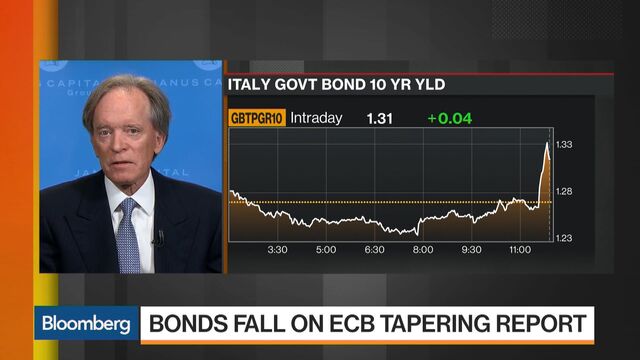 Before it's here, it's on the Bloomberg Terminal.
LEARN MORE