Gannett, Tronc Said Still in Talks After Bridging Value Gap
By and
Final deal on merger of newspaper publishers said not imminent

Gannett said to be discussing price of $18.50-$19 a share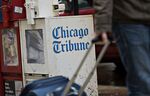 Gannett Co. and Tronc Inc. have bridged a valuation gap that caused months of friction, but are still hammering out the details of a transaction, people familiar with the situation said.
The parties haven't reached a final agreement, and an announcement isn't imminent, said the people, who asked not to be identified because the matter is private. Gannett, the owner of USA Today, is in talks to buy Tronc for $18.50 to $19 a share, the people said. While negotiations are advanced, talks could still fall apart.
Gannett has also been in discussions to raise financing from Jefferies Group LLC, another person said. Representatives for Gannett and Tronc declined to comment. A Jefferies representative also declined to comment.
By acquiring Tronc, Gannett would gain the Los Angeles Times, Chicago Tribune and Baltimore Sun, among other large metropolitan newspapers, which would give the McLean, Virginia-based company greater scale in the face of online competition and make it more appealing to national advertisers.
This year, Gannett has bought Milwaukee Journal Sentinel publisher Journal Media Group and agreed to purchase North Jersey Media Group, the owner of the Record of Bergen County, for $156 million.
A deal would end months of acrimony between the companies as Tronc Chairman Michael Ferro rebuffed Gannett's overtures in favor of a plan to produce more video and distribute stories to more readers. 
Gannett made two previous offers -- one in April for $12.25 a share and a second in May for $15 a share. Tronc's board rejected both as too low and not in shareholders' best interests. Ferro renamed the Chicago-based newspaper chain, formerly known as Tribune Publishing, amid the hostile takeover attempt.
To fend off Gannett, Ferro sold enough stock in May to long-time friend Patrick Soon-Shiong at $15 a share to make Shiong's Nant Capital the second-largest shareholder, edging out Oaktree Capital Management. Billionaire Soon-Shiong said he wants to use technology he's developed to transform the experience of reading a print newspaper.
Soon-Shiong denied an Oct. 2 report in POLITICO that he would sue if Gannett bought Tronc.
"If Gannett were to purchase Tronc, if that would happen I'd work closely to make sure that the history of the Tribune is preserved and it continues to be a glue for the community," Soon-Shiong said in an interview Tuesday, noting the importance of Tronc's Los Angeles Times to the community. The billionaire is also a co-owner of the Los Angeles Lakers basketball team, a marquee professional sports team in Tribune's biggest media market.
Gannett is a "reputable and strong and good organization" that could protect newspapers, Soon-Shiong added. He declined to comment on whether the deal would happen.
Shares of Tronc fell 0.6 percent t to $17.39 at the close Tuesday in New York. The stock has climbed 89 percent this year amid takeover speculation. Gannett rose 0.4 percent to $11.84.
Newspapers have been feasting on each other as they contend with declining circulation and ad revenue while trying to find successful business models for the digital age.
Last year, the business saw the most deals for the largest amount of money since the 2008 financial crisis, according to Dirks, Van Essen & Murray. The firm, which specializes in advising on newspaper mergers and acquisitions, said 70 daily papers were sold in 2015 for a combined $827 million.
— With assistance by Caroline Chen, and Gerry Smith
Before it's here, it's on the Bloomberg Terminal.
LEARN MORE