Fed Hawk Lacker Urges Higher Rates to Head Off Inflation
By
Richmond Fed leader: Policy rate should be 1.5% or more now

Lacker says preemptive action can prevent drastic hikes later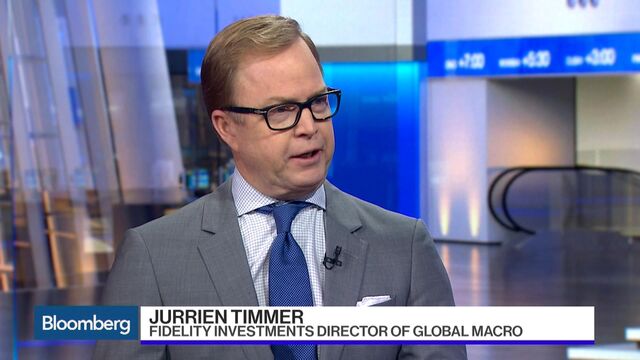 Federal Reserve Bank of Richmond President Jeffrey Lacker, who dissented twice last year in favor of raising interest rates, urged the central bank to hike to head off a likely pickup in inflation that would force bigger increases later.
"While inflation pressures may seem a distant and theoretical concern right now, prudent preemptive action can help us avoid the hard-to-predict emergence of a situation that requires more drastic action after the fact," Lacker said Tuesday in a speech in Charleston, West Virginia. The policy rate should be at least 1.5 percent by now, he said.
Consistently among the most hawkish of Fed officials in favoring action to head off inflation or asset-price bubbles, Lacker said, "in terms of our employment and inflation goals, things actually look pretty good right now."
The Federal Open Market Committee left its policy interest rate unchanged in September, with three Fed officials dissenting in favor of a rate increase, the first triple hawkish dissent in five years. The panel said the case for an increase has strengthened and described risks to the economic outlook as "roughly balanced."
"Preemptive increases in the federal funds rate are likely to play a critical role in maintaining the stability of inflation and inflation expectations," Lacker said to the West Virginia Economic Outlook Conference, citing examples in the last few decades.
"The Federal Reserve, under the leadership of Paul Volcker and Alan Greenspan, made the difficult decisions that were needed to push inflation down and keep it low," he said.
Lacker, who doesn't vote on monetary policy this year, dissented last September and October in favor of an earlier liftoff of interest rates from zero -- a move finally made by the Fed in December. He votes again in 2018.
While growth has been disappointingly slow at about 2 percent the past few years, labor markets have been tightening and pushing up wages while inflation, excluding food and energy prices, has been moving closer to the central bank's 2 percent objective. A shortfall in productivity has lowered the U.S. growth pace, with slower growth in capital spending being one cause, he said.
He also voiced concern that it would take time to unwind the Fed's balance sheet, bloated to more than $4 trillion through three rounds of asset purchases to protect the economy during and after the last recession, and may not go smoothly.
"I worry about the process and whether it will be orderly or not," he said in response to an audience question.
Before it's here, it's on the Bloomberg Terminal.
LEARN MORE