Disenchanted Brazilians Still Wary of Temer Ahead of Austerity
by and
Poll shows president remains unpopular with majority

Findings come as government prepares austerity measures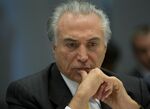 Brazilian President Michel Temer failed to boost his popular support nearly five months on the job, as his administration launches a series of austerity measures aimed at restoring the nation's financial credibility.
Temer's government was rated good or very good by 14 percent of those questioned in a public opinion survey by Ibope polling firm released on Tuesday. That compares to 13 percent in a June survey. Sixty-eight percent of respondents have no trust in Temer, compared with 66 percent in June, according to the survey published by the National Industry Confederation, or CNI. Based on interviews with 2,002 people between Sept. 20 and Sept.25, the poll has a margin of error of plus or minus 2 percentage points.
The latest findings come ahead of a key congressional vote on a bill that would cap public spending in inflation-adjusted terms, which the government argues is necessary to rein in a budget deficit of around 10 percent of GDP. Financial markets have rallied since Temer took office in May promising fiscal discipline.
But while the government appears to have enough congressional support for a spending cap, further controversial measures, such as a planned reform of the pension system, could prove deeply unpopular. With Brazilians still reeling from two years of recession and corruption revelations, the Temer administration faces a challenging environment for painful economic reforms.
Before it's here, it's on the Bloomberg Terminal.
LEARN MORE