Herro Says Deutsche Bank Jitters Create Investor Opportunity
by
Credit Suisse among banks selling 'way too cheap,' Herro says

Herro says selloff creates opportunity for long-term investors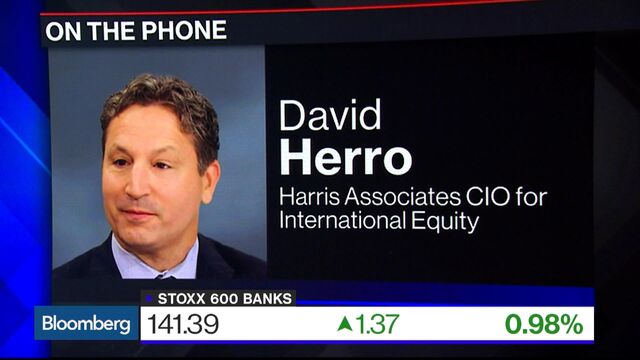 Europe's tumbling bank shares, compounded by concerns over mounting legal costs at Deutsche Bank AG, have become a buying opportunity for long-term investors, Harris Associates Chief Investment Officer David Herro said.
Europe's banks have seen their value shrink by about $280 billion this year, with Deutsche Bank losing almost half its market value. Germany's largest lender extended losses after the U.S. Department of Justice last month requested $14 billion to settle a probe into residential mortgage-backed securities, sparking concerns that it will have to raise capital.
The Justice Department's request "probably has little attachment to reality and it just hit the entire European financial sector quite hard," Herro told Bloomberg Radio on Tuesday. "Again this is an example of people shoot first and ask questions later and its an opportunity for long-term investors."
Herro, who doesn't own Deutsche Bank shares, called the Justice Department's request "really unacceptable," echoing remarks by CEO John Cryan who has said he expects U.S. authorities to bring the settlement in line with other lenders. In an interview with Bild newspaper last month, Cryan said he doesn't plan a capital increase and ruled out asking for government assistance.

Autonomous Research LLP said in a note on Monday that Deutsche Bank would need to raise as much as 9.5 billion euros ($11 billion) to stabilize capital ratios amid increasing litigation costs, citing a rights issue as the most likely option. Herro said such a move would leave shareholders with little choice.
"It's a gun to shareholders' heads," he said. "Either you participate or you get diluted."
Credit Suisse Group AG raised about $6 billion of capital last year under new CEO Tidjane Thiam to help fund a restructuring plan. Thiam has been seeking to reverse a slide in shares that has eliminated about 39 percent of the company's market value this year, eliminating thousands of jobs and cutting back securities trading to focus on wealth management.
"It's a messy job but it's a job that has to be done," Herro said, commenting on Credit Suisse's overhaul. "This is another bank again that is selling just way too cheap."
Harris Associates, which is based in Chicago, holds more than 10 percent in the bank, according to Herro, which is putting it among the largest investors.
Before it's here, it's on the Bloomberg Terminal.
LEARN MORE