Deutsche Bank Pressured Because 'It's So Small,' Altman Says
By
Says large U.S. banks facing same fine wouldn't be big problem

German bank's troubles won't spread, Evercore chairman says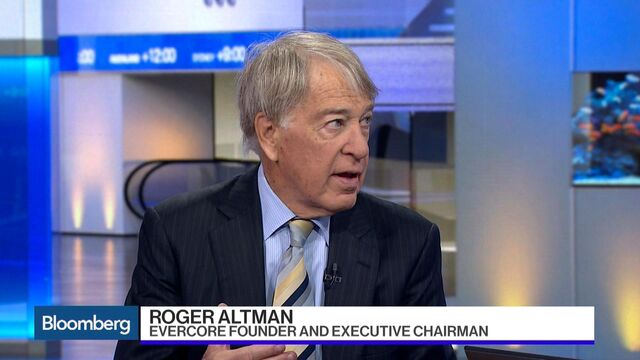 Deutsche Bank AG's troubles are being exacerbated because of its size relative to other global banks such as JPMorgan Chase & Co., which would be able to withstand the threat of large fines more easily, Evercore Partners Inc. Chairman Roger Altman said.
"Keep in mind Deutsche Bank is small," Altman said Tuesday in an interview with Bloomberg Television. He compared the roughly $18 billion market value of Deutsche Bank to that of JPMorgan, which is over $240 billion. "One of the things going on here is that Deutsche Bank's under pressure for a number of reasons, but one of which is it's so small."
Deutsche Bank shares have plunged more than 47 percent this year amid concern the firm will have to raise capital to pay legal costs. The largest German lender may face fines linked to a U.S. Department of Justice probe into residential mortgage-backed securities, and an additional expense tied to a money-laundering investigation at its Russian operation. The charges tied to the home loans may amount to $5.6 billion, lower than the $14 billion initially requested by the government, according to an estimate by Autonomous Research LLP.
Balance Sheet
Autonomous said last week that the bank has ample funds to weather more than two months of severe stress, and Goldman Sachs Group Inc. said Deutsche Bank can also access backstops from the European Central Bank. Deutsche Bank Chief Executive Officer John Cryan said the balance sheet is safer than at any point in the past two decades.
"The immediate reaction was, and is, well they can't pay $14 billion," Altman said. "That wouldn't be the reaction against one of the big-cap U.S. banks."
JPMorgan CEO Jamie Dimon told CNBC Tuesday that there's "no reason" Deutsche Bank can't resolve its issues, including settlement talks with the government. Altman, whose New York-based investment bank specializes in mergers and acquisitions, said the problems at Deutsche Bank aren't likely to spread to other European banks such as UBS Group AG and Barclays Plc, because those firms are in better shape after changing their strategies.
"These institutions when you study them are really quite different," Altman said. "It's more specific to Deutsche Bank than otherwise."
Before it's here, it's on the Bloomberg Terminal.
LEARN MORE