Could Tug-of-War Turn to War With China?
Bloomberg News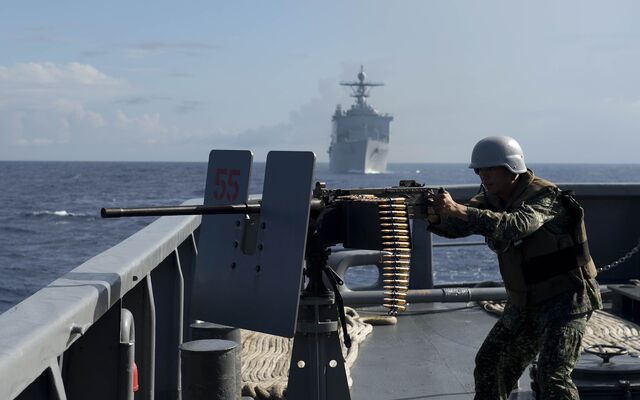 A fleet of Chinese aircraft thunders into a strategically vital strait. Japan scrambles fighter jets. 
In other words, business as usual in the waters off China, where peace and $5 trillion of annual trade hang in the balance.
Only now it's even more worrying than before. Analysts warn of the possibility of armed conflict if tensions rise any higher and somebody misreads an intention — or reads it all too well.
Seven nations have staked conflicting claims to a smattering of islands off China. They are Vietnam, Brunei, Malaysia, the Philippines, Japan, Taiwan, and China itself. China has drawn a bold line around more than four-fifths of the South China Sea using a decades-old old map. It has created islands to assert its ownership, spurring the Philippines to challenge it before an international tribunal, which ruled in Manila's favor this summer. "The award is null and void and has no binding force" was Beijing's response.
The Chinese planes performed surveillance and sudden assault and aerial refueling exercises, as well as "routine warning patrols" in China's Air Defense Identification Zone in the East China Sea, an Air Force spokesman said. Japan doesn't recognize the zone. Meanwhile, in the South China Sea, the Philippines' brand new president, Rodrigo Duterte, has appeared to tilt toward China. After calling for an end to joint patrols with the U.S. in the strategic waterway, he has acknowledged that his country needs American troops. 
Catch up with the crisis in the video above.
Before it's here, it's on the Bloomberg Terminal.
LEARN MORE