business
Christie, Cuomo Agreed on False Bridge Report, Witness Says
By
Plan hatched to blame gridlock on miscommunication not revenge

Wildstein testifies cover story created to shield Christie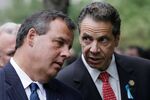 New York Governor Andrew Cuomo signed off on a plan to issue a report that falsely blamed a communications failure at the Port Authority of New York & New Jersey for politically motivated lane closings that tied up traffic near the George Washington Bridge in 2013, according to testimony in a New Jersey trial.
Cuomo agreed to the fake report because New Jersey Governor Chris Christie, who also approved the plan, didn't want the bridge gridlock to escalate into a political problem, according to testimony from David Wildstein, a key government witness at the trial of two of Christie's former allies.
Wildstein pleaded guilty to participating in a plot to create gridlock near the bridge to punish the mayor of Fort Lee, New Jersey, for not backing Christie's re-election. He said he was told in October 2013 the governors agreed that the planned report by the Port Authority, a bi-state agency that runs the bridge, wouldn't cite the true reason.
He said he was told that "if a report was issued that the Jersey side would take responsibility for it, that would put an end to this." Christie, a Republican, and Cuomo, a Democrat, appoint the top people at the powerful agency, which is often riven by political rivalries between the states.
Wildstein said he learned about the conversation between the two governors from former Port Authority Chairman David Samson, who pleaded guilty in a separate corruption case. But it wasn't clear from Wildstein's testimony how much, if anything, Cuomo knew about the real reason for the lane closings.
"The only role New York played in this episode was a positive one: it was our executive director who blew the whistle,"" said John Kelly, a Cuomo spokesman, in an e-mail. "To be clear, no such conversation between the governors happened. In fact no report of any kind was ever done, and whatever the admitted Bridgegate architect thought or dreamt about New York's involvement has no basis in fact."
"Anyone can say anything, especially a convicted felon spinning a tale, but it's just false and delusional," Kelly said.
False Testimony
Wildstein testified for his seventh day at the Newark trial of Bridget Anne Kelly, Christie's former deputy chief of staff, and Bill Baroni, the Port Authority's former deputy executive director and Wildstein's boss, for their alleged roles in the lane closings.
Kelly's lawyer, Michael Critchley, used his cross-examination to try to show Wildstein was a liar who bragged about his political dirty tricks even as he ingratiated himself into Christie's inner circle.
The report that Wildstein discussed was never issued, but he said it formed the basis for false testimony that Baroni gave in late November 2013 to a legislative committee, saying the lane closings were part of a traffic study.
Patrick Foye, the Port Authority executive director and a Cuomo appointee, ended the lane closings on the fifth morning in September 2013, saying they were a threat to public safety and illegal. Christie's allies viewed Foye's actions as a political threat to the governor, according to Wildstein and e-mails and texts shown to jurors.
Wildstein was asked about a text exchange he had on Oct. 2, 2013, with Christie's then-press secretary about Kevin O'Dowd, the governor's chief of staff at the time. 
"I briefed O'Dowd on the Foye madness," Michael Drewniak, the press secretary, wrote, in a text to Wildstein. "He gets it and is taking it seriously."
When Chritchley asked Wildstein what it meant, he said: "That Governor Christie was in the middle of an election, that Mr. Foye was becoming involved and could potentially hurt Governor Christie, and that Mr. O'Dowd now understood and had reached out to Albany to get Foye to back off."
Critchley also asked if Christie was "mad at Foye for meddling in New Jersey affairs."
Wildstein replied: "That was my understanding."
Inner Circle
Critchley asked Wildstein repeatedly about Kelly's role in the machinations of Christie's inner circle. He acknowledged that she wasn't involved, supporting a defense notion that Wildstein had enough clout on his own to not need her approval for the lane closings.
Wildstein testified last week that he and Baroni told Christie during a Sept. 11 memorial at the World Trade Center in 2013 about the traffic in Fort Lee and how Mayor Mark Sokolich wasn't getting his calls returned, prompting the governor to laugh.
When asked Tuesday if he thought the governor was approving it, Wildstein said: "I'm not saying he was approving anything. He certainly seemed to have liked the idea." 
Critchley asked if Christie asked him to stop. Wildstein said he did not. 
"Did he censure you and say, 'My God, why are you doing this? Why are you causing all these backups?' " Critchley asked. "No, he did not," Wildstein replied. 
The case is U.S. v. Baroni, 15-cr-00193, U.S. District Court, District of New Jersey (Newark).
(
Updates with testimony about Christie in 15th paragraph.
)
Before it's here, it's on the Bloomberg Terminal.
LEARN MORE