Chinese Buyers Returning to Hong Kong Housing, Wheelock Says
by
Mass-market sales to mainlanders have doubled from year ago

Discounts cut to 17% from 20% at Kowloon apartment project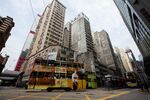 Renewed demand from Chinese buyers looking for offshore assets is helping drive sales at Wheelock Properties (Hong Kong) Ltd.'s Hong Kong housing projects, Managing Director Ricky Wong said.
Chinese buyers of Wheelock's mass-market properties doubled to 10 percent from a year ago, Wong said in an interview. Mainland buyers accounted for nearly 20 percent of September sales at its Kowloon development One Homantin, compared with about five percent when it launched six months ago, he said.
Skyrocketing prices for housing in Chinese cities, fears of a weaker yuan, and the desire to diversify their wealth offshore is driving resurgent demand from mainland buyers, said Wong. Buyers are seeking homes as investments and for their own use, undeterred by a 15 percent extra tax Hong Kong imposes on non-residents.
"They are willing to pay the stamp duty," said Wong. "The price gap with Hong Kong is getting less."
Home prices in China rose the most in six years in August, prompting more cities to slap curbs on property purchases. Beijing last week increased down-payments for first-time home buyers to 35 percent of the purchase price, the highest level among China's biggest cities. Shenzhen tightened measures on Oct. 4, including a minimum 70 percent down payment for second properties and restrictions on non-residents.
Chinese Return
Chinese buyers helped propel Hong Kong property prices up 115 percent from January 2008 through to the second quarter of 2013, when curbs aimed at foreign demand started to bite. The share of mainland buyers of luxury properties, defined as homes worth more than HK$12 million ($1.5 million), fell from 34 percent in the third quarter of 2012 to 13 percent a year later, according to research by Centaline Property Agency in Hong Kong.
Sales at One Homantin got off to a slow start in March when the property market was at its nadir. After selling 160 units through August, 100 apartments sold in September alone, Wong said. The average discount fell to 17 percent from 20 percent, he said.
"Even though we have decreased the discount, people who didn't want to buy six months ago are coming back," he said.
The two- and three-bedroom apartments, ranging in size from 500 to 750 square feet, are selling for about HK$20,000 per square foot, he said. The company also offers mortgage finance of up to 80 percent, which is "less aggressive than other developers," he said.
Slump Over
Wong said he expects property prices to claw back all the ground lost during a six-month slump when prices fell 13.3 percent from a record high reached in September 2015, according to the Centaline Property Centa-City Leading Index. Prices have rebounded since March, and are now down 6.3 percent from their peak. Transaction volumes have also rebounded, with 7,826 properties changing hands in September, the highest level in at least 15 months.
Property prices "could easily go back to their past peak in the next six months," Wong said.
Wheelock shares have climbed 44 percent this year, outperforming the Hang Seng Properties Index's 14 percent gain.
Wong's optimism extends to ultra-luxury houses. Wheelock will release the first of 24 apartments at its Mount Nicholson development on Hong Kong island, along with two villas this quarter. Prices for the units, which range in size from 4,200 to 4,500 square feet and boast walk-in closets and views of Victoria Harbour, won't be released until three days before they go on sale.
Ultra-Luxury
New apartments of that size rarely come onto the market, and Wheelock has received strong interest from both mainland and local buyers, Wong said. The typical buyer in the ultra-luxury end of the market would have properties in London, New York and other major cities, he said, and do not need to obtain mortgages.
The Mount Nicholson project kicked off in February with the sale of the first of 17 villas for HK$830 million, or HK$87,784 per square foot. Two more have also since sold, though at a lower price per-square foot than the first. All three were sold via tender.
Before it's here, it's on the Bloomberg Terminal.
LEARN MORE