Top-Performing Gold Miner Says Bull Run Intact as Fed Hands Tied
by and
Lima-based Buenaventura targets new projects in 2017, CFO says

Environmental restrictions seen boosting long-term prospects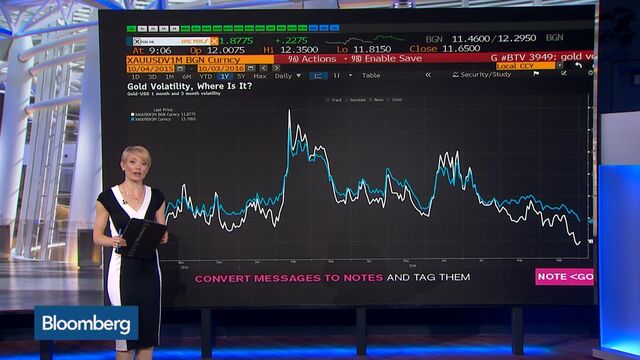 The world's best-performing major gold miner has some soothing words for investors battered by hawkish Federal Reserve comments: the metal bull run is intact.
Bullion prices are supported on the physical side by environmental and social restrictions to supply and strong demand led by India and China, and on the financial side by the U.S.'s limited scope to increase interest rates, according to Cia. de Minas Buenaventura SA. The New York-listed shares in Latin America's biggest home-grown gold miner have tripled this year, outperforming all members of an index of large producers in the same span.
"In the long-term I have no doubt that the gold price will continue rising," Chief Financial Officer Carlos Galvez said in an interview in New York Monday. "It's increasingly hard to replace reserves. There haven't been any world-class discoveries over the past 10 years."

The BI Global Senior Gold Valuation Peer Group is having its worst day in more than two months as gold plunges below $1,300 an ounce for the first time since June. The rally in bullion has faltered, after the best first half in almost four decades, amid mounting concern that an improving U.S. economy will spur rate increases that would reduce its competitiveness against interest-bearing assets.
Echoing comments by former U.S. Treasury Secretary Lawrence Summers before the last Fed meeting, Galvez said the U.S. economy is too weak to start increasing rates. That creates an opportunity for gold, he said. Even a 25 basis point hike later this year would amount to "a joke" after so much debate on the subject, Galvez said.
Buenaventura is planning to start developing the San Gabriel mine in Peru next year, and may also start the Trapiche project if it gets the necessary social guarantees. Both projects look technically and economically "good", Galvez said.
The company's debt burden is "very comfortable", with net debt expected to fall to two times earnings before items by year-end from more than five at the end of 2015, he said.
Conga Project
The Lima-based miner and its partner Newmont Mining Corp. are seeking to replace reserves at Yanacocha, South America's biggest gold mine, where production fell 20 percent last year to 512,000 ounces.
Work on their Minas Conga copper and gold mine project in Peru's Cajamarca state was suspended in 2012 after community protests. Peru's new government, led by President Pedro Pablo Kuczynski, is well placed to ease opposition to mining investments, which may make Conga viable, Galvez said.
Kuczynski, a 78-year-old former Wall St. banker and mining executive, laid out his plans for water and sanitation investments during a visit to Cajamarca last week. His government also plans to create a fund to purchase gold from wildcat miners.
Kuczynski's first priority probably will be Southern Copper Corp.'s Tia Maria project, which was halted following protests last year, Galvez said.
Before it's here, it's on the Bloomberg Terminal.
LEARN MORE