Oakland's Fruitvale Station Is Unofficially Renamed After a Police Shooting Victim
Somebody is "updating" BART maps with stickers honoring Oscar Grant, an unarmed black man killed by cops in Oakland.
John Metcalfe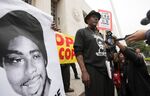 Ever since unarmed Oscar Grant was fatally shot by a police officer at Oakland's Fruitvale Station, there have been local calls to rechristen the BART stop in his name.
In case you don't recall the incident, here's a summary from The Guardian:
The New Year's Day 2009 shooting was recorded by bystanders and within hours posted online showing [officer Johannes] Mehserle, who is white, firing a bullet into the back of Grant, who was black, as he lay face-down after being pulled off a train supposedly for fighting.

Mehserle tearfully testified he meant to use his stun gun instead of his .40-caliber pistol. But the shooting sparked debate, racial tensions and protests that occasionally turned violent. Mehserle was later convicted of involuntary manslaughter.
The city has yet to rename the stop to honor 22-year-old Grant, whose life and death inspired the film Fruitvale Station. But somebody is taking the initiative, as evident in this BART map on the Richmond/Fremont line:

Yes, that's a sticker reading "Oscar Grant" placed over Fruitvale. At least one other person has noticed the sneaky update appearing on a different map:
Whoever's doing this is unclear, but he/she/they could be responsible for a little rumor Oakland actually did change the name: