Australia's Lowe Shows He's No 'Inflation Nutter' in Debut Call
by
Governor decouples next inflation report from policy meeting

Money markets aren't forecasting cut until June at earliest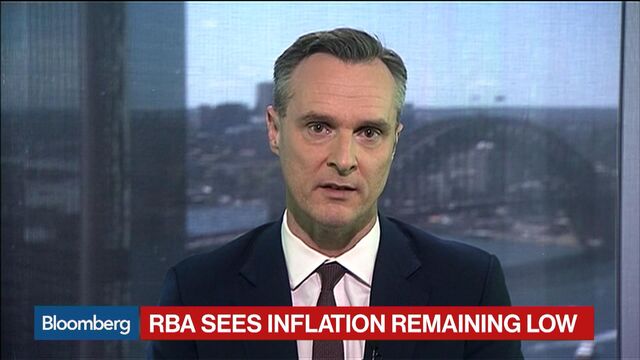 Reserve Bank of Australia Governor Philip Lowe gave his first policy statement Tuesday without deviating from a neutral stance. But his failure to mention inflation data due in a fortnight may signal a scaling back of CPI's current significance.
Two weeks after taking the reins, Lowe fleshed out a slightly more detailed take on the economy than in last month's statement: he balanced an apparent slowdown in household consumption and "subdued" full-time employment growth against resurgent commodity prices and renewed strength in some housing markets. The cash rate was left unchanged at 1.5 percent.
"The decision to de-link the next inflation report from next month's policy decision must be partly influenced by developments in the housing market," said Bill Evans, chief economist at Westpac Banking Corp. "A very clear neutral bias has been retained."
The new governor's focus on the price of assets like housing, along with the flexibility of the inflation target, was set out in the RBA's renewed accord with the government last month. It stressed financial stability concerns as part of monetary policy and meeting the 2 percent to 3 percent target "over time" from on average over the cycle.
Not Nutters
Three months ago, the central bank made clear that the July consumer-price data had the potential to alter the policy stance -- a weak result subsequently prompted a quarter-point rate cut. Lowe told a parliamentary panel last month that RBA officials aren't "inflation nutters," suggesting that weak CPI doesn't immediately imply an easing.
The statement also looked beyond the headlines in the labor market where a falling unemployment rate to 5.6 percent has suggested strength. Lowe noted that growth in full-time employment has been subdued and most of the job gains are part-time; the implication is there's more slack in the market than the headlines suggest.
"We suspect that the housing dynamics -- construction, prices, lending -- may be a more important factor in policy deliberation than others, especially given the increased reference from Dr Lowe to the importance of financial stability early in his tenure," said Su-Lin Ong, head of Australian economic and fixed-income strategy at Royal Bank of Canada in Sydney. "There was also greater acknowledgement of the recent rise in commodity prices."

Coking coal prices have surged more than 150 percent this year as output from China, the world's biggest miner, tumbles under government pressure to cut overcapacity. Iron ore, Australia's biggest export, has rebounded 30 percent, though analysts are skeptical about the rally's durability. Still, the jump in prices for Australia's biggest exports is a boon for the economy and a government struggling to rein in its budget deficit.
The risk of further stoking Sydney's housing boom could discourage Lowe from further cuts, especially as the economy grew an annual 3.3 percent last quarter and unemployment has fallen; meanwhile, the terms of trade, or export prices compared to import prices, have risen for the first time in more than two years.
Aussie Revival
Lowe's big challenge -- like many of his developed world counterparts -- is generating inflation; part of that involves trying to tame a currency that's up more than 10 percent in around nine months. The Aussie's revival, even if partly justified by a jump in iron ore and coal prices and a better outlook for biggest trading partner China, puts pressure on services industries that are key growth drivers for the post-mining boom economy.
Lowe also signaled in Tuesday's statement that increased housing supply is starting to impact the market with rental growth "the slowest for some decades." His views on the risks of easy money to asset prices are prompting analysts to begin coalescing around expectations that borrowing costs may not fall further.
Economists' median estimate for the next rate cut has shifted to the second quarter of next year from the first three months. Traders' bets on an easing only rise above 50 percent in June 2017.
Watch Next: RBA and RBI Central Bankers Take Center Stage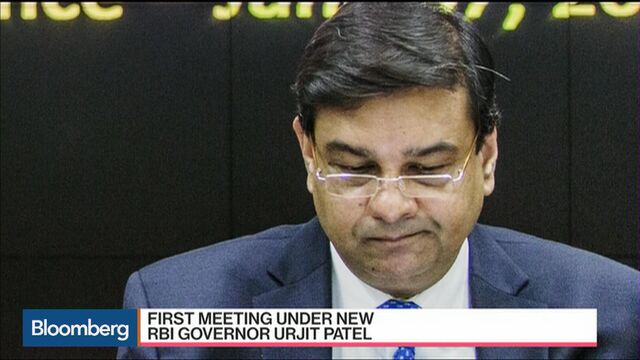 Before it's here, it's on the Bloomberg Terminal.
LEARN MORE