Africa's Biggest Money Manager Grows at Slowest Pace in 7 Years
By
Assets under management grew 2.4 percent to 1.85 trillion rand

PIC's net income rose 28 percent to 424.2 million rand
The Public Investment Corp.'s growth in assets under management fell to the lowest pace in seven years after equity markets dropped and South Africa's economy slowed to levels not seen since the 2009 recession.
Assets increased by 2.4 percent to 1.85 trillion rand ($136 billion) in the 12 months ended March 31 from 1.81 trillion rand a year earlier, the Pretoria-based PIC, which manages the bulk of South Africa's government employees' pension money, said in its annual report on its website. Annual absolute growth of assets under management was about 43 billion rand, while net income rose 28 percent to 424.2 million rand, the PIC said.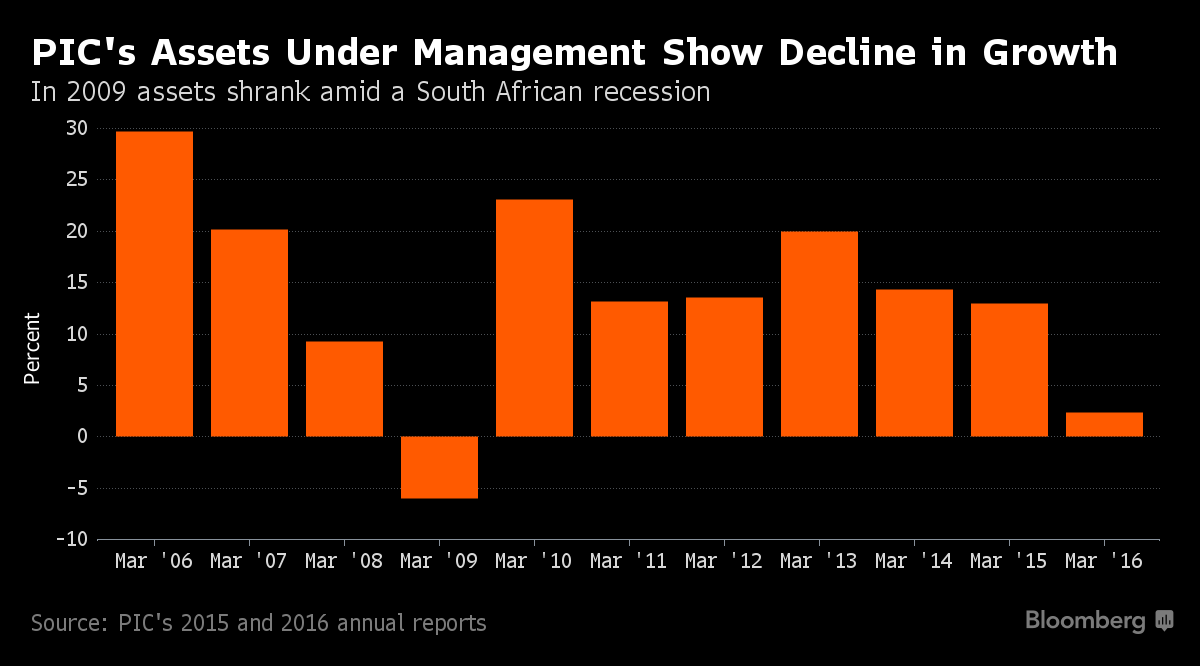 The PIC's portfolio includes more than 12.5 percent of the equity on the Johannesburg Stock Exchange, more than 42 percent of all government bonds and 50 percent of the debt sold by state-owned enterprises. An index of South African rand-denominated bonds lost 0.8 percent over the period, while the FTSE/JSE Africa All Share Index rose 0.1 percent, with only 68 of the benchmark's 162 securities showing gains in the 12 months. South Africa's economic growth slowed to 1.3 percent in 2015 and is expected to expand 0.4 percent this year, according to the central bank.
Key Risks
"Key risks to the domestic growth outlook are structural constraints, electricity supply, the persistence of domestic drought conditions on the agriculture sector and the broader labor market, a more significant slowdown in China and a credit-ratings downgrade to junk," PIC Chief Executive Officer Dan Matjila said in the annual report. "There is no doubt that we are experiencing difficult times and the road ahead will not be easy."
Matjila was paid 10.67 million rand for fiscal 2016, according to the annual report. That was a 1.8 percent increase on his pay a year earlier, when it totaled 10.48 million rand. 
"To grow and meaningfully transform the economy, the investment community, both asset managers and asset owners, must ensure that they invest in line with a long-term sustainable investment strategy," Finance Minister Pravin Gordhan said in the same annual report. "The focus can no longer be on short-term portfolio benchmarks; it must shift to sustainable returns over the longer term."