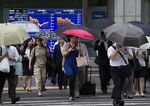 Japan has suffered such a dismal stretch of late-summer weather that economists predict it may have slowed consumer spending.

It's the kind of irritant Prime Minister Shinzo Abe and central bank chief Haruhiko Kuroda could do without, given the fight they already have on their hands trying to spark inflation.

Some parts of the country have had the least sun in more than five decades, according to the Japan Meteorological Agency, and would-be shoppers are taking it to heart.


"Consumption was pretty good in July, but looking at August and September, it really lost its momentum," said Hiroaki Muto, chief economist at Tokai Tokyo Research Center. "When there are a lot of rainy days, it really drags on spending."

Miwako Nakamura, an analyst at J.P. Morgan Securities, noted a drop in car registrations in September, and cited the weather as the cause.

While the weather could erode third-quarter gross domestic product a little at the margins, all things being equal, there should be more spending this month if the sky clears.


Fortunately for Japan's long-suffering consumers, and its economic policy makers, the typhoons that have brought the gray skies and rain typically tail away in October.

For the next few days in Tokyo, though, the meteorological agency forecasts patchy skies: scattered showers, along with periods sunshine and cloudiness.


Before it's here, it's on the Bloomberg Terminal.
LEARN MORE