A Polymer Five-Pound Note Worth $5,000? Now That's Inflation
By
BOE auctioned 232 lots of banknotes in London for charities

Signed 50-pound note, sheet of polymer fives drew highest bids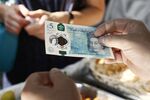 One of the Bank of England's new five-pound notes -- launched just three weeks ago -- is now valued at 4,150 pounds ($5,292). How's that for inflation?
At an auction of bank notes by the BOE in London Monday, a single polymer note numbered AA01 000017 sold for 830 times its face value. One of the central bank's first to be printed on plastic, the note is "almost certainly the lowest" serial number to become available to the public, according to auctioneers Spink. Queen Elizabeth II received AA01 000001 and the other lower numbered notes were donated to people or institutions involved in their development.
The so-called fiver was the first of 232 lots, which raised a total of 194,500 pounds and included "low and interesting" numbers of the new-style notes, as well as other denominations signed by Chief Cashier Victoria Cleland.
The most expensive items auctioned were a complete sheet of 60 five-pound notes and a signed 50-pound note with the serial number AJ36 000001, both of which sold for 8,500 pounds. The proceeds from the auction will be split between three charities selected by BOE staff, The Myotubular Trust, The Lily Foundation and Bliss.
Before it's here, it's on the Bloomberg Terminal.
LEARN MORE