U.S. ELECTION WRAP: New Polls Out Amid Oct. 'Surprise' Intrigue
The new month begins with an avalanche of revelations as both Donald Trump and Hillary Clinton remain vulnerable to the proverbial "October surprise.''
By and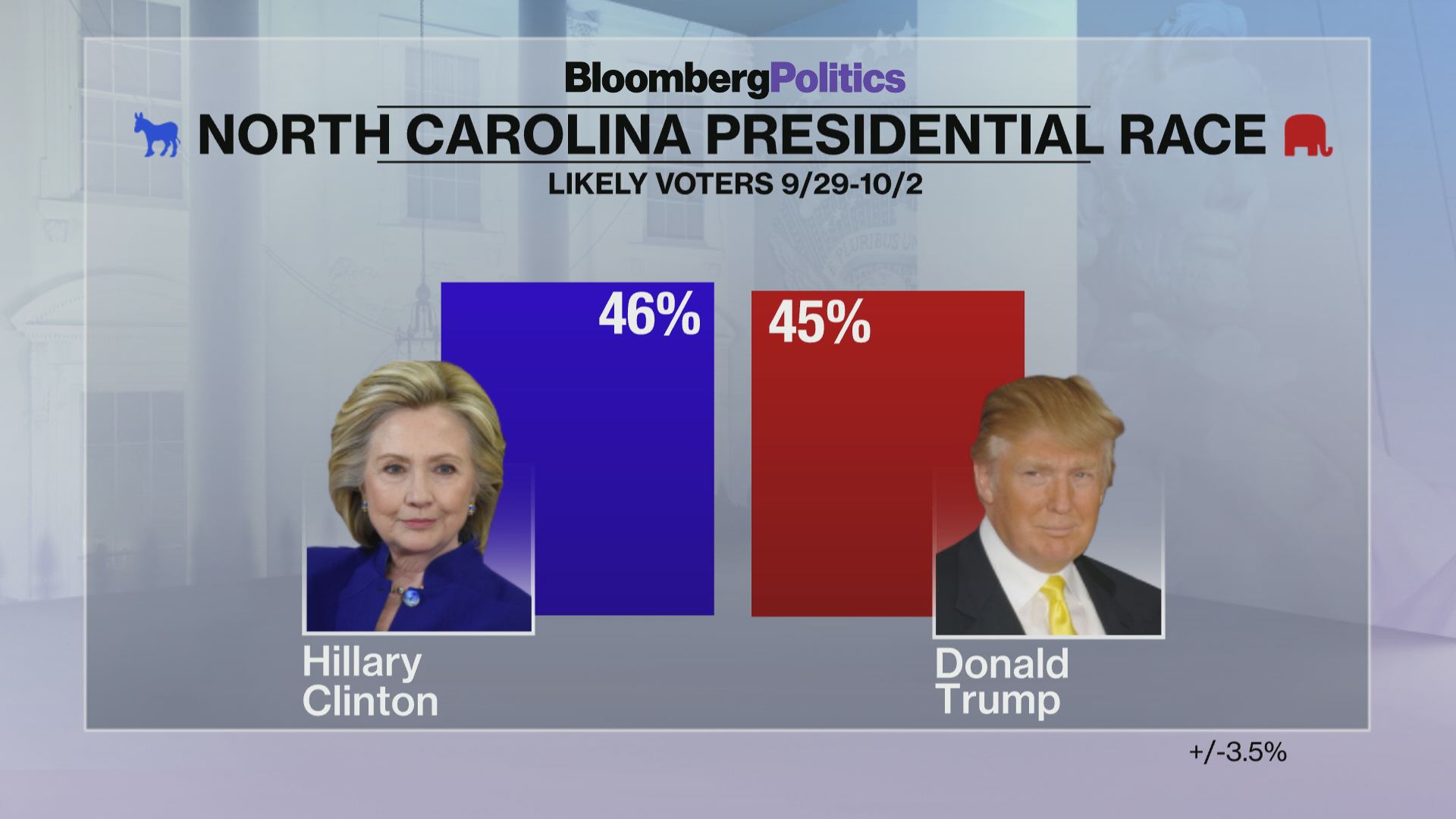 New post-debate polls show that Hillary Clinton and Donald Trump remain in a tight race as October kicks off with a slew of revelations.

POLLS
A new CNN/ORC poll shows Clinton ahead of Trump nationwide 47%-42%, with Libertarian Gary Johnson at 7% and Green Party nominee Jill Stein at 2%
In Pennsylvania, Clinton leads Trump 45%-41%; in North Carolina, she draws 46% support to Trump's 43%, according to Quinnipiac University surveys

In North Carolina -- where the new Bloomberg poll shows Clinton with 46% and Trump at 45% -- the race is simply "too close to call," Peter A. Brown, assistant director of the Quinnipiac University Poll, said in a statement
"Hillary Clinton and Donald Trump are close when it comes to keeping their respective party bases," he said. "They are tied among independent voters. He has a nine-point lead among men and she has a 13-point margin among women"

In the Bloomberg survey, Trump has a 26-point advantage in North Carolina among independents
Clinton got good polling news from Colorado as a Monmouth University survey showed her ahead of Trump 49%-38% among likely voters
Bloomberg's Nafeesa Syeed looks at what misleading opinion polls in the cases of a Colombian peace deal and Brexit may portend for the U.S. presidential election; read story here

TRUMP IN HOT SEAT
Trump won't release any new tax information in response to NYT story that he claimed a massive tax loss in 1995 which potentially allowed him to eliminate his federal income-tax bill for almost two decades, two people familiar with the campaign's thinking told Bloomberg; see full story here
The Trump tax report predictably prompted Clinton to rip into her GOP rival, saying his possible tax avoidance reveal the real-estate magnate's failures in business and how he's gamed a "rigged" system

"Trump was taking from America with both hands and leaving the rest of us with the bill," Clinton said Monday at a campaign rally in Toledo, Ohio. "He's taken corporate excess and made a business model out of it"

Separately, the Donald J. Trump Foundation was ordered to stop fund-raising in New York and turn over all delinquent financial reports in the next two weeks or face possible fraud claims, the state attorney general's office said in a letter to the presidential candidate's institute

Trump campaign spokesman Jason Miller called New York Attorney General Eric Schneiderman a "partisan hack who has turned a blind eye to the Clinton Foundation for years and has endorsed Hillary Clinton for president"; see full story

And more not-so-great Trump news: Associated Press reported that he repeatedly demeaned women on the set of his NBC show "The Apprentice," a charge Trump's campaign said is false

Such news follows what former House Speaker Newt Gingrich, a Trump ally, called "a lost week" for the GOP nominee
Over the weekend, Trump speculated that Clinton may not be faithful to her husband, former President Bill Clinton; he also mocked his Democratic rival over being caught on camera being helped into a car during a bout of pneumonia

Republican National Committee Chairman Reince Priebus on Monday sent out an e-mail to GOP supporters noting that Gingrich is right when he says Trump "wins" when he talks about "big ideas"

"It doesn't just go for Trump. It goes for our entire Party": Priebus
The RNC chair also sent out a survey asking what people think Republicans including Trump should focus on in the last weeks of the election; question #3 asks: "Over the next 36 days, should Trump spend more time focusing on the issues or attacking Hillary?"

ETC
NBC's "Saturday Night Live" opened its new season by lampooning the Sept. 26 presidential debate, with Alec Baldwin playing Trump; view here
Clinton in Ohio called out Wells Fargo and Wall Street's "cowboy culture"; she is proposing a measure to curb "forced arbitration" clauses in contracts that make it difficult for workers to bring legal action against cos.
Trump, at a veterans event in Va., said as president he would create a joint task force to "crush" cyber attacks, rooting them out like law enforcement rooted out the Mafia

CONGRESSIONAL ELECTIONS

SENATE RACES (Republicans have 54-46 majority)
RYAN ROAD-TRIPPING: Speaker Paul Ryan will make campaign stops this month for politically vulnerable Republican senators including Pat Toomey in Pa., Roy Blunt in Mo., and Ron Johnson in his home state of Wis., Politico reported
AZ: Republican Sen. John McCain and the National Republican Senatorial Cmte released TV ad saying Democratic Rep. Ann Kirkpatrick is "too liberal for Arizona" as it links her to the Affordable Care Act and Hillary Clinton

Kirkpatrick voted for ACA as a House member in 2009
IL: Republican Sen. Mark Kirk and Democratic Rep. Tammy Duckworth held their first debate today before Chicago Tribune editorial board

Kirk, who opposes Trump and occasionally bucks GOP leaders, said he's seeking second full term to be "thoughtful, independent voice that always puts Illinois ahead of party"; noted his support for Export-Import Bank and desire to make his state an ''export powerhouse"
Duckworth noted that she voted to repeal Affordable Care Act's medical-device tax and opposed administration's 2014 proposal to arm Syrian rebels; she also called for more spending on education and for changing tax laws to provide incentives for business owners to keep jobs in U.S. vs. shifting overseas
Nonpartisan political analysts rate Duckworth the favorite to unseat Kirk in Democratic-leaning state where Clinton should easily defeat Trump
NH: Republican Sen. Kelly Ayotte and Democratic Gov. Maggie Hassan will debate at 7 p.m. eastern time at New England College in Henniker; NECN will stream online

Ayotte in new TV ad is shown walking with her mother and daughter, as Ayotte says her mother is "my inspiration in the Senate" as she works to protect Social Security, Medicare, and the environment
NV: Democrat Catherine Cortez Masto said in statement that Supreme Court declining to revisit Obama's stalled immigration plan is "significant setback for thousands of Nevada families that continue to live in fear of being torn apart"

Cortez Masto linked Republican Rep. Joe Heck to Republicans who opposed 2013 immigration overhaul that Senate passed but House didn't take up
Cortez Masto, Heck seeking seat of retiring Democratic Leader Harry Reid in state that's about 28% Hispanic
WI: Democrat Russ Feingold raised $5.2m in Q3, according to campaign release

Feingold seeking to unseat Johnson in rematch of 2010 race
HOUSE RACES (Republicans have 246-186 majority)
CA-25: Republican Rep. Steve Knight and Democratic lawyer Bryan Caforio were scheduled to debate this afternoon on KHTS AM-1220, which planned to stream event on its Facebook page at 4 p.m. eastern time

Knight, Caforio seeking district that includes Santa Clarita and Palmdate and voted 50%-48% for Mitt Romney over Obama in 2012
FL-13: Democrat Charlie Crist poked fun at his fondness for fans in TV ad that emphasized his support for Social Security and Medicare, Planned Parenthood, and veterans' benefits

Crist, Fla.'s former Republican governor who switched parties in 2012, seeking to unseat GOP Rep. David Jolly in Pinellas County district in and around St. Petersburg
MN-03: DCCC TV ad links Trump to Republican Rep. Erik Paulsen and says Paulsen "opposes equal pay and wants to criminalize abortion"

On pay equity, ad cites procedural vote in April 2015 related to a nonbinding budget resolution
Ad cites Paulsen's vote in July 2012 for bill that would have banned abortions in Washington, D.C., after 20 weeks; Paulsen sided with most Republicans and 17 Democrats including Rep. Collin Peterson of Minn.
Paulsen opposed by Democratic state Sen. Terri Bonoff in suburban Twin Cities district evenly split between the parties
NY-19: Republican John Faso is a "career political insider" who won't say if he'll vote for Trump, and Democrat Zephyr Teachout is a "political insurgent" aligned with Bernie Sanders, New York Times reported from New Paltz

Teachout in TV ad ridiculed Republican ads describing her as "too dangerous" or wanting to raise property taxes, while referring to Republican John Faso as an "Albany lobbyist" who's "part of everything that's wrong with politics"
Teachout, a law professor, and Faso, a former state representative, seeking to succeed retiring Republican Rep. Chris Gibson in competitive Hudson Valley district
NY-21: Republican Rep. Elise Stefanik and Democratic challenger Mike Derrick will debate tonight at 7 p.m. on Time Warner News Cable

Competitive district is N.Y.'s largest in land area, includes state's North Country and borders Vermont and Canada
NY-25: Democratic Rep. Louise Slaughter's campaign released TV ad saying Republican Mark Assini's "dangerous right-wing ideas" include tax cuts for the wealthy and opposition to hiking the minimum wage

Slaughter and Assini in rematch of 2014 race that Slaughter won by 871 votes; Democratic-leaning district includes most of Monroe County and all of Rochester
Before it's here, it's on the Bloomberg Terminal.
LEARN MORE