U.K. Factories Boom as Pound's Brexit Plunge Boosts Exports
by and
Manufacturing PMI jumps to 55.4 in September from 53.4

Weaker pound helped boost exports by the most since 2014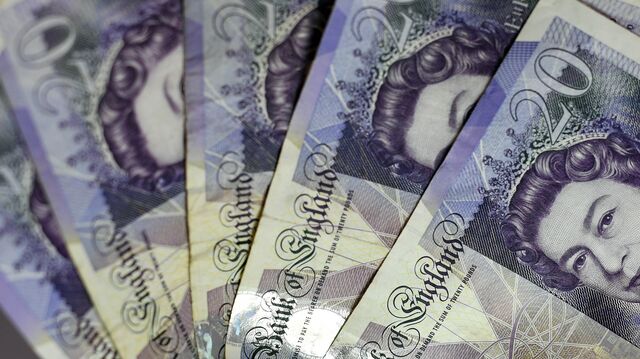 U.K. factories had their best month in more than two years in September as the weaker pound sent export orders surging.
IHS Markit's monthly Purchasing Managers Index jumped to 55.4 from 53.4 in August, capping the industry's best quarter this year. The reading, the highest since June 2014 and far above economists' forecast for 52.1, pushes the index further above the key 50 line that divides expansion from contraction.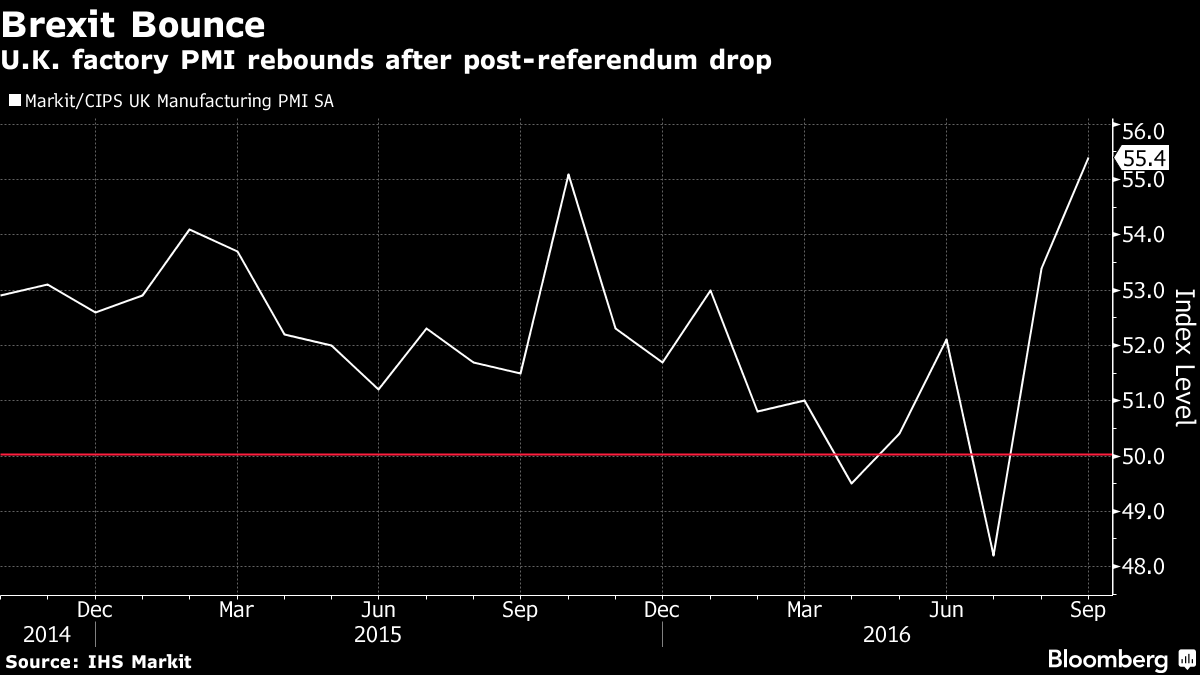 Export orders increased the most since January 2014 in September, and Markit said manufacturing probably helped to lift GDP in the third quarter.
The report shows how sterling's 13 percent depreciation since the Brexit vote in June is supporting manufacturing amid uncertainty about the U.K.'s new trading relationship with the European Union. It also adds to evidence that the economy is weathering the fallout from the referendum better than some had anticipated.
The currency is also having an inflationary impact, and the report showed both input and export costs rose strongly in September.
"The weak sterling exchange rate remained the prime growth engine, driving higher new orders from Asia, Europe, the U.S. and a number of emerging markets," said Rob Dobson, senior economist at Markit. He added that an improvement in both new business and output in investment goods sector may be a "sign that capital spending is recovering from its early year lull, in the short term at least."
Sterling pared some of its decline against the dollar after the survey and was at $1.2880 as of 9:58 a.m. London time, down 0.7 percent since Friday.
James Knightley, an economist at ING Bank NV in London, said the PMI adds to evidence that the economy is proving more resilient than expected and "casts serious doubt" over whether the Bank of England will add to its August stimulus package next month. Investors put the probability of the BOE cutting interest rates again by year-end at just 20 percent.
Markit will publish its index of services, the largest part of the economy, on Wednesday. It's forecast to slip to 52.2 in September from 52.9 in August.
Before it's here, it's on the Bloomberg Terminal.
LEARN MORE