Toyota U.S. Buyers Shun Prius With Look Only Anime Fans Can Love
By
Polarizing redesign, a hit at home, fails to stop U.S. plunge

Many customers like hybrid's design and price, Toyota says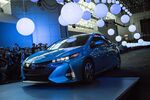 The Toyota Prius that Kendall Greuel bought six weeks ago does what he wanted, which is save money on his daily 100-mile round trip commute. Just one thing nags at the Oklahoman.
"Sometimes I catch a glimpse of the car," Greuel said, "and think it's kind of ugly."
The 31-year-old IT worker from Muskogee has his finger on the latest vexation for Prius, the gas-electric hybrid that established Toyota Motor Corp. as an environmental leader two decades ago. At a time when American customers were already defecting from Prius because of cheap gasoline and a shift to trucks, the automaker pushed through a polarizing redesign -- one that's been a hit at home in Japan but has failed to stem a sales slump in the U.S.
"The Prius design is busy and overwrought,'' said Eric Noble, who runs a product development consultancy called Carlab in Orange, California. "It never should have been allowed to happen.'' In his view, the new Prius comes close to rivaling the Pontiac Aztek, a 2005-era sport utility vehicle often mentioned as one of the worst auto designs ever.
The 93,083 Priuses sold in the U.S. through August was a 26 percent drop from the year-earlier period and put the model line on pace for its worst annual deliveries in five years.

Design Defense
Bill Fay, Toyota's head of U.S. sales, begs to differ with Prius's critics. Toyota chose the design to attract mainstream customers as well as environmentalists, and plenty of people like it, he said in an interview. The vehicle's greatest challenge is fighting the booming popularity of truck and SUV models spurred by cheap gasoline, Fay said.
The situation in the U.S. is far different from Japan, where Prius has resumed its position as the top-selling model and gasoline costs the equivalent of about $4.50 a gallon. The potentially varying reactions to the design may reflect cultural differences.
"Toyota opted for an 'entertainment' or 'anime' design that appeals to the Japanese market more than the U.S.,'' said Geoff Wardle, head of graduate studies at the Art Center College of Design in Pasadena, California. Several design elements don't support a common theme, he said, such as the neon-red lights zigzagging through 20-inch tail lamps that protrude from the side of the car like "flying buttresses."

Fay was among executives consulted on the design and said he's confident the Prius line will do well. "All we can do is continue to reinvest and make the car as compelling as we can, because the market is going to change again,'' he said. Two Prius models, the Prius C compact and Prius V wagon, haven't been updated along with the liftback version.
Reinforcements are on the way in the form of a refreshed plug-in model, newly dubbed the Prius Prime. With a 25-mile all-electric range that extends to 640 miles between refuelings, the Prius Prime will be priced $6,000 less than the plug-in hybrid Chevrolet Volt.
'Squandered Lead'
Yet even Prius Prime's green credentials disappoint some environmentalists. Roland Hwang, transportation program director with the Natural Resources Defense Council, says Toyota is being too conservative. The plug-in's electric range is less than half the Chevrolet Volt's 53 miles. And while General Motors Co.'s all-electric Chevrolet Bolt arrives in showrooms this year, Toyota doesn't offer a battery-only car in the U.S.
"One can argue Toyota has squandered its lead in the green vehicle market," Hwang said.
The Prius's rate of sales decline through August is almost double that of all hybrids lacking a plug, according to HybridCars.com. Demand has dropped even though Toyota updated the segment-leading Prius late last year with a double-wishbone suspension for better handling and added tech features such as lane-keeping assist. Only 42 percent of owners are opting for another Prius when they trade in their car, down from 64 percent in 2005, according to Edmunds.com.
Customer Surveys
In surveys, customers complain about a cramped interior and paucity of storage space, said Alexander Edwards, president of Strategic Vision, a San Diego consumer research firm. In his firm's overall measure of customer satisfaction, Prius ranks below the now-discontinued Chrysler 200. Among customers who shopped and rejected the Prius, 12 percent did so because of exterior styling, up from 8 percent with the prior model.
Those figures help explain why Toyota has had to keep relatively high rebates on Prius even after the redesign. The company now offers rebates of $3,039 on each Prius, down only about $200 from the year-earlier period, said Jessica Caldwell, an Edmunds.com analyst.
The competition won't get any easier. Environmentalists will have unprecedented choices as the number of battery-only and hybrid plug-ins grows to 33 next year from three in 2011, according to the Consumer Federation of America. And the Prius now has gas-electric challengers within Toyota's own lineup: the company has sold 28,862 RAV4 hybrids this year.
For now, the Oklahoma Prius owner Greuel is satisfied that his new ride is averaging 56.1 miles per gallon, enough to save the equivalent of a second monthly car payment. But as for that design -- with curves in the hood converging into a small snout above an exaggerated grille opening -- his attitude toward it "depends on what mood I'm in.''
Before it's here, it's on the Bloomberg Terminal.
LEARN MORE