Tidal Lagoon Power to Build $28 Million Turbine Factory in Wales
by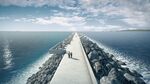 Tidal Lagoon Power announced a plan to build a 22 million-pound ($28 million) turbine manufacturing plant in Swansea Bay, Wales.
The Gloucester, England-based company has put out a tender for the design and construction of the facility, according to an e-mailed statement.
Tidal energy generates electricity from the natural movement of seawater rising and falling in a lagoon or bay. Unlike solar and wind projects, which typically have a 25-year lifespan, a tidal lagoon power project is expected to last 120 years.
The company is in talks to secure a long-term contract for a planned 320-megawatt project in South Wales. Estimated investment costs would be 1.3 billion pounds.
Before it's here, it's on the Bloomberg Terminal.
LEARN MORE