These Are the Stocks to Own If Trump Wins
By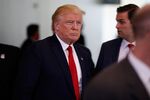 Offense sells tickets, but defense wins championships — and may even beat the market. 
Credit Suisse Group AG recommends that investors preparing for a Trump victory in next month's U.S. presidential election should load up on defense-industry stocks like Raytheon Co. and Thales SA. While the candidate's poll numbers have taken a knock after a gaffe-filled week, should he win on November 8 he's said not only that he'll increase defense spending at home but that he'll cajole allies abroad into increasing theirs.
The team, led by Andrew Garthwaite, writes that Trump has promised to "increase defense spending by 15 percent," compared to the Obama administration's 2017 budget plans. "Moreover, Trump has suggested that U.S. support for NATO members would be conditional upon them raising defense spending to 2 percent of GDP" — a requirement that only two European countries currently fulfill. That's just one thing helping to make these stocks "a clear overweight," the analysts wrote in Monday's note. 

The suggestion is well timed, as the go-to "Trump trade" of shorting the Mexican peso got less attractive on Friday when the nation's central bank raised interest rates, sending the currency 1 percent higher against the dollar. (The peso had been falling in recent weeks as Trump's poll numbers improved.) Central Bank Governor Agustin Carstens has promised to consider further measures to support the currency should the real-estate mogul win the election, pushing investors to diversify beyond the standard bet on a Republican victory.  

Just like peso weakness, defense stocks have exhibited a strong correlation with Trump's polling numbers in recent months.

As faith in monetary stimulus crumbles in favor of a growing consensus around fiscal measures, Credit Suisse predicts that any steps in the direction of fiscal easing on either side of the Atlantic could deliver another boost to the sector.

"We think it is quite possible that such policies will eventually be focused on physical and social infrastructure, i.e. where there is a payback and a potential benefit to society," they write. "Defense fulfills both criteria," according to Garthwaite, who mentions the European Commission's call to widen the European Investment Bank's mandate to financing military infrastructure. 
Adding to defense's appeal is the fact that the industry is relatively immune from risks associated with other equity groupings, Credit Suisse says. While commercial technologies may fear competition from China, regulations make that less of a consideration for defense.