Slok: These Are the Only Things That Can Stop the Hunt for Yield
Asset prices are at risk from these four dynamics, according to Deutsche Bank's Torsten Slok.
by and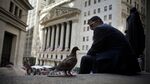 Low interest rates and extraordinary central-bank asset purchases have sparked an unprecedented search for yield in global markets. There has long been speculation about when this push will end, and the fear remains that the great displacement facilitated by unconventional monetary policy has left some portfolio managers swimming in relatively uncharted waters.

An answer, amid the uncertainty, comes courtesy of Deutsche Bank AG Chief International Economist Torsten Slok. Investors' headlong rush into riskier assets will only end if one of these four things happen, he says:

Inflation comes roaring back: if so, investors won't have to search for nominal yield, because U.S. Treasury yields will rise.
Credit fundamentals become a bit too risky: elevated indebtedness or a rise in default rates could deter investors from continuing to pile on corporate debt.
Investors finally become skeptical of those lofty stock valuations: this would also likely filter through to credit, with investors not willing to pay as high a price for current yields on offer.
China gets scary again: if the world's second-largest economy takes a turn for the worse, this could foster worries about the fundamental outlook for credit and cripple risk appetite across the board.
So, to adapt a line from Star Wars, this is how the hunt for yield dies…with "either higher inflation or too expensive risky assets," as Slok concludes.
Before it's here, it's on the Bloomberg Terminal.
LEARN MORE