Canada Tightens Mortgage Eligibility, Closes Loophole
by and
Federal finance minister acts again in bid to cool hot markets

Low-ratio mortgages will face stricter eligibility rules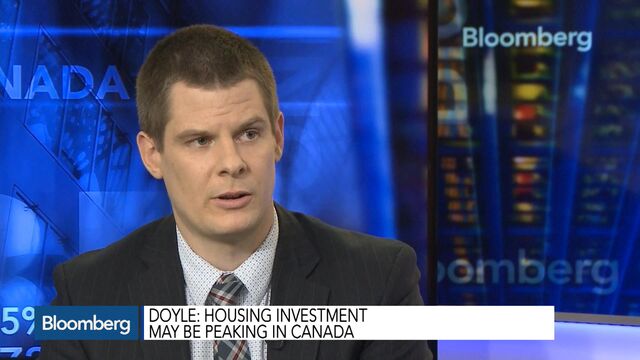 Canadian Finance Minister Bill Morneau unveiled new measures that tighten access to mortgage insurance for commercial banks and closes a tax loophole on homes purchased by foreigners, amid warnings of a potential housing crash.
Morneau, in an announcement Monday in Toronto, said mortgages with a down payment of more than 20 percent will face the same eligibility requirement for insurance as those with lower down payments. The government will also close a tax loophole that allows non-residents to buy homes and later claim an exemption on the sale.
Officials are attempting to cool Vancouver and Toronto real estate prices, without harming other regional markets, in a bid to make homes more affordable and ease chances of a crash. The steps announced Monday add to a series of similar measures laid down since the 2008 financial crisis, all of which have so far failed to halt steadily rising prices.
Morneau's latest moves "could raise mortgage costs, thus damping home sales," Sal Guatieri, senior economist at Bank of Montreal in Toronto, said in a note to clients.
Years of surging prices, a condo construction boom and low borrowing costs have drawn warnings that gains in the nation's two most expensive markets probably aren't sustainable, presenting a risk to the financial system. Nationally, home prices rose 15 percent in August from a year earlier, according to the Canadian Real Estate Association, up 31 percent and 17 percent in Vancouver and Toronto.
Risk Consultations
"Canadians have told us they are concerned about growing household debt and rapidly rising house prices in some of our biggest cities, particularly in markets like Toronto and Vancouver," Morneau said.
The finance minister also said the government will begin consultations on whether banks should carry more risk in the housing market, after flagging these discussions earlier this year. The government's housing agency spoke about the need for banks to have more skin in the housing market game more than a year ago. "A lender risk sharing policy would aim to rebalance risk in the housing finance system so that lenders retain a meaningful, but manageable, level of exposure to mortgage default risk," according to technical briefing paper also released Monday.
The move to standardize eligibility requirements impacts mostly the amount of so-called portfolio insurance -- government protection on mortgages with more than 20 percent equity -- that banks hold on their balance sheets.
Under Canadian law, homebuyers who put down less than 20 percent of the cost of the home must insure the mortgage. Portfolio insurance, which allows lenders to insure mortgages that aren't already backstopped by the housing agency, makes up about 35 percent of the mortgage insurance market in Canada. In its last quarterly financial report, CMHC said that portfolio insurance made up C$189 billion of its C$523 billion insurance-in-force.
Tougher Requirements
New tougher rules will require all insured mortgages, including fixed-rate mortgages with terms of five years or more, to meet stress tests to gauge a borrower's ability to make their payments at a higher interest rate. It will be effective Oct. 17 and won't apply to existing loans. Government-backed insured mortgages totaled C$745 billion in August, according to the latest data from the finance department.
Other new criteria for low-ratio mortgages include a maximum amortization length of 25 years, minimum credit scores and a requirement that the property is owner-occupied. Those measures take effect Nov. 30.
It's the second major step by Morneau to cool the country's housing market. Last year, the finance department along with two federal agencies -- the Canada Mortgage & Housing Corp. and the Office of the Superintendent of Financial Institutions -- announced measures to stem gains. They included tightening mortgage requirements on homes worth more than C$500,000 to indirectly target Toronto and Vancouver.
The changes also adjust Canada's income tax act to make it more difficult for a foreign home-seller to claim Canada's capital gains exemption for a family's principal residence. Under the changes, a person who wasn't resident in Canada the year they acquired a home will not be able to claim the exemption for that year -- ensuring "permanent non-residents are not eligible" for any exemption from the capital gains tax, the government said.
Morneau's move also adds new requirements for family trusts to designate a property as a principal residence, including a residency requirement. The changes will require sellers to provide basic home sale information through their Canada Revenue Agency tax return for the first time.
"It feels like all levels of government have been a little late to the game," said Adil Dinani, a Vancouver agent for Royal LePage, a unit of Brookfield Real Estate Services Inc.
(
Corrects to clarify rule change in second paragraph.
)
Before it's here, it's on the Bloomberg Terminal.
LEARN MORE