Left For Dead, Buybacks Are Beating the Market Again
But the outperformance may prove brief, Goldman warns.
by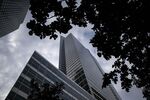 Just when you thought buybacks were out, their performance might pull you back in.
Yet Goldman Sachs Group Inc. Chief U.S. Equity Strategist David Kostin cautions against chasing the rally, writing in a note to clients that even though companies that repurchase their shares hand-over-fist are back in style, their recent bout of outperformance may prove brief.

Only two months ago, Wall Street warned that the share buybacks that had been the largest source of demand for U.S. equities throughout the bull market were going out of fashion, with companies with the highest propensity to repurchase their own shares set to lag the broader market. In fact since June 27, when markets arrested their post-U.K. referendum free-fall and reversed course, the S&P 500 Buyback Index has gained 13.5 percent, compared to 8.4 percent for the wider S&P 500.
But the same thing that blindsided Wall Street in the third quarter may prove inimical to strong performance in the fourth, as buyback activity is poised to slow meaningfully and second-half growth in the U.S. looks set to be more sluggish than it had first appeared.
"History suggests that stocks with the highest buybacks outperform during periods of low rates and solid growth," he writes. Economic expansion isn't shaping up to be too robust for the rest of the year, even if companies that focus on share repurchases retain attractive valuations, in his eyes.

Somewhat ironically, the outperformance of buyback-heavy stocks belies what portfolio managers professed to want during the third quarter — more investment.
Kostin added  that Goldman Sachs's basket of stocks prone to buybacks also outperformed the benchmark index by 2.7 percentage points in the third quarter, thanks to the combination of low yields and supposedly firming growth, as a proprietary Goldman Sachs indicator of economic activity rose to its highest levels in 2016.
The 10-year Treasury yield sank to a record low in July as investors sought safety in the wake of the Brexit vote, but the world's largest economy appeared to be heading for a stretch of more robust expansion. Throughout August, the Atlanta Fed GDP Nowcast pegged the U.S. economy's Q3 growth rate at about 3.5 percent. Bond yields, while edging higher, remaining at historically subdued levels.
Kostin, however, cautions that the "buy" part of buyback will be in shorter supply going forward. Corporate share repurchases are poised to wane, reducing this source of demand for U.S. equities.
"We expect net buybacks will be lower in the second half versus the first half given weak activity in the third quarter and reduced authorizations," writes Kostin. "S&P 500 share repurchase authorizations equal $335 billion this year versus $454 billion at the same time in 2015."
Even so, "de-equitization remains a key global investment theme for the next 12-18 months," writes Robert Buckland, chief global equity strategist at Citigroup Inc.. "As the cost of equity still remains high relative to the cost of debt, it makes sense for companies to de-equitize — use cheap financing to buy back their own shares."
The strategist observed that a portfolio composed of global "share shrinkers" has a better Sharpe ratio than those consisting of Treasuries, high-yield credit, or the MSCI All Country World Index since 2000, indicating that this strategy has produced a superior risk-adjusted return over this span.
Before it's here, it's on the Bloomberg Terminal.
LEARN MORE