Veep Watch
Kaine and Pence Bring Staid and Steady to National Debate Stage
For the bottom half of the ticket, the first rule is do no harm
By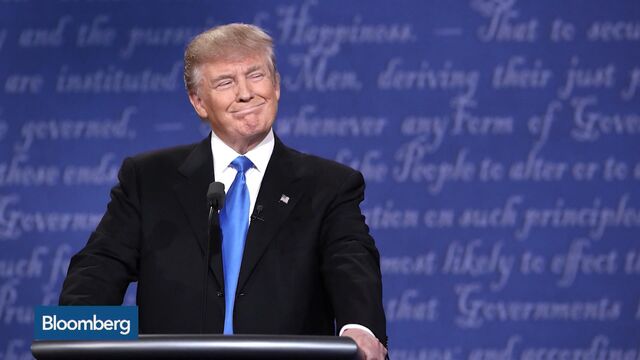 In the little more than two months since getting their parties' vice presidential nominations, Tim Kaine and Mike Pence have been virtuoso second fiddles.
While Hillary Clinton and Donald Trump wage a bitter and polarizing fight for the White House, Kaine, a Democratic senator from Virginia, and Pence, the Republican governor of Indiana, have mostly stayed out of the headlines. Both readily admit to being the boring half of the ticket.
They'll have their biggest audience since the party conventions on Tuesday night when they take the stage for the only vice presidential debate at Longwood University in Farmville, Virginia. It's unlikely that anything they do or say will substantially improve the standing of their running mates, two historically unpopular presidential candidates, but their main task will be to do no harm.
"Both of these guys could end up with higher popularity ratings than their running mate,'' said Bob Shrum, who was a senior adviser to Democrats John Kerry and Al Gore in their presidential campaigns, "But I don't think it will have a big impact on the election unless something startling happens in the debate."
Pence and Kaine have embraced their often obscured roles in the campaign.
"I recognize I'm kind of a B-list Republican celebrity, so thank you for coming out tonight," Pence said during his first solo campaign appearance in late July.
During a June appearance on NBC's Meet the Press, before Clinton announced him as her running mate, Kaine responded to criticism that he's boring by agreeing. "I am boring," he said. "But boring is the fastest-growing demographic in this country."
The vice presidential candidates still have some room to shape the way the American public views them. According to a CNN/ORC poll conducted Sept. 1-4, 12 percent of likely voters have never heard of Pence, while 16 percent have never heard of Kaine. Another 14 percent said they have no opinion of Pence, while 21 percent said the same of Kaine. 
Preparing for Stage
For weeks, the candidates have been preparing for their one and only debate of 2016. During a news conference in mid-September Kaine said that he was reviewing policy briefings when he found out that Clinton had nearly collapsed at a 9/11 memorial event in New York City. Robert Barnett, a Washington lawyer, is playing Pence in mock debates for Kaine.
Pence and his advisers have been preparing for the debate since he was named vice president, said his press secretary Marc Lotter. Pence visited Wisconsin last week for a final set of mock debates with Governor Scott Walker acting as the stand-in for Kaine.
Both candidates will have to show they are well prepared and able to deftly defend their presidential nominee's record. But Pence faces the added challenge of entering the debate following a week in which Trump extended a controversy over demeaning remarks he made about a former Miss Universe in a series of interviews and early morning tweets and questioned whether Clinton had been faithful in her marriage. Potentially more damaging, amid Trump's refusal to release his tax returns, the New York Times reported late Saturday that the Republican presidential nominee recorded a $916 million loss in 1995 that potentially allowed him to eliminate his federal income-tax bill for almost two decades.
"Tim Kaine is articulate, smart, knows the issues, and I suspect will have been very well prepared for the debate as Hillary Clinton was for the debate," Shrum said. "Pence will obviously do more preparation than Trump, but his problem is he's going to have to answer for a lot of what Trump has been saying."
The Indiana governor's debate dilemma mirrors the larger challenge of his campaign: how to counter-balance Trump without contradicting him or echoing his more controversial statements. Pence has taken on the role of reaching out to Republican leaders and, at times, following campaign conventions Trump has rejected. Though Trump has declined to release his tax returns, Pence released his. When Trump said he wasn't ready to endorse House Speaker Paul Ryan, Pence endorsed him, calling him a "strong, conservative leader."
For Republicans wary of Trump, his campaign and surrogates are presenting Pence as the voice of calm and experience in a Trump administration, said Dan Senor, a Republican strategist who opposes Trump. "The problem is when he uses some of his credibility to defend some of the crazy things that Trump has said," Senor said.
A vice presidential candidate is supposed to reinforce the ticket's agenda. But at times that has put Pence in difficult positions and will be especially true for him after the past week.
"The question is which are we going to see more of?" Senor said. "Pence that's sort of the smart, experienced wise guy that'll be next to Trump governing and having an influence and being a check on him, or the Pence that's just basically a rubber stamp for things Trump says."
Traditional Role
On the trail, Kaine and Pence are playing the traditional role of vice presidential candidates, echoing their running mates' policies in competitive states. Since last July, Pence has focused on battlegrounds North Carolina, Virginia, and Pennsylvania and held at least four rallies or town halls in each state.
Kaine, meanwhile, has held at least five events in North Carolina and eight in Florida. He was also one of several surrogates, along with Senators Bernie Sanders and Elizabeth Warren, dispatched to make the Clinton campaign's case to millennial voters. 
Kaine has received good marks from Democrats for being competent, if not particularly inspiring. 
"For the most part, VP is pass/fail," said Steve Schale, a Democratic strategist based in Florida. He said that Kaine has proven to be an effective surrogate in terms of laying out the differences between Clinton and Trump, but added that the key feature of a good pick is someone who is qualified to be president, and "who's not going to make news in their own right."
Kaine has also started to win over some of his more vocal critics on the left, who advocated for a bolder, more progressive choice like Senator Elizabeth Warren. 
Charles Chamberlain, the executive director of Democracy for America, said that despite his earlier policy doubts about Kaine—particularly on Kaine's vote for fast-track authority for the Trans-Pacific Partnership—he was reassured by seeing Kaine echo Clinton's policies on the trail.
He added that Kaine still isn't the best choice to excite supporters of Clinton's primary challenger, Bernie Sanders, but it helped when he told a crowd at Iowa State University that one of his children backed the Vermont senator. 
"He should talk about it more because that definitely helps Sanders supporters see that Tim Kaine understands on some level what it is that Sanders supporters are fighting for, and why it is that they didn't support his candidate during their primary," he said.
While both campaigns would like to see the vice presidential nominees provide a boost for their campaigns, the debate is unlikely to be memorable. Both Pence and Kaine were chosen because of, not in spite of, their low-key presence and demeanor. 
Christopher Devine, an assistant political science professor at the University of Dayton, and co-author of "The VP Advantage: How Running Mates Influence Home State Voting in Presidential Elections," said they both fit the criteria of a candidate who doesn't harm the ticket, who can serve as a good surrogate, and offers a steady influence on the campaign, Devine said. "These are pretty responsible picks, people who could actual, plausibly be vice president and even, if needed president," Devine said.