Japanese Scientist Wins Nobel Prize for Medicine
by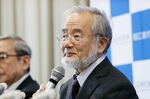 Japan's Yoshinori Ohsumi was awarded the 2016 Nobel Prize in Physiology or Medicine for his discoveries of mechanisms for autophagy.
"Ohsumi's discoveries led to a new paradigm in our understanding of how the cell recycles its content," the Nobel Assembly at Karolinska Institutet said in a statement on Monday. "His discoveries opened the path to understanding the fundamental importance of autophagy in many physiological processes, such as in the adaptation to starvation or response to infection."
Annual prizes for achievements in physics, chemistry, medicine, peace and literature were established in the will of Alfred Nobel, the Swedish inventor of dynamite, who died in 1896. The prize in economic sciences was added by Sweden's central bank in 1968. The total amount for each of the 2016 prizes is 8 million kronor ($936,000).
Before it's here, it's on the Bloomberg Terminal.
LEARN MORE