ING Plans to Reduce Its Workforce by Up to 11% in Overhaul
by
Most reductions taking place in The Netherlands and Belgium

Bank plans to invest 800 million euros in digital upgrade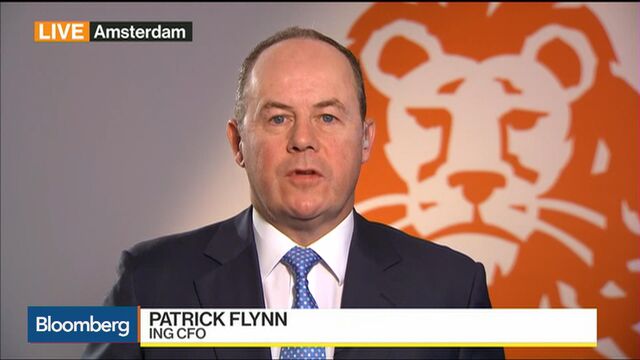 ING Groep NV plans to eliminate about 5,800 jobs, or 11 percent of its workforce, as the largest Dutch lender seeks to cut costs and accelerate its digital transformation.
The bank expects to save about 900 million euros ($1 billion) a year through the program, which includes about 2,300 cuts in the Netherlands and about 3,500 reductions in Belgium, over five years, Amsterdam-based ING said in a statement Monday. The company said it will invest about 800 million euros in digital technology.
"Unfortunately, digital transformation means less jobs," Chief Financial Officer Patrick Flynn said in an interview with on Bloomberg Television. "The Netherlands and Belgium need to rely less on bank branches."
Chief Executive Officer Ralph Hamers is investing in financial technology to reduce personnel and branch costs while seeking to expand lending to consumers and companies outside its home market. While ING has emerged from a restructuring and government bailout with stronger capital buffers than some of its competitors, record-low interest rates and regulatory demands are putting pressure on the Amsterdam-based lender to cut costs.
ING was little changed in Amsterdam trading at 11 euros as of 10:17 a.m. The stock has declined 11.7 percent this year compared with a 23.5 percent fall in the Bloomberg Europe Banks and Financial Services Index. Approximately 7,000 workers will be affected by the cuts, with 950 staff employed by external suppliers. The company had 51,833 employees at the end of June.

Lenders across Europe are slashing their workforces and investing in financial technology to stave off competition from online finance startups. Commerzbank AG plans to shed 9,600 jobs and won't consider resuming dividend payments until it has carried out most of the reductions by 2019. Deutsche Bank AG is poised to reach an agreement with labor representatives this week that will pave the way for the German lender to eliminate about 1,000 jobs in its home market, according to people with knowledge of the matter.
"The company has outlined plans to cut costs and digitalize the franchise across all countries, which we find realistic and credible," Stefan Nedialkov, an analyst at Citigroup Inc., wrote in a note to clients.
ING said it will maintain a common equity Tier 1 ratio, a key measure of financial strength, above 12.5 percent by 2020, according to today's statement. It also seeks a leverage ratio of more than 4 percent, and lowered its cost-to-income ratio of a range of 50 percent to 52 percent, from 53 percent.
The reiterated that it intends to pay a progressive dividend of more than 65 cents per share over time. ING kept its target for a return on equity of 10 percent to 13 percent was unchanged while it awaits regulatory clarification.
"This might be seen as a disappointment by some, as it suggests that we should not expect the savings to translate in a meaningful improvement in earnings power," Matthias de Wit, an analyst at KBC Securities in Brussels, said about the unchanged return on equity target. "We nevertheless welcome the group's plans to improve the efficiency of the bank in light of the headwinds the sector is currently facing from low rates and rising regulatory costs."
Before it's here, it's on the Bloomberg Terminal.
LEARN MORE