Copper Seen Leaping More Than 40% as Market Flips to Deficit
By and
Metal may soar to $7,000 by end of decade: Japanese producer

Copper prices are poised for the highest close in two months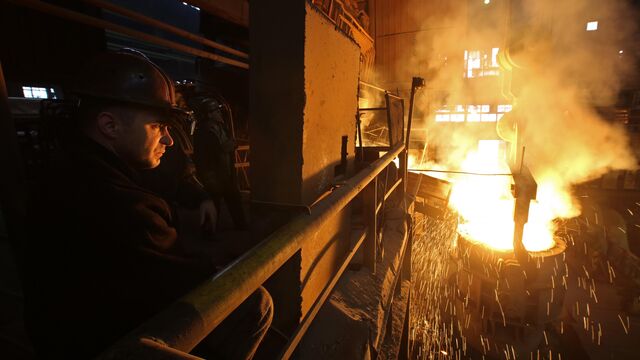 Copper will surge more than 40 percent through 2020 as the global market swings to a shortage, according to Japan's biggest producer, whose views echo those of Citigroup Inc. last week. Prices headed for the highest close in two months.
The metal used in power generators and cables will average $7,000 a metric ton in four years time from $5,200 in 2017 and $4,800 this year, Pan Pacific Copper Co. said in a presentation in Tokyo on Monday. Demand will exceed supply by 52,000 tons in 2017 after a surplus of 110,000 tons this year and shortfalls will continue through the end of the decade, it said.

Citigroup Inc. said last week that it was constructive on prices over the next 12 months because new supply had reached capacity and demand had increased in China, the world's biggest user. The bank sees widening deficits and rising prices from next year through 2020. Copper is the worst performing metal on the London Metal Exchange this year after mine output surged in the first half, and Macquarie Group Ltd. cut forecasts last month on "persistent oversupply."
"Demand will grow," said Yoshihiro Nishiyama, company president. "Output will fail to keep pace with demand because of the absence of new mine supply, unless prices reach $7,000," he said.
While copper has increased just 3.8 percent in 2016, trailing double-digit increases in other LME contracts, prices had their best month in September since early last year, rising 5.4 percent. Stockpiles tracked by the LME are up more than 160 percent in the past six months, just as inventories on the Shanghai Futures Exchange slumped, signaling movement of reserves out of China into LME warehouses in Asia.
Macquarie forecasts copper at $4,563 in 2017 and $4,413 the year after, rising to $5,188 in 2020. Goldman Sachs Group Inc. said at the start of August that a "supply storm" was about to hit the copper market with prices possibly slumping to $4,000 over 12 months as mine supply picks up, producers enjoy lower costs and demand growth softens.
Pan Pacific Copper sees global output rising to 22.68 million tons next year from 22.36 million tons in 2016, with consumption at 22.73 million tons from 22.25 million. The producer is owned by JX Nippon Mining & Metals Corp. and Mitsui Mining & Smelting Co.
Copper for delivery in three months added 0.4 percent to $4,885 on the LME on Monday, and was set for the highest close since Aug. 2.