Five Triggers to Show If Brazil World-Beating Rally Has Legs
by
Ibovespa is best performer globally this year in dollar terms

Investors have high hopes for President Temer's government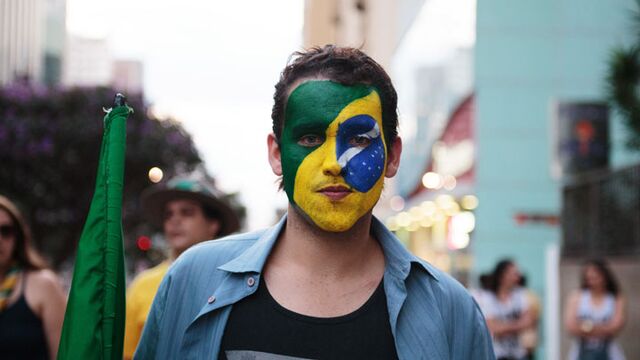 Brazil's Ibovespa wrapped up a third straight quarterly gain on Friday, capping a rally that makes it the world's best-performing stock market this year. But for the gains to continue, many investors are saying they'll need more than optimism and promises of a rebound.
Speculation that President Michel Temer's administration could swoop in and fix Brazil's problems -- from getting a ballooning budget deficit under control to pulling Latin America's biggest economy out of its worst recession in a century -- has already propelled a 68 percent gain in stocks this year. In the final few months of 2016, attention turns to Congress to see if lawmakers are willing to go along with his plans.
"The oxygen that has fueled the Ibovespa's huge gains in recent months -- the optimism that the recovery efforts will work -- is exhausted," said Adeodato Volpi Netto, the head of capital markets at Eleven Financial Research in Sao Paulo. "Change must actually start for bets to turn into real value."
Here are five triggers that investors and analysts say will help determine if Brazil's stock rally still has legs:
1 - Government spending legislation and social security reform:
Limiting annual budget increases to no more than the inflation rate is a cornerstone of Finance Minister Henrique Meirelles's plan to rein in spending and ward off more rating downgrades after Brazil lost it's coveted investment grade last year. Passage of the bill is seen as a crucial test for Temer's team. The speaker of the lower house committee that's analyzing the project is expected to present this conclusions early this week, according to risk consultant Eurasia Group. The committee will likely vote around Oct. 7-10, followed by a lower house vote by Oct. 31 and Senate approval by mid-December.
The economic team is also expected to propose pension reforms that Temer will forward to Congress sometime this year. Temer's PMDB and its main ally, PSDB, were the biggest winners in municipal elections over the weekend, fueling optimism he can get support for his measures. 
The Ibovespa rose 1.9 percent at the close of Monday trading in Sao Paulo.

2 - Carwash investigation:
The corruption probe that started at state-run oil giant Petroleo Brasileiro SA keeps barreling forward, most recently ensnaring a former finance minister and chief of staff who served under former Presidents Luiz Inacio Lula da Silva and Dilma Rousseff. The metastatic probe leaves investors wondering who could fall next, said Paulo Figueiredo, an economist at FN Capital in Petropolis, Brazil.
3 - Interest rates in Brazil:
Interest rate swaps show traders are betting Brazil's central bank will begin easing monetary policy at its October meeting. The benchmark rate, known as the Selic, has held at an 11-year high of 14.25 percent since July 2015, discouraging companies from investing and consumers from borrowing. Investors will pay close attention to inflation data to see if price increases are converging with the 4.5 percent target, as central bank chief Ilan Goldfajn last week said they would.

4 - U.S. elections and the Fed:
Investors in Brazil have proven skittish about the specter of rising rates in the U.S. Traders are betting the Federal Reserve may hike in December, making it all the more important for Brazilian lawmakers to pass spending reforms before then, said Paulo Henrique Amantea, an economist at brokerage Guide Investimentos. An win by Republican presidential candidate Donald Trump could also be bad news for Latin American economies, especially if he follows through with vows to overhaul trade agreements. The U.S. is Brazil's second-biggest trading partner.
5 - Commodity prices:
Despite all the hoopla around Brazil's political turmoil, commodities are still a key driver in the stock market's performance. Raw-materials producers account for almost of quarter of the Ibovespa's weighting, and the correlations between the gauge and raw materials is at its highest in three months. OPEC debates over crude output and Chinese efforts to boost growth will play important roles in supporting or sinking Brazilian equities, said Pedro Paulo Silveira, chief economist at the brokerage Nova Futura in Sao Paulo.

Before it's here, it's on the Bloomberg Terminal.
LEARN MORE