Mersch Decries Banks That Can't Handle a Little Pressure
By and
Overall impact of recent ECB stimulus has been net positive

'There is a limit to how low interest rates can go:' Mersch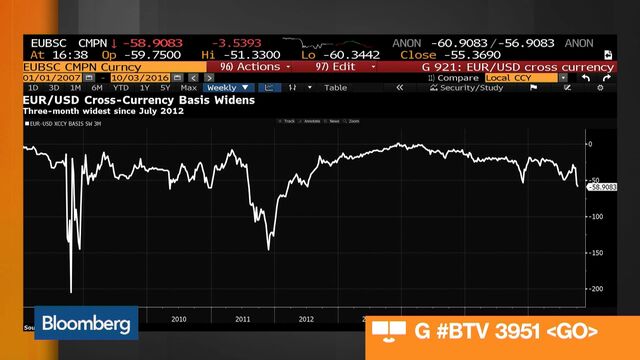 European Central Bank Executive Board member Yves Mersch said banks that can't withstand temporary strains on their earnings may have bigger questions to answer about their future viability as businesses.
In a speech on Monday, Mersch acknowledged that low interest rates "put pressure on banks' profitability" and noted analysts forecasts that return on equity may fall to 2 percent from 6.5 percent in some cases.
While ECB estimates show the overall impact of recent stimulus has been net positive, "we cannot ignore such analyses," he said. "And yet, one also has to ask if a bank that cannot weather headwinds over a few years still has a sufficiently robust business model to stay in the market."
Mersch's comments come a week after ECB President Mario Draghi said the financial industry must stop blaming the actions of central banks for their problems and focus on fixing their business models and risk failings.
Deutsche Bank
Deutsche Bank AG, the German lender whose shares have declined by almost half this year, is trying to shore up confidence among investors after the Justice Department requested $14 billion to settle a mortgage probe. Chief Executive Officer John Cryan has said he doesn't plan to raise capital and expects U.S. authorities to scale back their request. The shares were up 1.2 percent at 11.71 euros at 1:21 p.m. Frankfurt time.
Mersch also said there's a risk that loss of confidence in the financial industry could hurt lending and the broader economy. The Bloomberg Europe 500 Banks Index has fallen 23 percent this year, almost four times as much as the Stoxx Europe 600 Index.
"A negative outlook for banks weighs on banks' share prices, thereby raising their cost of capital and ultimately decreasing the net return on lending,'' he said. "This may cause banks to become more conservative in their lending to euro-area companies and households."
Smooth Transmission
ECB Executive Board member Peter Praet said in a speech in Madrid on Tuesday that the return on equity of some major banks remains well below their cost of capital.
While he acknowledged that the prevailing low-interest-rate environment is one factor damping profitability -- a point also made by ECB Governing Council member Klaas Knot in Amsterdam -- Praet argued that a resilient banking system is "crucial to provide for a smooth transmission of monetary policy" and support the economy.
The Frankfurt-based ECB cut its deposit rate below zero in 2014, and policy makers have said rates will remain at present or lower levels for an extended period.

Speaking in Luxembourg, Mersch warned that cutting rates further "would come with increasing risks" as costs for the banking industry may start to outweigh benefits. While the deposit rate, currently at minus 0.4 percent, is "mildly negative," he would shy away from moving into "wildly negative" territory.
"There is a limit to how low interest rates can go," Mersch said. "The longer they remain low, the more pronounced the negative side effects will become."
Before it's here, it's on the Bloomberg Terminal.
LEARN MORE