Bonds Fall, Euro Trims Drop as Tapering Bets Roil Global Markets
By , , and
ECB may gradually wind down bond buying before QE ended

Most Asian futures track U.S. stock losses; yen declines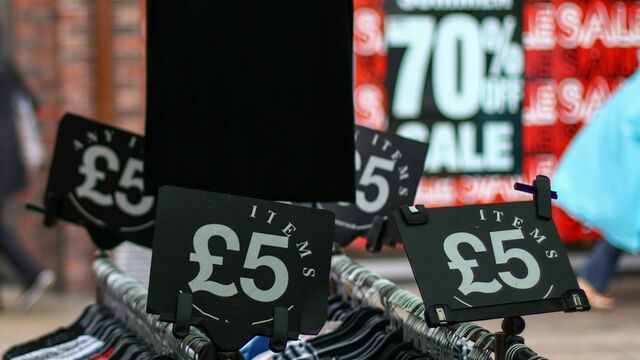 Fresh reminders that central banks may be starting to map their retreat from extraordinary stimulus measures sent a shock wave through markets, roiling bonds, currencies and equities.
Global bonds declined, the euro rebounded from its lows of the day and stocks came under renewed pressure after Bloomberg News reported the European Central Bank is likely to gradually taper asset purchases as it ends quantitative easing. Officials who asked not to be identified didn't exclude that the program could still be extended past the current end-date of March 2017 at the full pace of 80 billion euros ($90 billion) a month. Oil also retreated.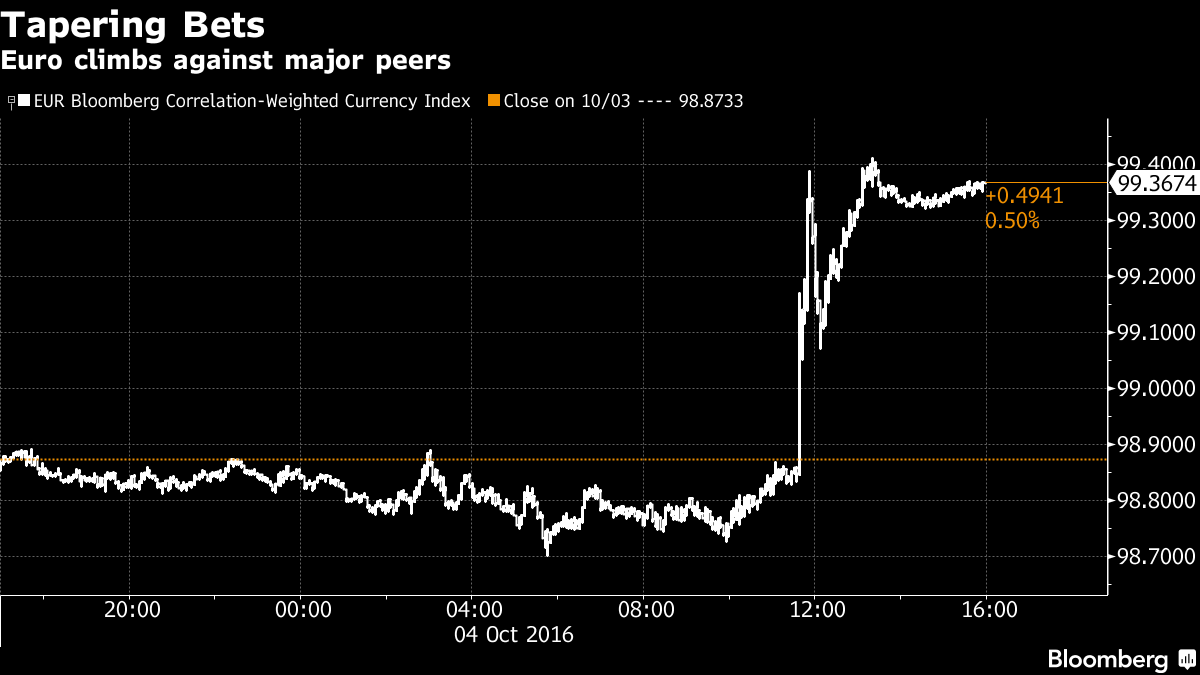 "The market is clearly surprised," said Eric Theoret, a currency strategist at Bank of Nova Scotia in Toronto. "The last press conference was all about fears for the ECB as they exhausted the universe of purchase-able assets."
Traders have been monitoring central banks for any signs they may be willing to pull back on stimulus measures. Bets on a Federal Reserve interest-rate increase by December climbed after Richmond Fed chief Jeffrey Lacker urged tighter policy and his Cleveland counterpart, Loretta Mester, said the U.S. economy is ripe for a hike. The ECB will probably wind down bond purchases in steps of 10 billion euros a month, according to euro-zone central-bank officials.
To read more about the informal census building around the ECB's QE, click here.
Currencies
The euro lost less than 0.1 percent to $1.1204 as of 5 p.m. in New York, after earlier weakening as much as 0.7 percent against the greenback.
The Bloomberg Dollar Spot Index, a gauge of the U.S. currency against 10 major peers, rose 0.6 percent, increasing for the second day. The dollar advanced 1.2 percent to 102.90 yen, extending its rally to six days, the longest winning streak since August.
The pound tumbled to its weakest level in three decades amid mounting concern the U.K. is heading for a so-called hard Brexit that would restrict the country's access to the European Union's single market. The selloff extended with Prime Minister Theresa May said to take the view that financial services would get no special favors in EU exit talks.
Most emerging-market currencies retreated, led by losses in the South African rand. India's rupee gained as the central bank cut rates in its first policy meeting since a change in leadership.
Stocks
The S&P 500 Index retreated 0.5 percent to 2,150.49. Companies offering high dividend yields led declines, with utilities and telecommunications shares falling more than 1.6 percent amid concern over the prospect of higher U.S. rates. Banks advanced on the prospect for a bounce in profits related to an increase in lending spreads.
"We do believe that a December rate hike is in the cards," said Chad Morganlander, a money manager at Stifel, Nicolaus & Co. in Florham Park, New Jersey, which oversees about $170 billion. "Overall, that's going to be the critical focus for the next several weeks."
The Stoxx Europe 600 Index added 0.8 percent, while the U.K.'s FTSE 100 Index ended Tuesday up 1.3 percent at its highest point since April 2015 after touching a record high. British exporters rallied amid the slump in the pound.
Asian index futures, except for those in Japan, signaled declines for Wednesday, with contracts on stock benchmarks in Australia, South Korea and Hong Kong slipping at least 0.1 percent. Nikkei 225 Stock Average futures jumped 0.8 percent in Chicago amid the yen's slide.
Bonds
Benchmark 10-year U.S. yields rose six basis points, or 0.06 percentage point, to 1.69 percent, according to Bloomberg Bond Trader data. The yield rose to as high as 3.05 percent in 2014 before reaching a record-low 1.318 percent in July.
The bond selloff showed investors are starting to doubt the resolve of central banks from Europe to Japan in maintaining accommodative policies. Negative interest rates and aggressive bond-buying has helped push yields on almost $12 trillion of sovereign debt below zero. The lack of commitment from Japan and Europe to extend or increase their asset-purchase targets threatens bond bulls who also face the possibility of higher rates in the U.S. this year.
"I would expect that the case would remain compelling" for a rate increase when the Fed Open Market Committee gathers in Washington Nov. 1-2, Mester told Bloomberg's Kathleen Hays. "We've learned over history that the Fed should be looking ahead and not just waiting."
German 10-year bund yields jumped four basis points to minus 0.054 percent, while rates on similar maturity Italian debt increased four basis points to 1.31 percent, having been as low as 1.23 percent.
Commodities
Gold plunged the most in almost three years, falling below $1,300 an ounce for the first time since June amid mounting concern that improvements in the U.S. economy will push the Fed to lift rates soon.
"Given Lacker's statement alone, gold is not going to respond well to that," Tim Evans, the chief market strategist at Long Leaf Trading Group in Chicago, said by phone. "The environment that we're in, with the expectations of a rate hike coming and no signs of inflation in the near term, is just a very negative for gold."
Gold futures for December delivery dropped 3.3 percent to settle at $1,269.70 an ounce on the Comex in New York, the biggest decline for a most-active contract since December 2013. On Monday, prices closed at $1,312.70 an ounce, falling below their 100-day moving average for the first time since June.
Oil slipped from a three-month high in New York before a government report that's projected to show that U.S. crude stockpiles grew for the first time since August.
West Texas Intermediate for November delivery fell 0.3 percent to settle at $48.69 a barrel on the New York Mercantile Exchange. The contract reached $49.13 earlier in the day, oil's highest intraday level since July 5.
Nickel slumped the most in three weeks as supply concerns eased amid speculation mines in the Philippines could avoid shutdowns after a government audit of producers.
— With assistance by Marianna Duarte De Aragao, Charlotte Ryan, John Hyland, Andrew Reierson, Lukanyo Mnyanda, Toshiro Hasegawa, Emma O'Brien, James Regan, Alan Soughley, Jonathan Burgos, Paul Cox, Stephen Kirkland, Y-Sing Liau, and Rita Nazareth
Before it's here, it's on the Bloomberg Terminal.
LEARN MORE