Iron Ore Miners Face Test of Discipline as China Challenge Looms
by and
China push to cut steel overcapacity may hurt demand, DBS says

It could be difficult for market to sustain gains, bank warns
The world's largest iron ore producers will need to exert tight control over supplies to keep prices at about $45 a metric ton as China's drive to weed out unwanted steel capacity poses risks to demand, according to Singapore-based DBS Group Holdings Ltd.
The commodity's rally in 2016 may come under pressure as consumption in China is poised to weaken in the coming years, Chief Investment Officer Lim Say Boon said in a report. Iron ore was steady at $55.86 a dry ton on Monday, and hasn't traded below $45 since February, according to Metal Bulletin Ltd.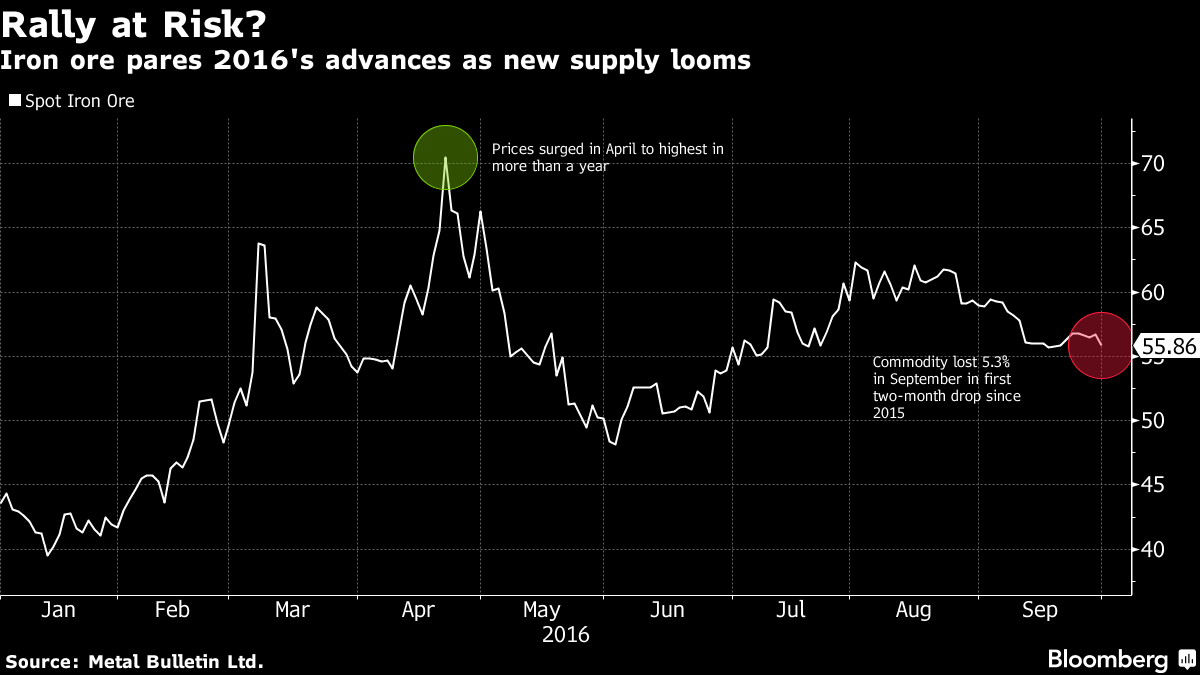 Iron ore sagged in September, eroding this year's surprise advance, on resurgent concern that supply growth will again swamp the market even as some miners say they are now prioritizing the value of exports over volumes. With Brazil's Vale SA set to start a four-year ramp-up of its S11D project, banks from Citigroup Inc. to Morgan Stanley, as well as miner BHP Billiton Ltd., have said the additional output will probably contribute to weaker prices.
"Although the price of iron ore has been in an uptrend since the start of the year, it could be difficult for the market to sustain those gains," Lim wrote in the quarterly market-outlook report. It didn't list specific price forecasts. "Australian and Brazilian producers will have to maintain tight shipment discipline to keep the price" at about $45, he said.
Rising Production
Ore with 62 percent content delivered to Qingdao lost 5.3 percent in September, capping the first back-to-back monthly loss since November 2015, according to Metal Bulletin. It remains 28 percent higher in 2016 after a three-year tumble marked by rising production and persistent global oversupply.
Australia's two biggest producers have slowed the pace of supply growth as a decade-long expansion nears an end. BHP Billiton, the world's largest miner, has forecast that its mines in Australia may expand annual output by as little as 3 percent in the 12 months to June 30, it said in July.
Rio Tinto Group's Jean-Sebastien Jacques, who was appointed chief executive officer in July, said the following month that its iron ore strategy "is not about volume, it's about value." The world's second-biggest exporter is adding to full-year shipments at the slowest rate since 2012, while its annual output from Australia may be unchanged in 2017 as it addresses difficulties completing an autonomous train program.
Still, plenty of banks have flagged prospects of rising low-cost supply from the largest-producing nations. Shipments from Australia will expand to 934 million tons in 2020 from 835 million this year, while Brazilian cargoes rise to 480 million tons from 371 million, Citigroup said last month. The bank reiterated its outlook for ore dropping to $45 next year and $38 in 2018.
The global glut will expand next year and in 2018, and that means prices are poised to drop, HSBC Holdings Plc said last month, predicting a fall into the $40s. Liberum Capital Ltd. has said despite the value-over-volume mantra from miners including Rio, supply growth is still expected to accelerate in 2017.
Before it's here, it's on the Bloomberg Terminal.
LEARN MORE