Deutsche Bank Likely to Pursue Rights Issue, Autonomous Says
by
Bank could freeze bonus payments to bolster buffer, note says

Investors see Commerzbank merger least likely, survey shows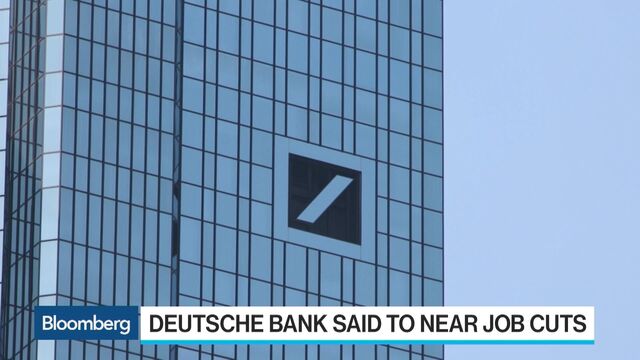 Deutsche Bank AG is most likely to tap existing shareholders for funds to help weather mounting legal costs as other options including a sale of the asset management business or a merger with Commerzbank AG are more damaging, Autonomous Research LLP said.
The lender may face litigation charges of $5.6 billion in an investigation of the U.S. Department of Justice tied to residential mortgage-backed securities and $2.5 billion in a money-laundering probe into its Russian operations, sparking a capital shortfall of as much as 9.5 billion euros ($11 billion), Stuart Graham, chief executive officer at Autonomous, said in a note on Monday. While the lender has several options, they're all "unattractive," he said.
"Deutsche has waited too long to conduct yet another rights issue, in our view," Graham wrote, who has an underperform on the shares. "It has understandably been fearful of raising equity ahead of settling its major litigation cases with the U.S. DOJ."
A spokesman at Deutsche Bank declined to comment.
Investors see a rights issue as the "most likely tool management will use" to restore market confidence, Autonomous said in the note, citing a Procensus survey with 202 respondents. Clawbacks and scrapping bonuses were the second-most likely outcome, while a merger with Commerzbank ranked last of six options considered, according to the note.
Bonus Freeze
The German lender's shares touched a record low last month after the Justice Department requested $14 billion to settle a probe into the sale of faulty securities, more than twice what the bank has set aside for litigation. Deutsche Bank Chief Executive Officer John Cryan told Germany's Bild newspaper last week that he doesn't plan to raise capital and signaled that he expects U.S. authorities to lower their request.
The stock rebounded on Friday after Agence France Presse reported that the lender was nearing a settlement of $5.4 billion with the Justice Department. The lender has lost about half of its market value this year, closing at 11.57 euros on Friday, up 6.4 percent.
While Autonomous said that Deutsche Bank would need to raise as much as 9.5 billion euros to stabilize its capital ratios, it may only be able to achieve 5.7 billion euros in a rights issue. The lender could help bolster buffers by scrapping bonuses and "invoking the forfeiture of 2016 share vests," with the bank likely to post a full-year operating loss of 3.2 billion euros, according to the note.
Asked by Bild whether Deutsche Bank will scrap bonuses for the executive board for a second year, Cryan said that "nobody has unrealistic expectations." The CEO has said that the bank may fail to be profitable this year as he restructures businesses.
Before it's here, it's on the Bloomberg Terminal.
LEARN MORE