markets
Currency Traders in Record Losing Run Pay for Languid Market
By and
Central-bank policies are making life difficult for investors

Top funds' returns declined for seventh month in September
Foreign-exchange traders suffering the worst losing streak on record are getting no help from the world's most popular currency pair.
The euro moved in its narrowest range ever versus the dollar during the quarter just past. It's a prime example of the biggest challenge faced by dealers: the volatility they exploit for profit is falling throughout the $5.1 trillion-a-day market, sending an index of top funds' returns tumbling for a seventh month in September.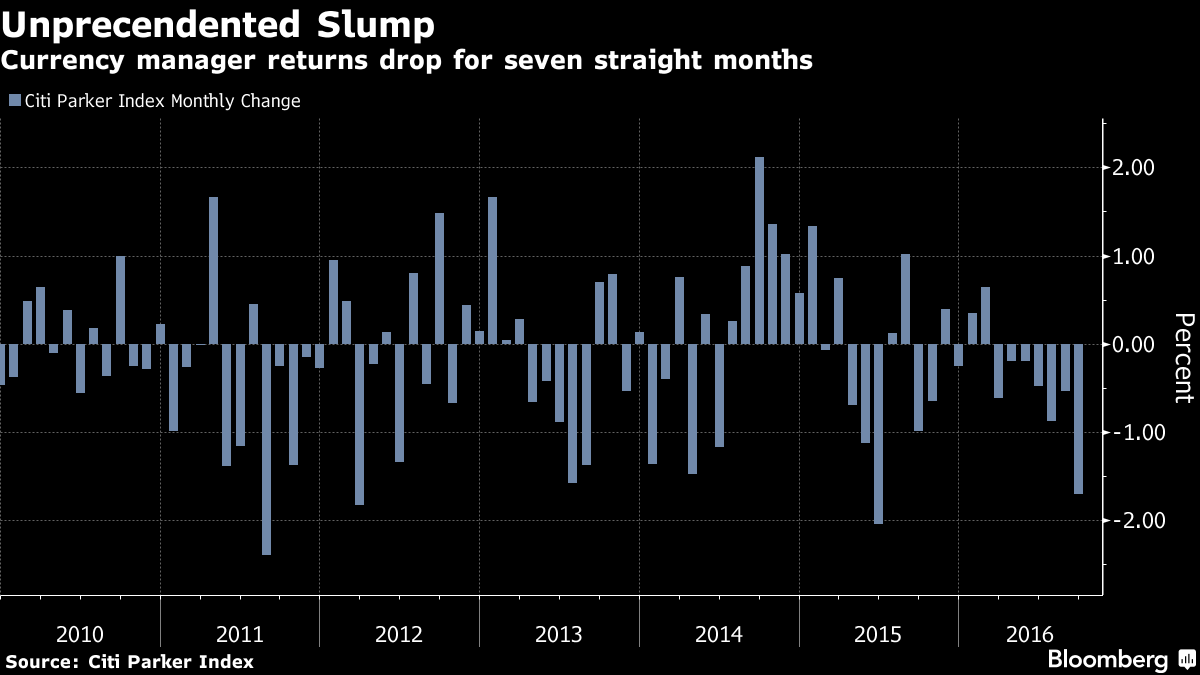 The torpor is mainly due to central banks. The divergence trade that was supposed to see a rate-hiking Federal Reserve split from its peers and spur the dollar higher is sputtering, with a lackluster U.S. economy forcing officials to hold off on tightening policy. The euro has stagnated as investors judge that the European Central Bank is running out of ammunition to expand the money supply. The malaise is even spreading to the yen, this year's best-performing developed-market currency, as dealers weigh the Bank of Japan's latest policy twist.
"Most of these managers did fairly well in jumping in on dollar longs in 2014 and 2015, but now that there's no trend they've been struggling," said Ugo Lancioni, a money manager in London at Neuberger Berman Group LLC, which oversees about $246 billion. "There's no point in implementing momentum strategies if fundamentals don't support the story."
A long position is a wager that a currency will appreciate.
Staying Neutral
A growing number of investors and traders say the euro-dollar rate is moving so little that it isn't worth bothering about, while forecasts in a Bloomberg survey suggest it will remain within about a cent of its $1.0952-$1.1366 third-quarter range until 2018. That's the narrowest range for a quarter since the single currency's 1999 inception.
"We're not active in the euro-dollar space one way or the other," said Roger Hallam, London-based chief investment officer for currencies at JPMorgan Asset Management, which oversees $1.7 trillion. "The market is beginning to consider the limits of monetary policy. There's no real impulse for the euro to be trading significantly weaker from here."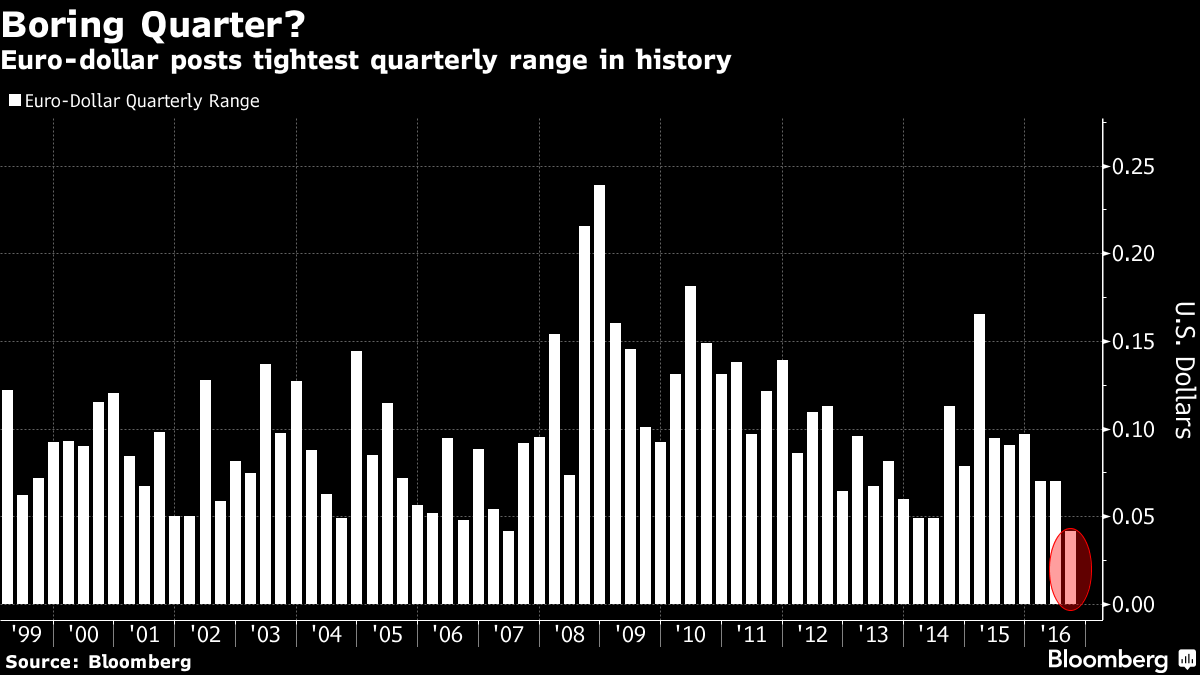 A JPMorgan Chase & Co. volatility measure just posted its first back-to-back quarterly drop in more than two years as the impact of the Brexit referendum faded, dropping to 9.9 percent, from more than 12 percent in June.
The Parker Global Index of returns is also falling, extending its decline this year to 3.5 percent, the most since 2011. The seven-month losing streak is the longest in data going back to 2003.
Momentum trading, or following trends such as the anticipated dollar surge, has fallen since early July, according to a Deutsche Bank AG index. It's up 2.4 percent this year, set for the worst performance since 2012, while the Bloomberg Dollar Spot Index has fallen 3.4 percent, headed for its first annual slide in four years.
Since hurting investors with an unexpected gain in the first half of the year, the yen has paused its ascent amid speculation it strengthened too fast and after BOJ Governor Haruhiko Kuroda said Sept. 21 the central bank would target its bond purchases to boost inflation more effectively.
On the same day, the Fed held its key rate unchanged and emphasized a gradual path toward tighter policy. Draghi refrained from boosting the ECB's bond-purchase plan at its most recent meeting almost a month ago, even as the institution cut its 2018 economic growth forecasts.
Carry Thrives
One beneficiary of the drop in global volatility is the carry trade, where the profit from borrowing cheaply in one currency and investing where rates are higher can be wiped out by price swings. A Deutsche Bank index tracking this strategy has risen 7.5 percent in 2016 amid a rally in emerging-market currencies and as the Fed holds off raising rates for a second time since the financial crisis.
For the market as a whole, though, the floundering of major central banks is making it difficult to take decisions.
Ulf Lindahl, chief executive officer of A.G. Bisset Associates LLC, said it would take a surge in the euro for the currency manager to buy back into the single currency. It's only a matter of time before that happens, though, he said; the euro has been flat for too long.
"We are neutral on the euro against the dollar and have been since Aug. 1," said the 35-year market veteran, who manages more than $1 billion from Norwalk, Connecticut. "But we're prepared to buy it should it move higher."
— With assistance by Lananh Nguyen
Before it's here, it's on the Bloomberg Terminal.
LEARN MORE