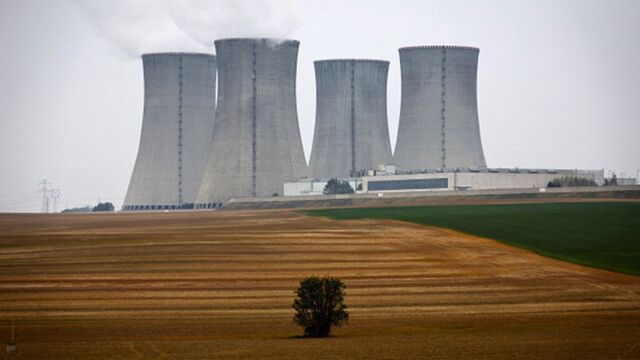 Building nuclear power plants isn't cheap or easy. Just ask France and the U.K. Now Germany is showing that leaving the atomic-power game is harder than it sounds. Following the 2011 disaster at Japan's Fukushima plant, Germany's government decided to exit nuclear power generation. In June the European Commission approved a law that sets out the costs of decommissioning plants and the lingering liability for nuclear waste. About 13 percent of the electricity produced in Germany came from reactors in 2016.
1. How many plants is Germany closing?
The country's eight remaining nuclear plants have to be shut down before the end of 2022. Nine others have been shuttered since 2011.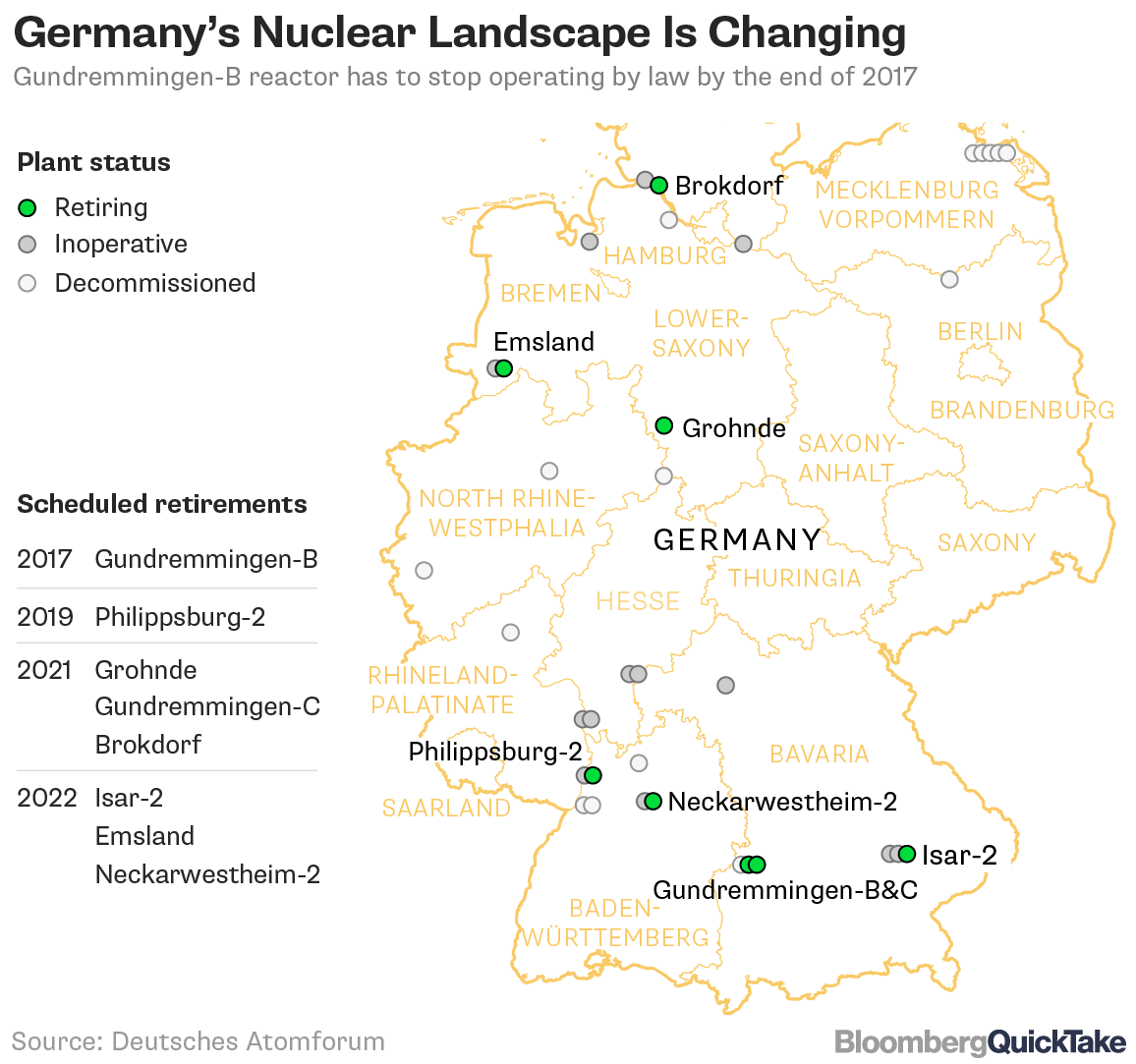 2. What will be the cost?

The total cost of terminating German nuclear activities is estimated to be 50 billion euros ($57 billion). 
3. Who pays?
Originally, the utilities that own the plants had been liable for all costs of the nuclear phaseout. But since that arrangement risked leaving taxpayers on the hook if the companies went bankrupt, Chancellor Angela Merkel sought a compromise. Parliament approved a law based on the proposal of a government-assigned commission whereby utilities will be responsible for plant decommissioning and restoring the land they're on, while the government will assume liability for nuclear-waste storage. Reactor owners in July paid 24.1 billion euros into a fund to free them from their storage liabilities. That included 17.9 billion euros that utilities had already set aside, plus a 6.2 billion-euro "risk premium" to cover unexpected costs.
4. What happens to the nuclear-plant operators?
Germany's top court ruled in December that EON SE, RWE AG and Vattenfall AB are entitled to compensation for lost power-production rights. Vattenfall, a Swedish company, is seeking additional compensation through the World Bank's International Centre for Settlement of Investment Disputes. EON, RWE and Energie Baden-Wuerttemberg AG were repaid about 6 billion euros for past payments of a nuclear-fuel tax that a Federal Constitutional Court ruled was unlawful in June. Operators signed a contract with the government on top of the law to have watertight exclusion from future liabilities related to waste storage, as the fuel may be radioactive for 100,000 years and it's still unclear where, when and how Germany will store it.
5. What are the markets saying?
Concerns about future liabilities were weighing on the stock prices of the reactor operators that trade publicly. (Energie Baden-Wuerttemberg has few shares floating, while Vattenfall is completely state-owned.) EON and RWE, Germany's once-largest utilities, are among the biggest decliners on the benchmark DAX index since the Fukushima breakdown in 2011. Historically low interest rates are contributing to the concern, since utilities rely on investment returns to meet their pension and nuclear-decommissioning liabilities.
6. Are other countries abandoning nuclear power?
The idea gets kicked around but hasn't been as widely embraced as in Germany. Sweden gave up on its long-held plan to phase out nuclear power, while Belgium rejected Germany's call to shutter a plant close to their shared border. Spain took steps toward phasing out its nuclear energy program, but its commitment to that has been wavering. In a November referendum, Swiss voters rejected a timetable for phasing out nuclear power.
The Reference Shelf
Before it's here, it's on the Bloomberg Terminal.
LEARN MORE