Photographer: Daniel Acker/Bloomberg
Chinese Gasoline Heads to New York for First Time in Nine Years
by
Trafigura said to ship cargo to Houston and U.S. East Coast

Weak demand in China spurred record-high gasoline exports
Chinese gasoline will reach the U.S. East Coast for the first time in nine years as a surge in New York prices helps ease a glut in Asia.
Trafigura Group Pte. is said to be shipping about 375,000 barrels of gasoline to New York from China and Hong Kong aboard the tanker Marylebone, according to a person familiar with the delivery who asked not to be named. The ship delivered Korean alkylate in Houston for the trading company last week before continuing on to the Northeast, U.S. Customs data show.
Prices jumped after a Sept. 9 spill on the Colonial Pipeline choked off normal shipments to New York, attracting additional supplies, said Andy Lipow, president of of Lipow Oil Associates in Houston.
"That has enabled people to deliver additional gasoline supplies into New York Harbor. They may have initially thought they'd go elsewhere with it, but they now have a better alternative and they're going to New York," he said.

Trafigura's gasoline shipment to New York follows the delivery of almost 300,000 barrels of premium gasoline to Houston Sept. 24 that loaded at Guangzhou aboard the Ardmore Sealifter. That vessel was provisionally booked to Trafigura in August as well, Galbraith's fixture data show.
"Extra gasoline cargoes are likely to land in the U.S. in the weeks ahead," said Adam Longson, Morgan Stanley commodity strategist, today in an e-mailed research note. "The closure of the pipeline temporarily improved import economics and likely stimulated shipments."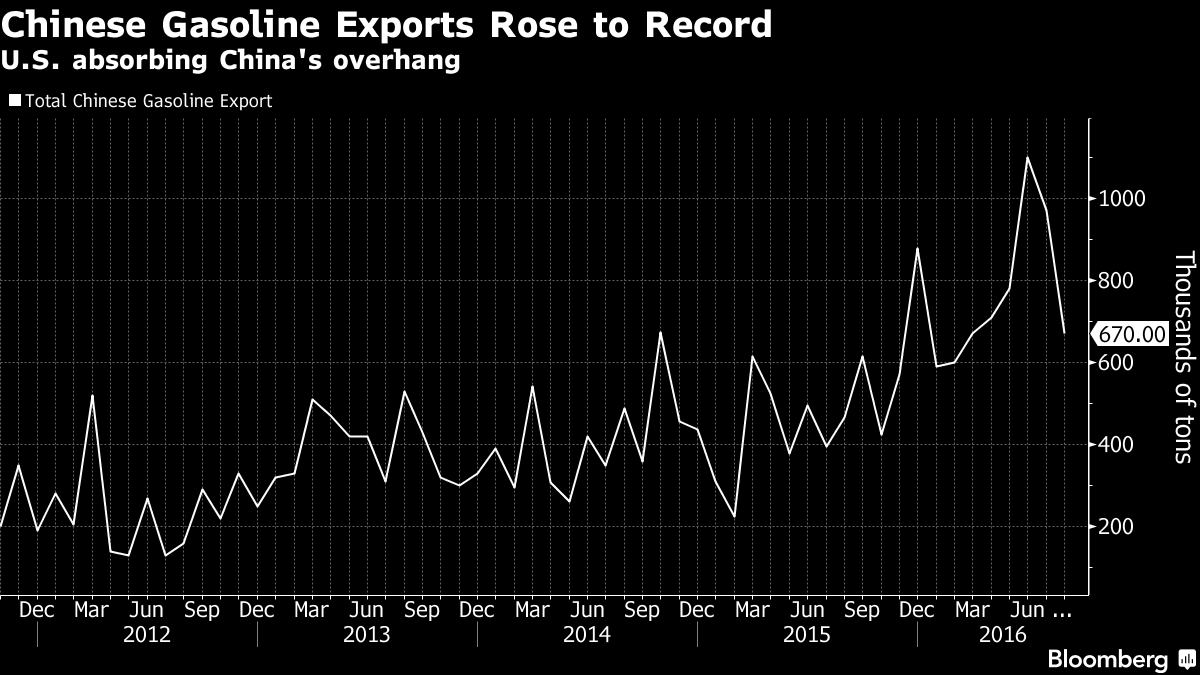 Chinese gasoline exports reached a record 306,000 barrels a day in June. Shipments abroad rose this summer after weather-related damage to roads and pipelines softened domestic consumption, JPMorgan Chase & Co.'s Ying Wang wrote in July. Exports declined to 180,000 barrels a day in August, customs data show, as Chinese refiners shut units during peak maintenance season.
Trafigura spokeswoman Victoria Dix declined by e-mail to comment on Chinese gasoline deliveries reaching the U.S.
Before it's here, it's on the Bloomberg Terminal.
LEARN MORE