Canadian Investors Didn't Get the Memo on Weak Global Growth
Eric Lam, Maciej Onoszko, Scott Deveau and Allison McNeely
Stocks most expensive in 14 years; bond issuance surges

M&A at a record as companies head for foreign shores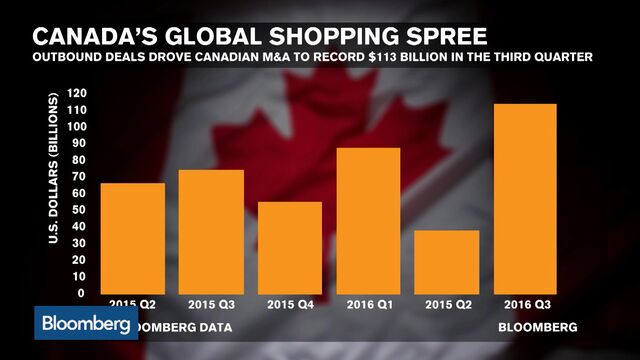 The global economy may be stumbling along in one of its weakest patches ever but Canadian investors are wasting no time betting on a resurgence by piling into assets at home and abroad.
Signs of optimism abound across every market in Canada, even with annual growth in the world's 11th-largest economy barely topping 1 percent. Stock valuations in the S&P/TSX Composite Index have surged to the highest in 14 years; mergers reached a record in the third quarter, and investors are soaking up bonds sold by Canadian provinces and companies.
"If your lens is Canada for 2016 you can be forgiven for thinking that global financial markets have had just a wonderful year," Kurt Reiman, chief investment strategist, BlackRock Canada, said in a telephone interview from New York. BlackRock is the world's biggest money manager with $4.89 trillion in assets under management. "This year we have risk havens and risky assets sharing the spotlight, which is rare."
Some of the biggest forces moving markets have worked in Canada's favor, Reiman said. Low or negative interest rates across the globe have pushed bond prices higher while fueling rallies of about 25 percent in gold and crude. That's driving resource producers to the best performance among industries in the S&P/TSX.
"One of the consequences though is we have valuations that are a bit stretched in the stock market, government bond yields at generational lows, and commodity prices will continue to stabilize into next year," Reiman said. "The upside we've gotten will be hard to repeat."
Here's a deeper look at how each of the markets were faring at the end of the third quarter:
Stocks

The S&P/TSX Composite Index is up 13 percent this year, the second-best among the world's developed markets. That's pushed valuations to 23.6 times earnings, the highest since September 2002, and opened the widest gap with the U.S. since 2009.
The rise comes even as companies are diluting the market with new shares. Firms have raised C$40 billion in equity financing this year, the highest for the period since at least 1999, according to data compiled by Bloomberg. That included Aritzia Inc.'s C$400 million initial public offering, the biggest of the year. The Vancouver-based retailer rose as much as 19 percent Monday in its Toronto trading debut.
It's the earnings part of the ratio that doesn't look pretty though. Profits are mired in one of the worst slumps since the financial crisis amid the lingering oil-price rout. Prospects are looking up, as analysts project third-quarter earnings for the S&P/TSX to surge to C$198.67, a 33 percent jump from year-ago levels.
This would line up with economist projections for 3.3 percent economic growth in the quarter, buttressed by better than expected growth of 0.5 percent in July. An OPEC production cut, if it comes to fruition, wouldn't hurt either for an economy poised to expand just 1.2 percent this year, based on a Bloomberg survey.
M&A


Mergers and acquisitions involving Canadian firms surged to a record $113.3 billion in the third quarter as domestic companies continued to seek growth abroad, driving outbound deals to $78 billion, according to Bloomberg data.
Unlike in previous years where those deals were led by the country's pension funds or money managers, this year's charge has been led by companies seeking growth.
"We're in a low-growth environment. Canada's a reasonably small economy," Dougal Macdonald, president of Morgan Stanley Canada, said in an interview. "A lot of sectors are consolidated and one of the only ways for companies to achieve growth is through M&A. "
He pointed to Enbridge Inc.'s $28 billion acquisition of Houston-based Spectra Energy Corp. and Alimentation Couche-Tard Inc.'s $3.7-billion purchase of San Antonio's CST Brands, two deals in which Morgan Stanley was involved. New York-based Morgan Stanley is the top financial adviser on Canadian deals through the first three quarters of the year.
"You've got low rates today and extraordinary amounts of liquidity and so the investment-grade and high-yield markets are wide open," he said. "That's giving people confidence around financing transactions."
Corporate Bonds

Canadian companies fortified their balance sheets with C$26 billion of bond sales in the third quarter, the highest since 2013 as record-low borrowing costs and strong investor demand led to an unusually busy July and August.
"It seems like there's more demand than there is issuance in Canada," Thomas O'Gorman, director of fixed income at Franklin Bissett Investment Management, said by phone from Calgary. "We've been a little bit starved so the performance has been pretty good."
Banks returned home after spending much of the earlier part of the year issuing debt in the U.S. dollar and euro markets while more stable oil prices encouraged energy borrowers to issue debt. Sales are still down compared with 2015 due to market volatility in January and February that kept companies on the sidelines.
Corporate bonds returned 1.8 percent in the third quarter, the best performance for the period since 2012, according to Bank of America Merrill Lynch data. That pushed returns for the year to almost 6 percent.
Government Debt
Record bond sales by governments aren't usually an indication of sunny economic times but investors are lapping them up anyway. The country's provinces, municipalities and agencies are on track for record issuance in 2016 as they take advantage of record-low borrowing costs and strong investor demand to finance deficits.
Sub-sovereign borrowers sold C$95.7 billion of bonds in the first three quarters of the year, the most since at least 2005 when Bloomberg started compiling the data.
Negative yields globally, a significant spread pick-up and a liquid secondary market has kept a strong bid from investors, Sunil Bhutani, managing director and head of government finance and syndication at National Bank Financial, said in an interview. The bank, a unit of National Bank of Canada, was the top arranger for these bonds.
Investors got a 6.6 percent return from sub-sovereign bonds this year, outpacing last year's return of 4 percent, according to a Bank of America/Merrill Lynch index. The gauge rose 1.8 percent in the third quarter, its fourth consecutive quarterly return.
The Bank of Canada, which holds bond auctions on behalf of the federal government, also boosted sales this year as Prime Minister Justin Trudeau's government gets set to unleash fiscal stimulus. It sold C$88.1 billion of bonds in the first three quarters of the year, compared with C$63.4 billion in the same period last year, according to data on the central bank's website. Federal government bonds returned 4 percent this year, trailing the 5.7 percent gain for U.S. bonds.
Paul Taylor, who helps manage about C$85 billion at  BMO Global Asset Management in Canada, has been overweight Canadian and U.S. equities since the June Brexit vote in the U.K. Canadian earnings have room to improve next year as crude prices gain, he said.
"The market is a barometer not a thermometer," Taylor, the chief investment officer, asset allocation, said in a phone interview from Toronto. "It's not about where you are now, but that the market is anticipating we will extend this cycle."
Before it's here, it's on the Bloomberg Terminal.
LEARN MORE