Brexit No Excuse for New Scottish Breakaway Bid, Minister Says
By and
Mundell says Sturgeon is 'spoiling for a fight' on Brexit

U.K. government consulting with Scots over EU exit strategy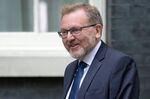 Britain's vote to leave the European Union isn't an excuse for Scotland to make a new bid for independence from the U.K., the British government minister responsible for Scotland said, accusing Scottish First Minister Nicola Sturgeon of "spoiling for a fight."
"What we're not going to accept is that Brexit is somehow a pretext for reopening the independence referendum," Scottish Secretary David Mundell said Monday in a Bloomberg Television interview at the Conservative Party conference in Birmingham, central England. "There was no suggestion that somehow there was a caveat in the EU referendum, which was about the U.K. remaining in the EU, that somehow if Scotland didn't get what it wanted, Scotland would leave the U.K."
Sturgeon has said that the June 23 vote for Brexit means a new independence referendum remains an option because Scotland voted to stay in and risks being dragged out of the EU by the rest of the U.K. Prime Minister Theresa May told delegates in Birmingham on Sunday that Britain "will negotiate as one United Kingdom" and that she wouldn't allow "divisive nationalists" to undermine the 300-year-old union. That prompted a disgruntled response from Sturgeon.
"PM going out of her way to say Scotland's voice and interests don't matter," Sturgeon wrote on Twitter. "Strange approach from someone who wants to keep U.K. together."
Mundell said that the U.K. government has been in direct talks with the Scottish administration as well as with "interest groups" around Scotland in order to help shape Britain's negotiating stance.
"The approach the first minister has followed since the referendum is one of always spoiling for a fight, trying to get into a confrontation," Mundell said. "That's not the approach we want. We want to make sure that Scotland's views are fully reflected in the Brexit discussions and they will be."
Before it's here, it's on the Bloomberg Terminal.
LEARN MORE