markets
Best Returns in Poland Are Stocks Flying Under Government Radar
By and
Mid-cap index index gains 19% as blue-chips retreat in quarter

Investors seek alternatives to companies hurt by state policy
Poland's equity investors are sidestepping government efforts to encroach on state companies by piling into stocks of medium-sized firms instead.
As the benchmark WIG20 Index fell for the third straight quarter, a gauge of mid-cap businesses soared 19 percent in its best performance since 2009. Growing demand for Polish goods and services at home and in Europe pushed turnover in the 40-member index up by almost half in August as volumes in blue-chip stocks declined.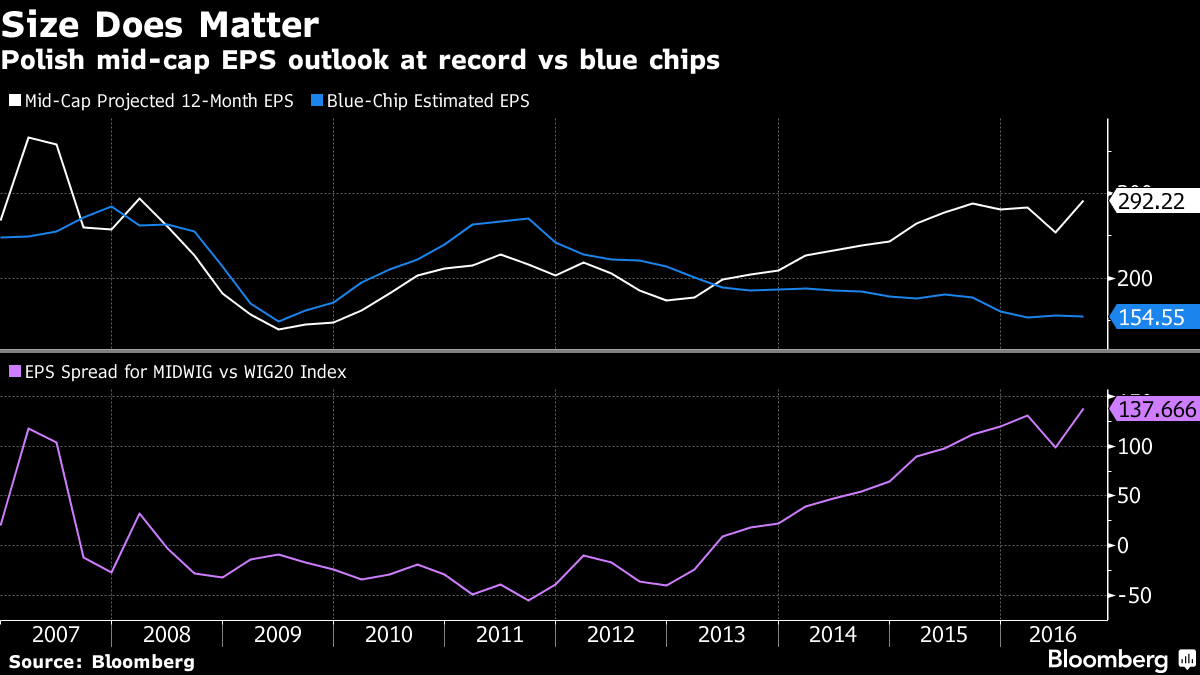 The rally shows investors are searching for ways to escape the 11-month-old government's efforts to extract more budget revenue from banks, state-run utilities and commodity producers that have threatened to undermine dividends. Mid caps, including fast-food restaurant operator AmRest SA and telecommunication provider Netia SA, are poised to earn the most ever per share in the next 12 months relative to the 20 largest firms in Poland, estimates compiled by Bloomberg show.
"Well-managed, mid-size companies with clear strategies and low regulatory risks are a haven for investors in Polish equities," said Hubert Kmiecik, a money manager at TFI Allianz Polska SA mutual fund in Warsaw, who favors automobile suppliers and developers. "We can expect their earnings to improve thanks to a relatively strong economy and investors should continue to buy their shares in the next quarter."
Consumer Demand
Individual consumption in the country of 38 million is poised to expand 3.7 percent this year and next, the fastest pace since 2008, according to the median forecast of economists surveyed by Bloomberg, aided by record-low unemployment and new child benefits that gave families more money to spend. Economic growth of 3.3 percent in 2017 will be double the pace of that in the euro area, the projections show.
The pickup is filtering into the bottom line of mid-sized companies like Uniwheels AG, a Warsaw-listed German manufacturer of car wheels that opened a new production plant in Poland and in August raised its earnings forecast for 2016. Shares in Uniwheels, which has a market capitalization of $689 million, gained almost 50 percent since June 30.
"Exporters benefit twice, from bigger demand locally, and from higher sales abroad," said Maciej Wardejn, an analyst at brokerage Wood & Co. in Warsaw, who recommends buying Uniwheels, rubber maker Synthos SA, hardboard producer Pfleiderer Grajewo SA and car-parts distributor Inter Cars SA.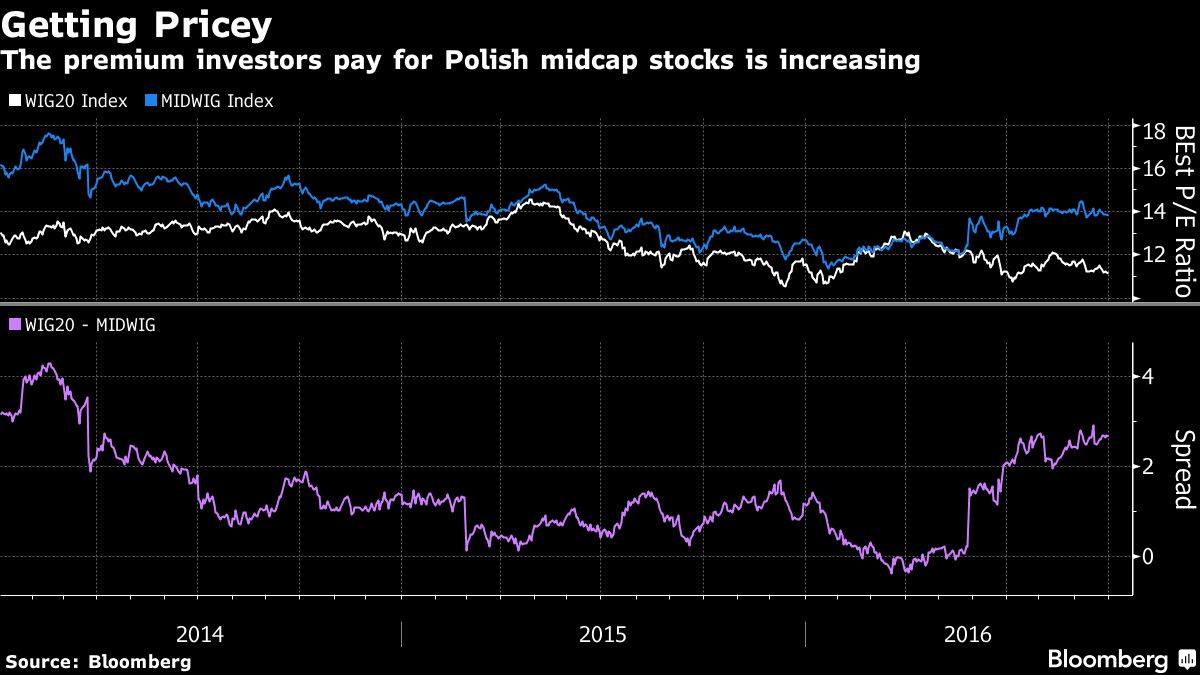 The rush to find alternative investments is partly a response to Law & Justice's tumultuous first year in power, marked by economic policies that included replacing managers at state-owned companies with its own appointments. A tax on banks and the potential cost of helping citizens deal with Swiss franc-denominated mortgages weighed on shares of lenders, whose operating costs climbed 13 percent in the first half, according to official data.
Shares in Polish power producer PGE SA have tumbled 7 percent since Sept. 21 on speculation a plan to raise the nominal value of shares of utility companies may result in lower dividends as the government increases taxes for the state budget.
This quarter's rally has driven the valuation of mid-cap stocks to the highest since March 2014 relative to large companies. The mWIG40 Index is priced at 13.8 times projected earnings, compared with 11.1 times for the WIG20 Index. Turnover that's only a fifth of the benchmark may constrain continuation of the advance in medium-sized companies, according to Andras Szalkai of Raiffeisen Kapitalanlage GmbH.
"The liquidity of smaller caps and their pricing becoming expensive again remain the biggest challenge for such strategies," said Szalkai, who helps oversee about $2 billion in emerging European assets from Vienna and prefers exporters as state companies are "hardly investable."
Still, analysts forecast Poland's mid caps will earn 293 zloty per share in the next 12 months, the highest estimate since May 2008. Larger stocks, meanwhile, will keep lagging peers in Prague and Budapest as long as government policies clash with investors, said Rafal Wiatr, head of equity research at Citigroup Inc. unit Bank Handlowy SA.
"Investors are seeking small- and mid-size companies and it will be hard to stop this trend without changes of state policies," Wiatr said.
Before it's here, it's on the Bloomberg Terminal.
LEARN MORE