Australia's Bank Bosses Face Grilling on Rates, Profits
by and
Questions likely on customer advice, excessive fees, earnings

Turnbull called for hearings to avoid more wide-ranging probe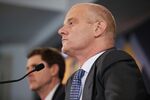 The chief executive officers of Australia's four biggest lenders will this week be grilled by a parliamentary committee for the first time amid disquiet over practices such as giving poor financial advice to customers and failing to pass on central bank interest-rate cuts in full.
The bank chiefs -- starting Tuesday with Commonwealth Bank of Australia's Ian Narev -- are likely to be asked questions about their record profits, executive pay and the fees they charge customers. Australia & New Zealand Banking Group Ltd., National Australia Bank Ltd. and Westpac Banking Corp. are also being sued by the local regulator over alleged manipulation of the nation's benchmark swap rate.
Prime Minister Malcolm Turnbull, who had his parliamentary majority slashed at elections in July, called for the hearings in an attempt to stave off demands by the main opposition Labor party for a more powerful and wide-ranging independent inquiry, known as a Royal Commission, into the finance industry. In its latest move to crack down on banks, the government said Tuesday that manipulation of any financial benchmark will be made a specific criminal and civil offence.
"Australian banks are amongst the most profitable in the world," said Brian Johnson, a Sydney-based bank analyst at CLSA. "But unusually, because it's such a self-reinforcing oligopoly, they've enjoyed tremendous pricing power in the housing market. So any time anything's been bad, they've simply priced up home loans -- and that necessarily causes some political backlash."
Misleading Advice
In a precursor to the hearings, regulation of the bank bill swap rate will be strengthened and the securities regulator "empowered to develop enforceable rules" for administrators of significant benchmarks, and companies such as banks that make submissions to such benchmarks, Treasurer Scott Morrison said in an e-mailed statement.
Among the top items to be scrutinized by the House of Representatives Standing Committee on Economics will be misleading financial advice given to clients, particularly by a unit of Commonwealth Bank. The lender has paid more than A$62 million ($47 million) in compensation to customers since 2010, including A$7.7 million through a system set up in July 2014 after a Senate inquiry concluded there was systemic misconduct in its financial advice division, and called for a Royal Commission to be held.
The ongoing political ructions over Australia's banks follow an independent inquiry into the nation's financial system that was overseen two years ago by former CBA boss David Murray. That investigation, which delivered its final report in December 2014, looked at issues ranging from bank capital levels and systemic risk to pension funds and productivity.

Narev will face the committee for three hours on Tuesday, starting at 2 p.m. Canberra time. He will be followed by ANZ's Shayne Elliott Wednesday, while NAB's Andrew Thorburn and Westpac's Brian Hartzer front the parliamentarians on Thursday.
National Australia has paid out A$6.5 million in compensation to financial-advice customers. Westpac last month said it refunded A$20 million to credit-card holders after not clearly disclosing foreign transaction fees, and a further A$9.2 million after failing to waive fees on some savings accounts.
The Australian Securities & Investments Commission last month said it recovered more than A$200 million in compensation and remediation for retail financial consumers and investors in the 12 months ended June 30 across the areas that it regulates.
Cultural Questions
"We can't have a financial system that harms people -- there are cultural questions here about the banks," said David Walker, who helps oversee A$600 million at Clime Asset Management in Sydney. "They need to be accountable for what they do."
Further fueling public ire, the big four banks are among Australia's most profitable companies and the CEOs are some of the nation's highest-paid executives. Narev's total compensation rose to A$12.3 million last financial year, CBA's annual report showed, more than 150 times the average Australian income.
Commonwealth Bank posted a record annual cash profit of A$9.45 billion in the year ended June 30. However, there are signs that industry earnings are coming under pressure as margins are squeezed and bad-debt charges rise. ANZ and National Australia Bank both reported sliding cash profits in their most recent quarterly updates. Net interest margins -- a measure of lending profitability -- are at the lowest level in eight years, according to data compiled by Bloomberg.
Rate Cuts
The banks have also come under fire from both sides of politics for failing to pass on to home borrowers all of the Reserve Bank of Australia's quarter-point cut in official interest rates in August.
For a story on Turnbull's decision to call hearings, click here.
The banks argue their funding costs have risen since the global financial crisis, a topic that was discussed by central bank chief Philip Lowe last month when he appeared before the same committee that the CEOs are set to face.
"Since the crisis, what has happened is that the whole structure of interest rates relative to the cash rate has risen," Lowe said in his first appearance since taking over as governor. "Credit spreads went up a lot in financial markets, and banks competed much more aggressively for deposits."
The parliamentary hearings are better than a Royal Commission, which "seems to be an extraordinary overreach," according to George Boubouras, chief investment officer of Melbourne-based Contango Asset Management. "We just hope that the politicking is kept to a minimum," Boubouras said.
Before it's here, it's on the Bloomberg Terminal.
LEARN MORE