German Economic Boom at Risk From Complacency, ZEW Chief Says
by and
New ZEW president Achim Wambach speaks in Bloomberg interview

Companies are postponing investment decision after Brexit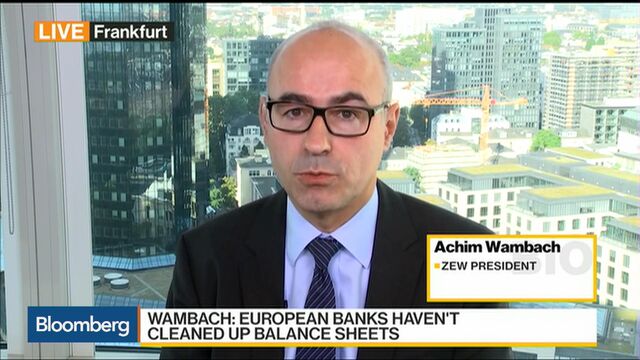 Germany's economic success risks being undermined by the country's unwillingness to adapt, according to the head of the ZEW Center for European Economic Research.
"We are becoming complacent to some degree," Achim Wambach, who has been at the president of the Mannheim, Germany-based ZEW since April, said in an interview on Thursday. "From politics we have pension reforms, but they are not shifting the economy," he said. "And now we have the election coming up next year, so I don't think much will be done until then."
Europe's largest economy has been outperforming its peers with record-low unemployment and a booming current-account surplus. Still, with a slowdown in services activity, cracks are beginning to show, and Wambach is concerned that politicians may be looking the other way.

Germany is facing multiple challenges, from a refugee crisis that brought 1 million migrants into the country in 2015 to the woes of some of its corporate giants like Volkswagen AG and Deutsche Bank AG. Unease linked to the U.K.'s vote to leave the European Union and the rise of populist parties across the continent has led companies to put their investment projects on hold.
"There's a high uncertainty, I hear a lot 'we are postponing' and 'we wait and see'," he said. "If companies can postpone their investments, it makes sense not to make fundamental decisions at this stage."
Global Headwinds
Germany is well placed to withstand these headwinds, according to Wambach. The concern is whether, amid low inflation and sluggish productivity increases, it will be able to continue on an expansion path that politicians may be taking for granted.
"We are expecting a great end of the year: Germany's economy is working, unemployment is low, Germany itself is doing great," Wambach told Bloomberg TV's Guy Collins in a separate interview. "We have to work more on our productivity increase."
The troubles of Germany's largest lender is one of the areas in which Chancellor Angela Merkel could find herself forced to act, Wambach said.
Deutsche Bank is "surely a systemic bank, and at some point if it gets worse and worse the government has to step in," Wambach said. "We are distant from that point. As an initial step we would definitely need that these banks become more transparent."
The ascent of populist parties has also made the EU's attempts to strike free-trade agreements with with the U.S. and Canada -- the so-called Transatlantic Trade and Investment Partnership and the Comprehensive Economic and Trade Agreement -- more difficult.
The Germans "are skeptical about CETA and TTIP," Wambach said.
For a QuickTake explainer on Europe's refugee crisis, click here
While the government is investing heavily in the education of new immigrants, the results could be underwhelming, the ZEW president also warned. Moreover, some of Merkel's own policies -- such as the 8.50 euro ($9.6) minimum wage introduced last year -- could undercut the project as they make refugees' integration in the workforce more difficult.
"I'm somewhat skeptical how productive they are going to be when they enter the job market: If you have a look at the data you can see they are on average not -- yet -- very well educated," he said. "For refugees, minimum wages are really a barrier to enter the labor market and that's why many economists argue we should treat refugees like long-term unemployed people."
Before it's here, it's on the Bloomberg Terminal.
LEARN MORE