Tesla Jumps as Third-Quarter Shipments Aid Musk Funding Plan
by and
Electric-car maker puts third-quarter deliveries at 24,500

Company sticks with second-half forecast of 50,000 vehicles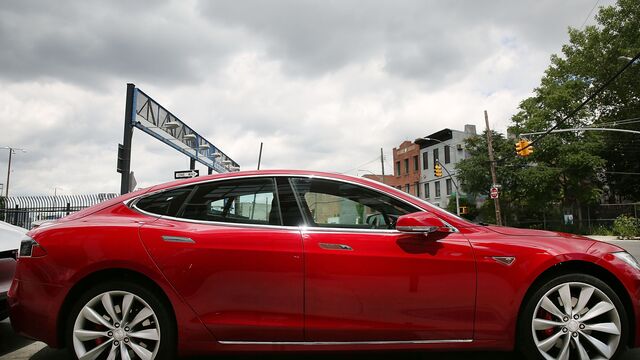 Tesla Motors Inc. topped analysts' estimates for third-quarter deliveries, sending shares higher and providing momentum for Chief Executive Officer Elon Musk's plan to raise more capital.
The maker of electric cars and energy storage devices shipped about 24,500 vehicles in the third quarter, Palo Alto, California-based Tesla said in a statement Sunday. The shares rose as much as 5.7 percent, the biggest intraday gain since June 7.
The quarter was Tesla's last chance to show that it can be profitable before it raises money to ramp up production of the new Model 3. Musk urged employees in an Aug. 29 e-mail to work on "building and delivering every car we possibly can." The company has been taking aggressive measures to keep sales of the Model S and Model X strong while it awaits the smaller, less-expensive Model 3, which isn't slated to begin volume output until late next year.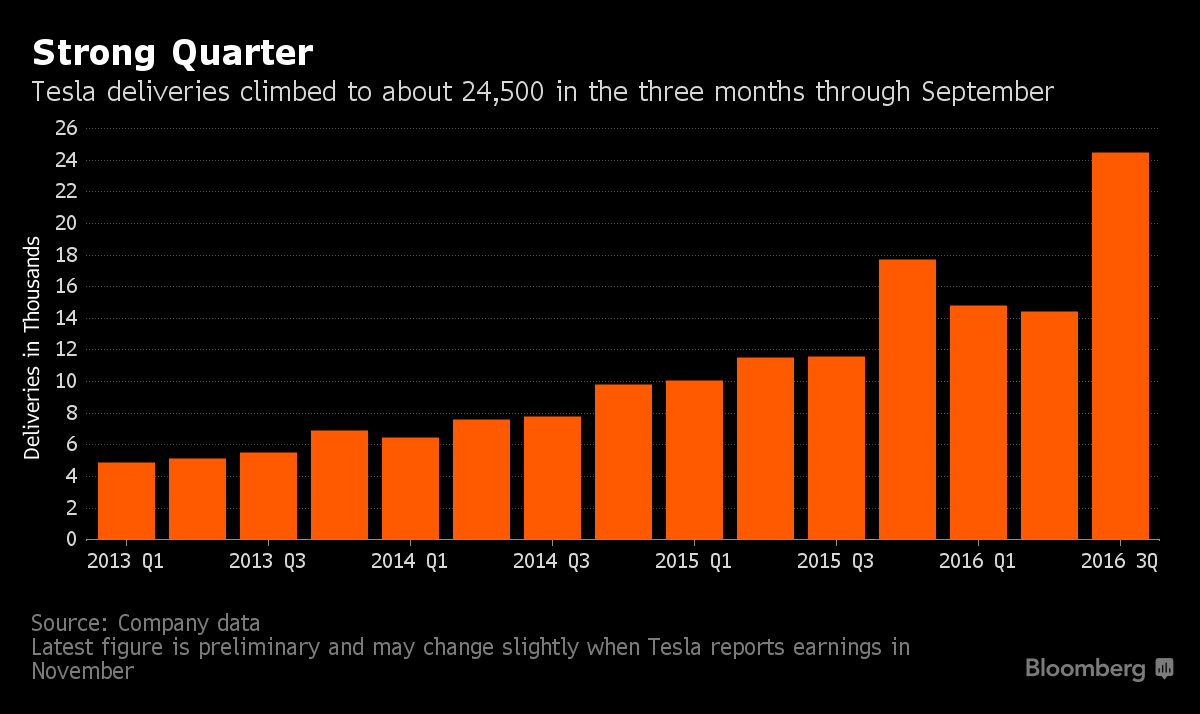 The third-quarter deliveries, which included 15,800 Model S sedans and 8,700 Model X sport-utility vehicles, were positive and beat most estimates, said Jeffrey Osborne, an analyst at Cowen & Co., who rates the stock underperform.
"We were looking for 20,500 this quarter with an acceleration in 4Q to get to 50,000 for the second half," Osborne said by e-mail. "We believe bullish investors were in the 22,000 to 23,000 range." 
Discounting Questions
Yet the company offered no commentary "to allay investor concerns about discounting to make numbers and drive positive cash flow in the quarter," Osborne wrote. Musk last week urged employees to hew to pricing policies, responding to concerns that Tesla was straying from a long-held policy against discounting its cars.
The number of Model S deliveries was larger than expected and should help boost the third-quarter profit margin, Ben Kallo, an analyst at Robert W. Baird & Co., said in a note. Tesla introduced a cheaper, shorter-range Model S in June, which helped boost deliveries after they fell to 9,745 in the second quarter, said Kevin Tynan, an Bloomberg Intelligence analyst. As the focus turns to the Model 3, Tesla may offer more discounts on its current vehicle lineup, Tynan said in a note.
Tesla on Sunday said its delivery count should be viewed as slightly conservative because it only includes a car if it's transferred to the customer and all paperwork is correct. The company reiterated that it expected to deliver 50,000 vehicles in the second half.
Tesla introduced a 60-kilowatt-hour Model S in June that starts at $66,000 before federal or state incentives. In August, the automaker added a 100-kwh battery option with additional range. The company also announced a two-year lease on orders placed by Sept. 12.
Output Rises
Tesla produced 25,185 vehicles, 37 percent more than in the second quarter. "The Tesla team went into Ludicrous mode -- well done!" Jon McNeil, Tesla's president of sales, said on Twitter Sunday.
Brad Erickson, a Pacific Crest Securities analyst with a neutral rating on Tesla, had estimated third-quarter deliveries at 22,000. In a Sept. 27 note, he said Tesla's U.S. sales centers were using a deeper discounting formula to boost third-quarter sales.
Tesla is increasing production at its Fremont, California, factory with an eye toward making 500,000 cars a year by 2018, a goal that also depends on the company's battery factory east of Reno, Nevada, coming online with battery-cell production. Both efforts will require more funding in the fourth quarter, Musk has said.
The third-quarter deliveries figure is a preliminary number that may change slightly in November when the company reports earnings for the period. The automaker releases global sales figures quarterly, instead of the monthly country-by-country results typically announced by other automakers.
Before it's here, it's on the Bloomberg Terminal.
LEARN MORE