Photographer: Dhiraj Singh/Bloomberg
Pimco Trims India Bond Holdings as Economists Split on RBI
by
New central bank leadership 'will tread cautiously': Spajic

Benchmark 10-year bond yields decline for a second day
Pacific Investment Management Co. and Aberdeen Asset Management Plc are trimming exposure to a rupee bond rally that's driven yields to seven-year lows, concerned the central bank will be cautious on monetary policy.
Economists are divided on the outcome of Tuesday's Reserve Bank of India meeting, with 20 of the 37 surveyed by Bloomberg predicting no change in the benchmark repurchase rate and the rest seeing a cut. Speculation the newly-formed monetary-policy panel will ease helped lift sovereign bonds to the best quarter in almost two years, amid a global yield hunt and improving access to funds for local banks. Benchmark yields fell for a second day Monday.
"The RBI may have room to cut rates if and when inflation falls, yet we think that the new leadership will tread cautiously," Luke Spajic, head of portfolio management for emerging Asia at Pimco, which oversees about $1.5 trillion in assets globally, wrote in an e-mailed response to questions last week. "We have scaled back some of our weighting towards Indian bonds. We still like it, but felt it prudent to trim."
Pimco has pulled back at a time when global holdings of rupee-denominated government and corporate notes jumped last quarter by the most since March 2015. Aberdeen says the rally has already priced in an October interest-rate cut, prompting it to shift some funds to shorter-duration Indian debt and bonds in Malaysia. Longer duration bonds suffer greater price declines when interest rates rise.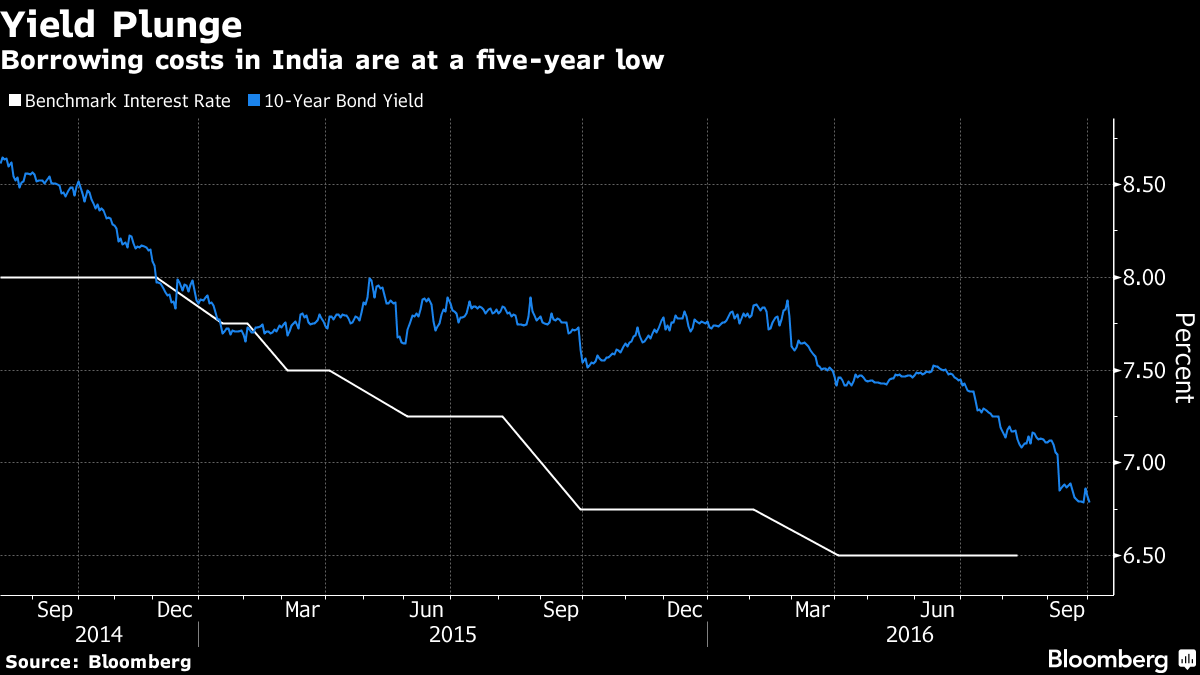 India's financial markets were jolted Thursday, with the benchmark 10-year yield rising the most in 13 months after the nation announced it attacked terrorist camps in Pakistan the previous night, escalating tensions between the two nuclear-armed countries. Spajic didn't comment on the geopolitical issues.
Bonds rebounded on Friday, taking the 10-year yield's decline last quarter to 63 basis points, the most since the three months ended December 2014. The yield fell further on Monday, dropping four basis points to 6.78 percent, suggesting the market is more optimistic than economists about a rate cut.
"The market is largely expecting a 25-basis-point cut along with a dovish statement on liquidity," said Vijay Sharma, executive vice-president for fixed income at PNB Gilts Ltd. in New Delhi. "We are also not ruling out a surprise 50-basis point cut."
The rupee too recovered from Thursday's drop, which was the biggest since June, to end the quarter with a 1.4 percent gain. That followed five straight quarters of losses. The currency was up 0.1 percent at 66.5250 a dollar as of 4:08 p.m. in Mumbai.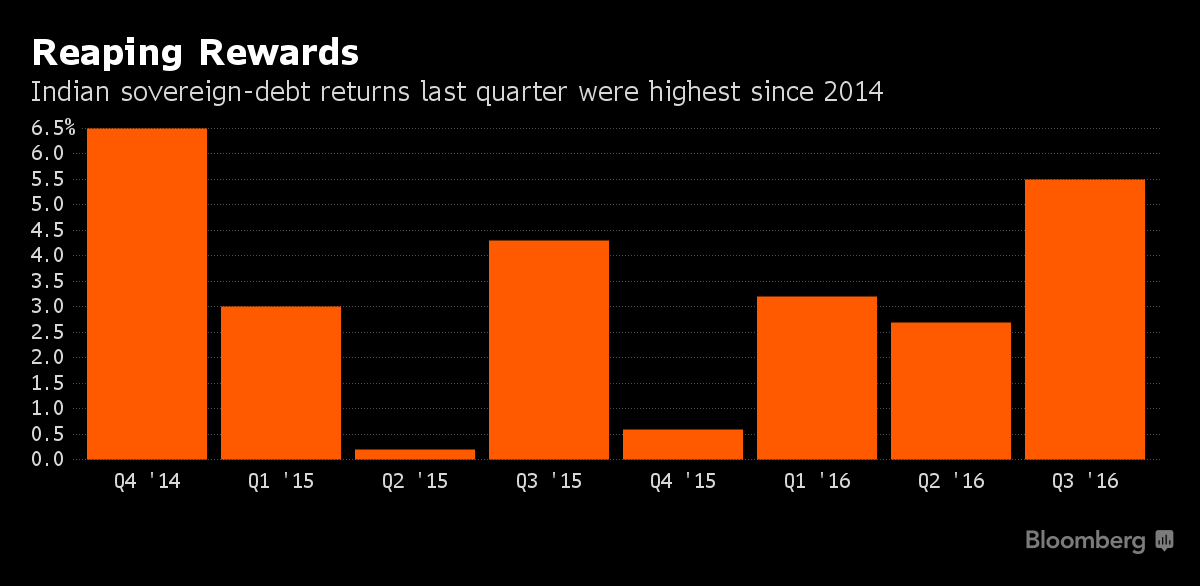 Prime Minister Narendra Modi's government last month announced three candidates to join an equal number of RBI representatives on a new monetary policy committee, or MPC, paving the way for India's first collective interest-rate decision. Each of the six members will have a vote, with RBI Governor Urjit Patel holding an additional tie-breaker, though he won't be able to veto a majority decision.
"It's a close call, but we would expect the new MPC to err on the side of caution and wait," Spajic said about Tuesday's decision in an interview in Singapore on Monday.
The consumer price index rose 5.05 percent in August from a year earlier, the smallest increase in five months. Patel, who took charge at the central bank last month, burnished his inflation-fighting credentials after a panel he headed in 2014 suggested a CPI goal.
"We have steadily been reducing duration gradually on the back of initial expectations of an extremely dovish new governor, the recent pricing in of a rate cut in October and heavy positioning," said Leong Lin Jing, Singapore-based investment manager at Aberdeen Asset, which oversaw $403 billion as of June 30. "Some were shifted to shorter-duration Indian bonds, while a percentage was shifted to the Malaysian bond market."
Overseas holdings of rupee debt rose by 225 billion rupees ($3.4 billion) last quarter, the most since the period ended March 2015. Modi has lured foreign investors to Indian bonds, which offer the highest 10-year yield among major Asian markets after Indonesia, with his economic policies, said Leong.
"The interest seen from foreign investors isn't surprising given recent developments," she said. "There have been quite a few reforms which have been passed under Prime Minister Modi, such as the bankruptcy code and the goods and services tax, leading to positive sentiment on India. We do look to increase duration again as and when the bond market consolidates."
Before it's here, it's on the Bloomberg Terminal.
LEARN MORE