Kuroda Ruined Chance of Second Term, Abe Aide Nakahara Says
By and
He says new framework compounds failure of negative rates

Trying to control the yield curve is 'stupid' and 'impossible'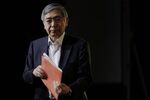 Governor Haruhiko Kuroda has ruined his chances of getting a second full term, according to Nobuyuki Nakahara, who has advised the prime minister on the economy and was an intellectual father of the Bank of Japan's first run at quantitative easing in 2001.
The central bank's switch to yield-curve targeting compounds its earlier error of adopting negative interest rates and is a disappointing move away from monetary-base expansion, Nakahara, 81, said in an interview on Sept. 30. In a stinging attack on the BOJ's recent actions, he said the decision to conduct a comprehensive review of monetary policy had invited defeat on reflationist efforts and would raise questions about Abenomics as a whole.
Prime Minister Shinzo Abe's economic program consists of three so-called arrows: the first being aggressive monetary policy, the second fiscal spending and the third structural reform. The central bank's program, which began when Abe tapped Kuroda for the BOJ role in early 2013, has been the most prominent and highly debated aspect of Abenomics.
"They are trying to clean up the mess of negative rates. It's impossible to do a stupid thing like keeping the yield curve under government control," said Nakahara. "They changed the regime to rates from quantity, meaning those who support quantitative easing were defeated. Reflationists on the BOJ policy board lost. An exit from deflation is going to be far away."
Click here to read more on how the BOJ changed its framework on Sept. 21
In parliament on Monday, Kuroda reiterated that there is room for additional monetary easing and said the recent changes have strengthened the previous framework and increased the sustainability of his policy. Whether or not he will be reappointed to another term is a matter for the government and the parliament to decide, Kuroda said.
Chief Cabinet Secretary Yoshihide Suga told reporters he was "aware that there are various opinions regarding monetary policy among private-sector economists and critics."
"I want to decline to comment on individual views," said Suga. "The government wants the BOJ to continue make its utmost efforts to reach the price target as early as possible."
Kuroda has insisted after the BOJ's policy decision that it hadn't reached the practical limits of its bond buying and wasn't moving toward tapering.
Reversal of Fortunes
After being greeted with fanfare when he took the helm, Kuroda, 71, now faces a reversal of fortunes on multiple fronts.
Markets have moved against him and critics are growing more vocal. The extended honeymoon he enjoyed with a rising stock market and falling yen are long gone and his 2 percent inflation goal is nowhere in sight.
Kuroda has less than 19 months to go in his term. While no BOJ governor has been tapped for a second five-year term since the 1960s, Kuroda's central role in Abenomics has led to speculation that he may be different.
Under the new yield-curve regime, the central bank has pledged to keep the yield on benchmark 10-year debt around zero. The problem in this, as Nakahara sees it, is that if the yield falls further below zero, the BOJ will have to slow its sovereign debt purchases to push the yield back up and markets will interpret this as tapering. This in turn will push the yen up and stocks down, he said.
Yield Curve
"They should end negative rates, but they took action to save face and offset the failure of negative rates," Nakahara said. "Bringing the rate up to zero means tightening, causing the yen to rise. The current framework is very vulnerable to external factors."
Fitch Ratings said on Monday that the negative rate may be cut to minus 0.5 percent, from minus 0.1 percent now, by the end of 2017. This would weigh on the profitability of commercial banks, Fitch said. Meanwhile, Moody's Investors Service was more upbeat and raised its forecast for real gross domestic product growth in Japan this year to 0.7 percent.
In June Nakahara suggested that the central bank boost its purchases of Japanese government bonds to 100 trillion yen ($988 billion) a year, from 80 trillion yen.
The governor's propensity to deliver surprises also drew the ire of Nakahara.
He described the about-face in adopting negative rates in January -- which came the same month as ruling this out -- as being "like the attack of Pearl Harbor."
Before it's here, it's on the Bloomberg Terminal.
LEARN MORE