RBA's New Chief Seen Averting Rate Cuts Into 2017
By
New governor expected to stand pat in debut decision Tuesday

'The case for no more cuts is strengthening': HSBC's Bloxham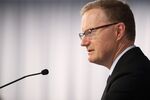 Australia's new central bank chief Philip Lowe is unlikely to have much to do for the next few months.
Money markets show little probability of a cut in the cash rate from the current 1.5 percent until at least May and a negligible chance at Tuesday's meeting, Lowe's first as governor. In an economy spurred by rebounding commodity prices and a diminished drag from falling mining investment, the main challenge is a stubbornly strong currency further curbing inflation.
"The case for no more cuts is strengthening," said Paul Bloxham, chief economist at HSBC Holdings Plc in Sydney. "The key challenge to this view is that the lift in commodity prices and local growth could present an upside risk to the Australian dollar."
Lowe has already offered clues to his strategy in the RBA's renewed agreement with the government, by stressing financial stability concerns as part of monetary policy. The risk of further inflating Sydney house prices -- up 50 percent in the past four years -- is likely to constrain him from further cuts, particularly when growth is strong and employment reasonable amid an increase in the terms of trade, or export prices compared to import prices.

Coking coal prices have surged more than 150 percent this year as output from China, the world's biggest miner, tumbles under government pressure to cut overcapacity. Iron ore, Australia's biggest export, has rebounded 30 percent, though analysts are skeptical about the rally's durability. Still, the jump in prices for Australia's biggest exports is a boon for the economy and a government struggling to rein in its budget deficit.
Record-low wage growth and falling terms of trade have seen government revenue forecasts repeatedly revised down. That, combined with difficulties passing spending cuts through parliament, prompted warnings Australia may lose its AAA rating. Now, with a spike in commodity prices and some success in legislating savings measures, the country may ward off a downgrade.
The rebound in resource prices has helped push the Australian dollar to 76.54 U.S. cents as of 10:03 a.m. in Sydney. It fell as low as 68.27 cents in January.
None of the 28 economists surveyed by Bloomberg expect a rate cut Tuesday. Their median estimate switched last week to an unchanged rate in the first quarter of 2017 from a previous prediction of a cut, reflecting lower expectations of easing.
New Wording?
The statement released with Tuesday's decision could see changes given it's Lowe's first, according to Paul Brennan, chief economist for Australia at Citigroup Inc.
Fellow veteran economist Bill Evans at Westpac Banking Corp. sees significance in the tweaking of the wording for the 2 percent to 3 percent inflation target period to "over time" from the previous "on average over the cycle," in the renewed government agreement. He also noted Lowe connecting monetary policy and financial stability more directly.
"We should certainly not dismiss this change in approach as window dressing," Evans said, citing Lowe's "defining moment" as a paper the new governor published at the Bank of International Settlements in 2002 that argued central banks need to respond to imbalances in asset markets that build up in times of low inflation.
In contrast, then Federal Reserve Chairman Alan Greenspan maintained a central bank's role was to simply clean up the mess after a bubble burst. 
Lowe, it turned out, was right; and Westpac's Evans reckons that if Greenspan had heeded the BIS warning in 2002 then the world may have avoided financial crisis six years later.
The research "gives us a clear insight into the values of the new governor," Evans said. "Lowe's adjustment to the agreement with the government to include financial stability has its origins in that paper all those years ago."
With inflation in Australia the weakest this century, interest rates at a record low and UBS Group AG last week calling Sydney's housing market the world's fourth riskiest, Lowe has plenty of material to ponder.
— With assistance by Kimberley Painter
Before it's here, it's on the Bloomberg Terminal.
LEARN MORE