Photographer: Arnaldur Halldorsson/Bloomberg
Iceland's Fishing Industry Roots for Rate Cut Amid Krona Gains
by
Central bank holds its next rate-setting meeting on Wednesday

Outcome of Oct. 29 elections may impact fish quota system
While the world around it frets over ultra-low interest rates, Iceland's fish export industry is rooting for another rate cut to maintain market share amid a strengthening krona.
"The appreciation of the krona is a large factor in the operations of fishing companies and can impact their bottom line," Heidrun Lind Marteinsdottir, managing director of Fisheries Iceland, an industry lobby, said in a telephone interview. "It is a risk that needs to be taken under special consideration and, if need be, acted upon."
Although fisheries is no longer the country's main industry - tourism and aluminum smelting are now bigger revenue generators -- it still accounted for more than a fifth of all 2015 exports. But after enjoying a good run in the post financial crisis years, it is beginning to feel the squeeze from an appreciating krona as the economy gets back on track.
Iceland's currency has gained more than 11 percent against both the dollar and the euro over the past 12 months and is expected to continue to rise by as much as 5 percent through 2017, according to Islandsbanki, the second largest lender on the island.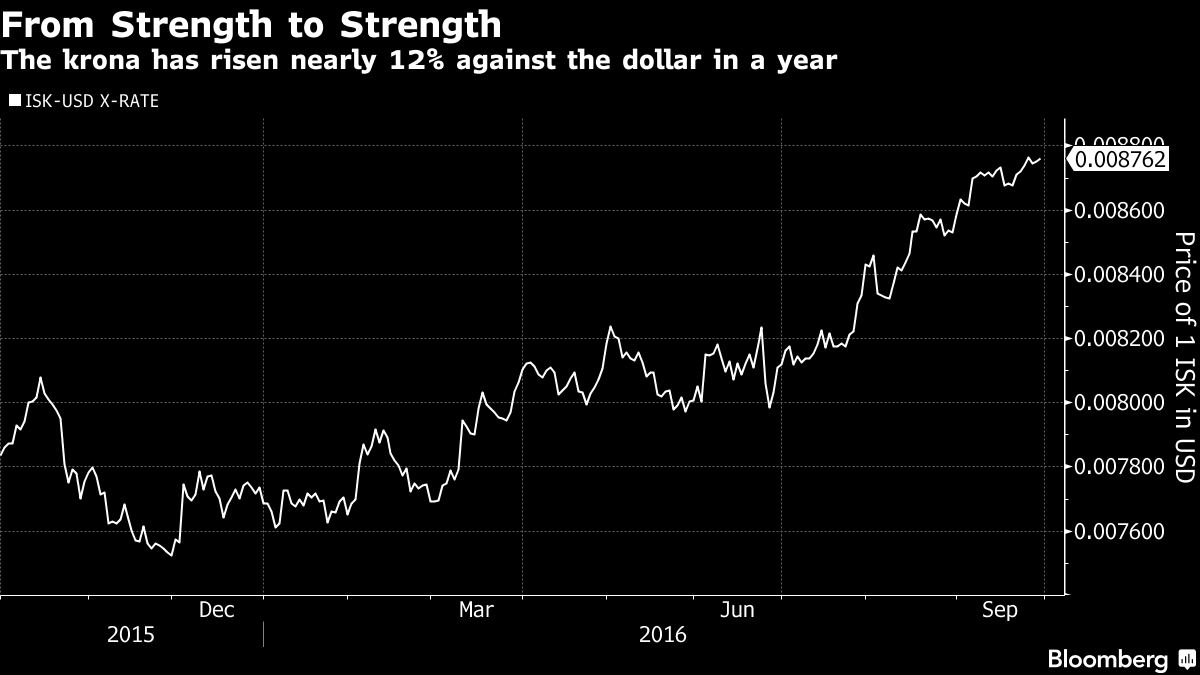 The currency movement is driven by a growing numbers of tourists (this year's visitors numbers is expected to end 35 percent up on last year's record 1.3 million).
At the same time, fears of a pick up in inflation above Sedlabanki's 2.5 percent target prompted the central bank to raise its benchmark 7-day deposit rate for much of 2015. With consumer price growth eventually turning out to be more subdued than expected, that policy was reversed in August, when policy makers reduced the benchmark rate to 5.25 percent.
That has still left Iceland as the country with the highest rates in western Europe, so there's scope for another cut when the central bank meets next week, according to Marteinsdottir.
"Cutting rates would be beneficial and make our companies more competitive, as rates here are nowhere close to what companies in the international markets are being offered," Marteinsdottir said.
Uncertain Elections
It's not just a strong krona that keeps Iceland's fishermen up at night.
A snap election due on Oct. 29 that was called after the prime minister resigned over his involvement in the Panama Papers affair could usher in significant change. At least one party that's in with a chance of winning, the Pirate Party, has already hinted it may want to take a fresh look at the distribution of fishing quotas, possibly disrupting the current business model by offering the rights to catching fish in Icelandic waters to the highest bidder.
Executives in the fishing industry are "wondering what's going through the minds of politicians and what policies they may try to enact," Gunnthor Ingvason, chief executive officer of Sildarvinnslan hf, the country's 11th-largest quota holder, said in a telephone interview.
While the election results remain difficult to predict, analysts contacted by Bloomberg expect the central bank to keep rates unchanged on Wednesday.
Before it's here, it's on the Bloomberg Terminal.
LEARN MORE