Hungarians Hand Orban Setback in Vote on EU Refugee Policy
by
Participation falls short of threshold to make ballot binding

Results show 98% backing for Orban in rejecting refugee quotas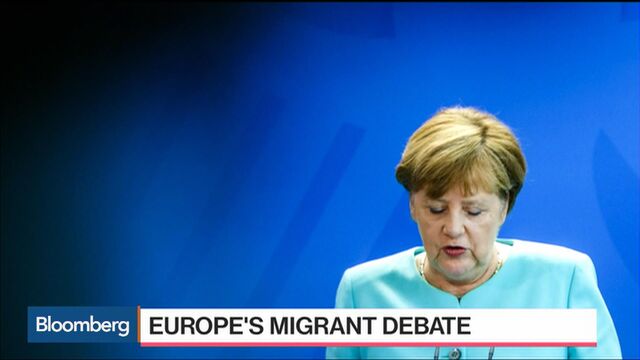 Hungarians dealt a blow to Prime Minister Viktor Orban's efforts to reject the European Union's migration policy and boost his leverage in the bloc, with too few voters turning out in a weekend referendum to make the result binding.
The share of valid votes was 40 percent, with 98.3 percent support for Orban's preferred "no" vote, according to data from the election authority after 99.9 percent of the votes were counted. The government needed at least half of the electorate to cast a valid vote in the referendum, which asked the following question: "Do you want the European Union to be able to order the mandatory settlement of non-Hungarian citizens in Hungary without parliament's consent?"
The failure to clear the bar is a disappointment for the Hungarian premier, even with the overwhelming show of support for his opposition to the open-door immigration policy of German Chancellor Angela Merkel. Orban may still look to harness political momentum from the referendum before the next legislative ballot in 2018, where he'll run for a third consecutive term. On Monday, he told lawmakers in parliament that he'll propose a constitutional amendment after what he called a "sweeping victory."
"The refugee issue was Orban's magic weapon, but the referendum has turned it into a double-edged sword," Andras Szakacs of the Center for Fair Political Analysis in Budapest said by phone. "Orban can argue that many people share his views, but an invalid vote means it's going to be much harder for him to convince others around Europe."
With more than 3 million of Hungary's 8.3 million voters backing the premier, the ballot is a challenge for European leaders' efforts to show unity after a tumultuous year. Following its worst refugees crisis since World War II last year and the U.K.'s vote to leave the bloc, the EU is now facing calls by Orban and his Polish ally Jaroslaw Kaczynski -- who've both sparred with the bloc's leaders over democratic standards -- to give members more leeway to run their affairs without oversight from Brussels.
'Strong Weapon'
The result is a "strong enough weapon," Orban said in a televised speech late Sunday, playing down the significance of the low turnout. "Brussels or Budapest: that was the question and we decided that the right to decide with whom we want to live resides exclusively in Budapest."
Hungarians alone can't stop policy decisions and the bloc hasn't yet decided on a permanent mandatory-quota mechanism to resettle refugees. An initial effort to relocate 160,000 of the more than a million arrivals last year still hasn't been completed. Hungary has filed a lawsuit to annul EU legislation that requires the country to accept 1,294 refugees.
Click here for a Q&A on Hungary's referendum
The trading bloc's executive in Brussels refrained from addressing the result or speculating on the potential implications.
"If the referendum had been legally valid, our comment would have been that we take note of it," European Commission spokesman Margaritis Schinas told reporters in Brussels on Monday. "Since it was declared legally void by the Hungarian electoral commission, we can now say that we also take note of it. We respect the democratic way of the Hungarian people, both of those who voted and those who did not.''

The referendum is the first nationwide vote in which Orban failed to reach his goal since 2006. On Sept. 22, he told the news website Origo that the referendum was a "national cause" that needed every single person's vote. "If even a single vote is missing, then it's already not a fully national vote," the premier said then.
Investors were largely unperturbed by the result. The Hungarian currency strengthened 0.1 percent to 308.08 against the euro as of 12:48 p.m. in Budapest, while the benchmark BUX stock index climbed 1 percent to 27,938.34, both moving in lockstep with their east European counterparts. The yield on the government's dollar debt maturing in 2024 climbed to 2.969 percent from 2.950 percent.
The opposition sought to frame the result as a defeat for Orban. The low turnout is an "own goal" by the prime minister, a result that's his "personal failure," Gabor Vona, head of the radical nationalist Jobbik party that also backed the "no" vote, said on state television on Sunday. On Monday, he called on Orban to resign.
Unlike Merkel, who's suffered a string of political defeats as she struggles to convince Germans to show solidarity, the Hungarian premier has linked immigration with terrorism and warned that refugees threatened local jobs and that Europe's Christian identity was at risk. He has built a fence to repel migrants and spared no expense to hammer the message home through billboard campaigns and an increasingly obedient state-media empire. The measures helped him overcome a slump in polls last year. Orban's Fidesz party has more support than all opposition parties combined, according to a Median poll published Sept. 23.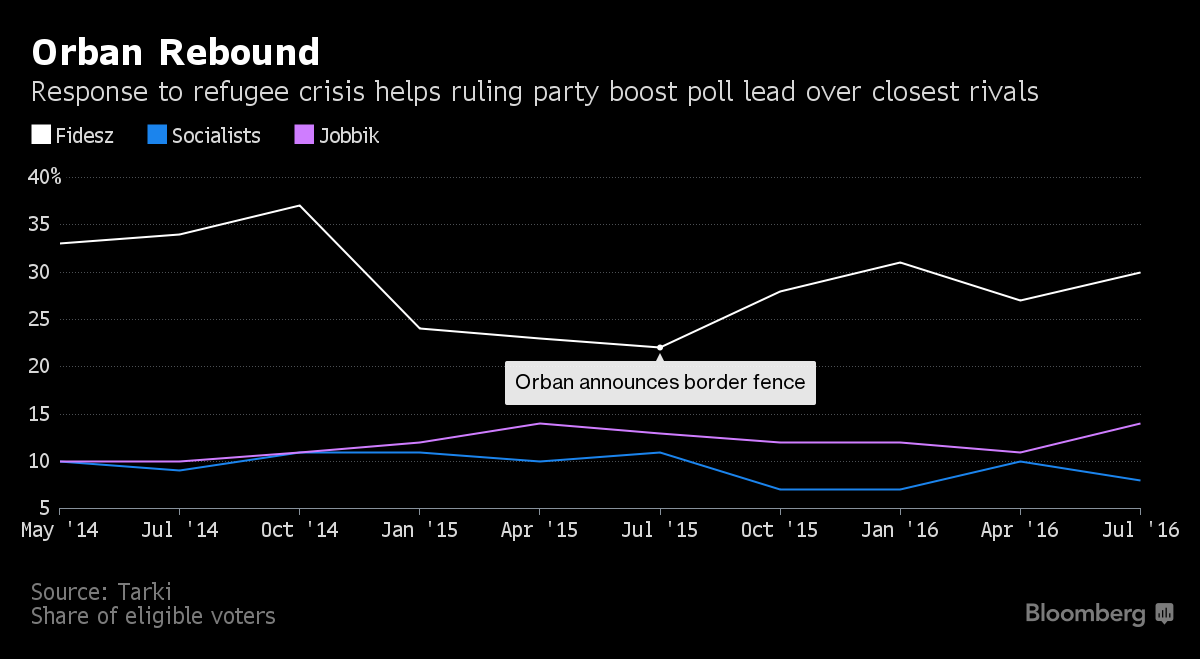 Orban became prime minister in 1998 and returned to power in a landslide victory in 2010. That election gave Orban a two-thirds majority in parliament, which allowed Fidesz to change the constitution, weaken checks and balances on executive power and build what Orban has called an "illiberal state" modeled on Russia and Turkey. Refugees are the latest target for the premier, who in recent years has positioned his government as fighting against the EU, global corporations, the International Monetary Fund, non-government organizations and Hungarian-born financier George Soros.
"It is likely that EU leaders will dismiss the vote because it fell short of the validity threshold," Otilia Dhand, a Brussels-based analyst at Teneo Intelligence, said by e-mail. "This may, in fact, help Orban to perpetuate the domestic narrative of conflict between Brussels and Budapest, as he would be able to present it as another case of the Brussels bureaucracy ignoring the will of the Hungarian people."  
Before it's here, it's on the Bloomberg Terminal.
LEARN MORE