Hammond Says U.K. Needs Targeted Investment to Offset Brexit
by
Chancellor addresses Conservative Party conference on Monday

Breaks with Osborne as he confirms shelving of surplus goal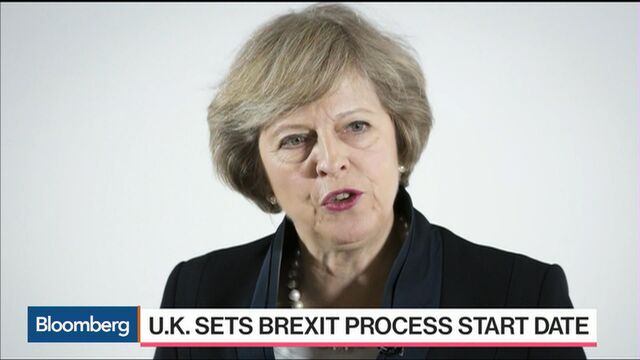 Chancellor of the Exchequer Philip Hammond said the U.K. government is shelving its balanced-budget goal to allow "carefully targeted" investment to offset the economic shock that is forecast because of Brexit.
"Anecdotally we hear of businesses postponing investment decisions," Hammond told BBC Radio 4's "Today" program on Monday at his Conservative Party's annual conference in Birmingham, central England. "If we don't intervene to counteract that effect in time, that will have an effect on jobs."

Hammond cautioned that recent data, while showing economic strength, may not reflect the uncertainty businesses will feel once Britain actually starts the process of leaving the European Union. Prime Minister Theresa May, who appointed Hammond to replace George Osborne in the aftermath of the June 23 referendum that propelled her to power, used her own speech to the conference on Sunday to say she will trigger the process of leaving the bloc before the end of March. The pound fell after her remarks. 
In his first major speech since he became finance minister, Hammond confirmed to the party conference that he's no longer seeking to achieve a fiscal surplus by the end of the decade, the central goal of Osborne's fiscal strategy. While he said that the deficit remains "unsustainable," Hammond called for a "new plan" to manage the nation's finances in a "pragmatic way."
"The markets have calmed since the referendum vote, and many of the recent data have been better than expected," Hammond said. "But there is no room for complacency. Many businesses which trade with the EU are uncertain about what lies ahead."
While Osborne's policies were the right ones for their time, "when times change, we must change with them," he said.
'Negative Effect'
Hammond is due to detail his plans in his Autumn Statement to Parliament on Nov. 23, including addressing any short-term uncertainties created by Brexit.
The post-referendum resilience cited by Hammond was underscored by a survey published Monday showing U.K. factories had their best month in more than two years in September as the weaker pound sent export orders surging. Still, economists surveyed by Bloomberg see economic growth slowing to 0.7 percent next year, which would be the weakest performance since 2009.
Sign up to receive the Brexit Bulletin, a daily briefing on the biggest news related to Britain's departure from the EU.
"Despite the good economic data we've had, that is still the central prediction of economic forecasters that overall leaving the EU will have a negative effect on economic growth," Hammond told the BBC. "Our job is to try to head off those outcomes, but we can only head them off if we're honest about the fact that they may be out there and we plan to address them."
In his conference address, Hammond said the government will give "additional certainty" to businesses bidding for EU funding.
"I've already guaranteed the funding for projects signed prior to this year's Autumn Statement. Today I can go further," he said. "The Treasury will offer a guarantee to bidders whose projects meet U.K. priorities and value-for-money criteria, that if they secure multi-year EU funding before we exit we will guarantee those payments after Britain has left the EU."
He also announced measures with Communities Secretary Sajid Javid to boost house building, including a 3 billion-pound ($4 billion) fund to finance the construction of more than 25,000 new homes by 2020.
Watch Next: Brexit Red Lines Are Becoming Clearer, Says French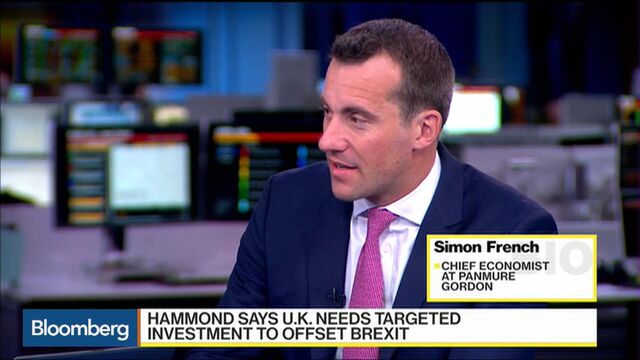 Before it's here, it's on the Bloomberg Terminal.
LEARN MORE