Global Bond Markets Shackled to Japan by Kuroda's 0% Crusade
by , , and
BOJ spurs decline in bond volatility, surge in correlations

Mizuho Asset says yields across bond markets may all converge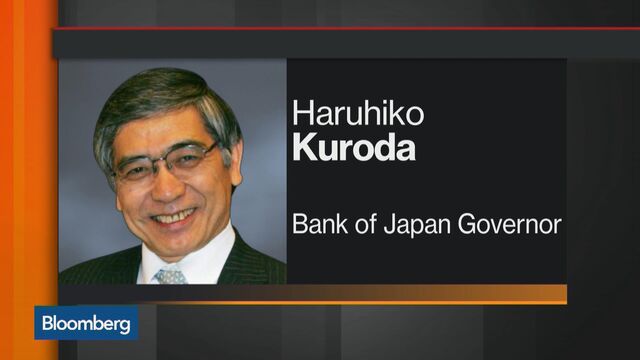 Haruhiko Kuroda might have set his sights on Japan, but his latest move is turning out to have far-reaching consequences for bond markets all over the world.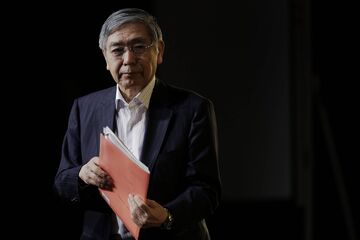 Almost two weeks ago, the Bank of Japan governor unveiled a plan to anchor yields on 10-year bonds at around zero, after trillions of yen of quantitative easing and the introduction of negative interest rates failed to revive the economy. While the shift was ostensibly aimed at helping the financial industry and quashing deflation, investors far and wide responded by pushing yields lower. From Japan to the U.S. and Europe, volatility all but vanished and correlations rose to levels rarely seen in the past.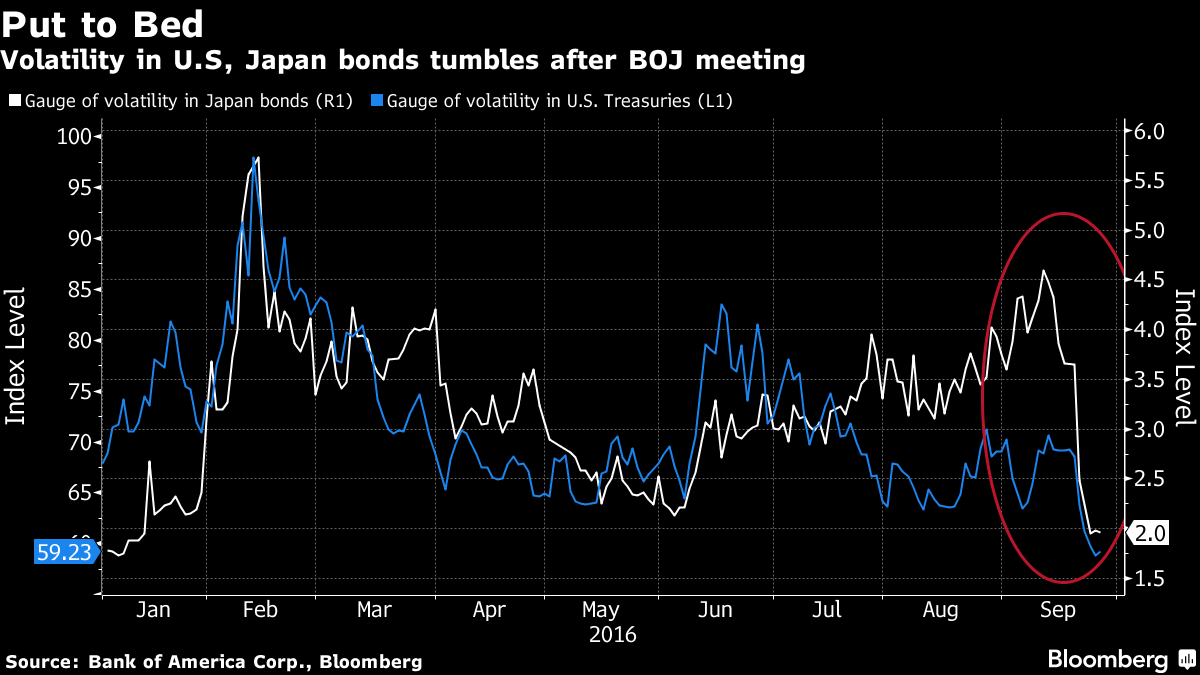 It's perhaps the clearest example yet of how the drastic steps that central banks have taken to revive their economies following the financial crisis have imbued just about every facet of today's $100 trillion global debt market -- even as more and more question whether they're running out of options.
In the early years, the Federal Reserve and the BOJ exerted their influence by aggressively buying bonds. Then, the European Central Bank led the move among major central banks into negative rates. Now, the BOJ's decision to shift away from its "shock-and-awe" approach to stimulus is calling attention to the limits of monetary policy in a world where tepid growth, a lack of inflation and aging societies have conspired to keep yields lower for longer.
"They are going to converge," said Mizuho Asset Management's Yusuke Ito, referring to global bond markets. "Economies are more and more intertwined. Add in demographics -- all the countries are somewhat similar."
Ito, who helps oversee about $50 billion as Mizuho Asset's senior fund manager, predicts bond yields will all eventually meet at the same level.
Yield Control
It's already starting to happen. Demand for bonds worldwide has pushed down average yields for all types of investment-grade debt to 1.13 percent, less than 0.1 percentage point from the record low, according to the Bloomberg Barclays Global Aggregate Index. In more than half of the developed markets tracked by Bloomberg, yields on 10-year government bonds are under 1 percent, with many near or below zero. The difference between those in the U.S. and Japan has dropped by almost half in the past decade to 1.68 percentage points.
The latest bond rally came after the BOJ refrained from another rate cut and introduced its "yield curve control" policy on Sept. 21. In the weeks leading up to the move, bonds retreated in anticipation of a bold policy move to spur inflation. While the announcement itself initially suggested the BOJ wanted to steepen the yield curve, or increase the amount of income long-term bonds pay over shorter ones, it disappointed economists who had hoped for more. Kuroda later explained the policy would keep yields roughly at current levels, which many traders interpreted as a cap -- at home and abroad.
For a Q&A on why Japan's central bank is targeting yields, click here.
"I really don't think you can justify a major selloff in the market, particularly with what the BOJ has done," said Roger Bridges, chief global strategist for rates and currencies at Nikko Asset Management's Australia unit, which oversees $14.6 billion. "Correlations between bonds are increasing all the time."
Sucked Out
The move has sucked much of the turbulence out of bond markets. Implied volatility for 10-year Japanese debt tumbled by the most since 2008 on the day of the BOJ's announcement. Expected price swings in Treasuries plummeted to a two-year low, while those on German bunds have also declined.
They're also moving more in tandem. Benchmark bond yields in the U.S. and Japan have stuck within half-percentage point range this year, the narrowest in at least three decades. The spread between the U.S. and Germany has held in the tightest annual range in at least 27 years.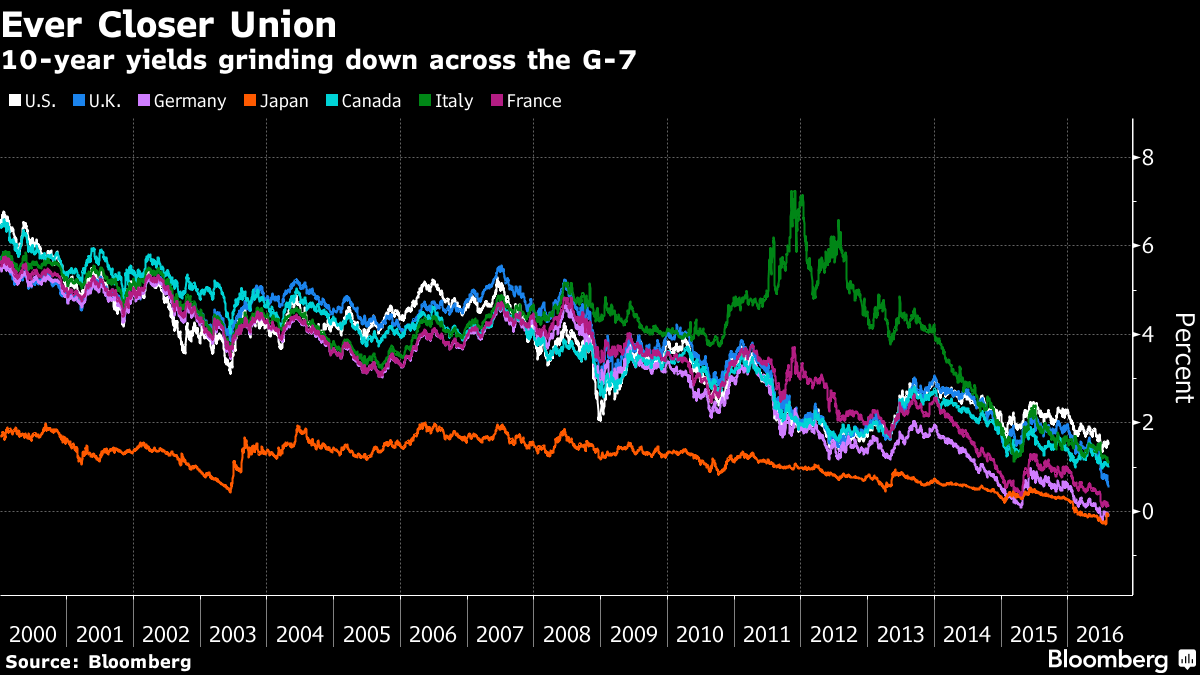 That partly reflects how Japan has come to the fore in the world of fixed income. And it's occurring at a time when the BOJ's outsize presence in the $10 trillion market has crowded out investors and left some securities untraded on certain days. A limit on Japanese yields risks sending investors flooding into overseas debt markets, keeping a lid on yields globally.
It's already spurring a resurgence in Japanese purchases of foreign bonds, which rose to the highest since July in the two weeks ended Sept. 23.
But just as important is the growing recognition among bond investors that deeper structural forces like demographics and wealth inequality -- which may depress growth and inflation for years to come -- are probably beyond the reach of even the most aggressive central bank policies.
In June, the Organisation for Economic Cooperation and Development warned that the world economy is slipping into a self-fulfilling "low-growth trap" where ultra-loose monetary policies risk doing more harm than good.
Diminishing Returns
"People are kind of questioning the efficacy" of all this extraordinary stimulus, said Bret Barker, who oversees U.S. fixed-income at TCW Group Inc., which manages $185 billion. "The drumbeat has certainly gotten louder" recently and the BOJ's move toward fine tuning suggests there are limits to how much central banks can do on their own.
The economic indicators haven't been particularly encouraging. Despite the lowest jobless rate in more than two decades, consumer prices in Japan have fallen for six straight months as household spending remains bleak. While inflation for economies in the euro region has reached 0.4 percent, the fastest since late 2014, it's nowhere near the roughly 2 percent rate the ECB has targeted.
Even in the U.S., one of the few bright spots in the world, the weakest expansion in the post-World War II era has made traders increasingly skeptical of Fed's ability to raise rates much in coming months. Based on futures trading, the chance of an increase at its December meeting is 59 percent.
Without a pickup in growth, there's every reason for investors to continue piling into government bonds. Returns have reached 12 percent this year, on course for the biggest annual gain since 2003.
Tipping Point
Still, the prevailing view carries with it some potentially damaging risks. Some have warned that the fixed-income market is so distorted that many investors have become inured to the dangers of holding onto securities that provide no margin of safety. Worldwide, yields on more than $11 trillion of bonds are still below zero. Based on a measure called duration, just a half-percentage point increase in average yields would result in a loss of $1.6 trillion globally.
And although the BOJ's tweak fueled speculation it's running out of ammunition, Kuroda said last week there are no limits to monetary policy and talking about them isn't helpful.
Whatever the case, BOJ's yield targeting is an unprecedented move may ultimately prove to be successful in holding long-term yields in check, according to Kei Katayama, a bond manager at Daiwa SB Investments, which oversees $54 billion.
"That is very new," Katayama said. "Before, central banks had only control of the very short-term policy rate."
Before it's here, it's on the Bloomberg Terminal.
LEARN MORE