business
Banks Hold Europe Stock Traders Hostage in Costly Reminder
By
Lenders set for worst year since height of debt crisis

Lending to companies still low, hurting region's growth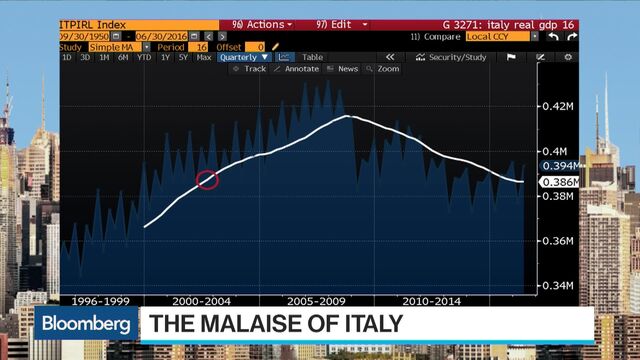 European bank stocks: never smaller, rarely more menacing.
Stung by fines, weakened by negative interest rates and parrying the threat of another recession, financial firms have seen their value shrink by $280 billion in 2016. They represent a measly 11 percent of the Stoxx Europe 600 Index, near the lowest on record and down from a 23 percent weighting a decade ago.
While most of the recent focus has been on Germany's Deutsche Bank AG, where capital concerns erased almost a fourth of its value in less than three weeks, the pain has been widespread. Banks dropped 2.7 percent in September, worsening a year that has already had two of the three biggest monthly slumps since the financial crisis.
Yet even with the diminution, the industry's ability to push around the broader stock market is as strong as ever. A pattern of lockstep moves between financial shares and broader indexes shows them tied together on 87 percent of days in 2016, the most since 2007. In other words, even as their mathematical influence waned, concern the industry will beget the next crisis hasn't.
"Investors fear for systemic risk," said Dirk Sebrechts, a fund manager who helps oversee about $233 billion at KBC Asset Management in Brussels and has been selling the stocks after briefly turning optimistic in July. "Banks here never really recovered from the multiple crises of the past decade. If we have another one and they go under, the economy and the rest of the market will go down with them."

That banks are still throwing their weight around in the stock market is a rebuke to regulators, who've done everything they can to limit the industry's impact on the economy. Financial companies have been chased away from risk-taking enterprises like proprietary trading, their derivatives business has been reined in and capital reserves increased.
Even as their riskier elements are clipped, banks remain a key channel for those trying to restore Europe's economic health, and devising lending incentives has been a top priority for the European Central Bank. At the same time, traders aren't convinced policy makers can contain another downturn in the industry, KBC's Sebrechts said. Responses to previous crises -- negative rates, fines and strict capital requirements -- are hurting more than helping.
After spending almost all of the preceding years as Europe's biggest industry group, they briefly lost the title to health care during the credit crunch in early 2009 and again at the height of sovereign-debt crisis in 2011 and 2012. Since June of this year, they've been ranked third.
The Stoxx 600 has moved in the same direction as its lenders on all but five weeks this year and on 167 of its 193 trading days. The weekly relationship is tighter than for health-care firms -- the benchmark's largest sector now -- or even energy stocks, which have gripped investors around the world as oil prices fluctuated in and out of a bull market.
A crush of bad news has derailed an industry that was pegged as the biggest driver of Europe's profit recovery as recently as 2013, when lender earnings were forecast to soar 20 percent. Three years later, Italy's banking system is struggling to offload billions of euros in bad debt, unexpected losses are ballooning in Credit Suisse Group AG's trading division and Commerzbank AG scaled back its profit targets and suspended dividends. Deutsche Bank shares are still near all-time lows amid concerns that one of the world's most systemically important financial institutions can't cover its legal penalties.
Shares of the Frankfurt-based lender jumped 6.4 percent Friday on a report that it is nearing a $5.4 billion settlement with the U.S. Department of Justice in a probe tied to residential mortgage-backed securities. The government had previously requested $14 billion to settle the investigation. The stock lost 3.1 percent in the U.S. It didn't trade in German as the market was closed for a holiday.
For more on escalating concerns about Deutsche Bank's future, click here.
Making it worse in Europe is the degree to which banks are intertwined with the economy, according to JPMorgan Chase & Co. strategists, who estimate that companies get about two-thirds of their financing from loans. That's much more than in the U.S., where firms typically use capital markets to raise cash. While in Europe lending to companies has increased almost every month this year, that growth is merely a fraction of what it was in 2008.
"Banks are a critical component of Europe's economy," said Emmanuel Cau, a JPMorgan equity strategist in London. "Lending is the engine of growth. If banks don't lend, the economy can't perform. That's why lot of investors first want to take a view on banks before taking a view on the region. It's very hard to differentiate banks from the broader market."
The ability of shrinking industries to exact outsized influence on equities at large was never more apparent than last year in the U.S., where the S&P 500 Index's ties to energy stocks surged even after the group became one of the benchmark's smallest weightings. While making up around 8 percent of the gauge for much of the year, oil shares were 91 percent correlated to the index at their highest level in 2015.
In Europe, the Stoxx 600 Banks Index is heading for a 23 percent drop this year, with more than three-quarters of its members trading below the value of their assets. Analysts say bank earnings will slump 22 percent in 2016, behind only commodities-linked firms as the biggest decrease among industries. While lenders still make up about 15 percent of Stoxx 600 earnings, that's compared with 21 percent in 2007, according to data compiled by Bloomberg.
With interest rates likely to remain negative in Europe for at least the next two years, the drag on bank profitability is showing no signs of slowing down. But their declining share of European earnings hasn't made them any less important.
"They may be a smaller piece of the puzzle now, but it's a really key piece if you want to promote growth," said Francois Savary, who helps oversee the equivalent of $2.8 billion as chief investment officer of Prime Partners in Geneva. "Fear of systemic risk will undermine the whole market. Any problem with Europe's banking system always brings back bad, bad memories."
(
Updates with Monday trading in 11th paragraph.
)
Before it's here, it's on the Bloomberg Terminal.
LEARN MORE